The home office: it's the part of our living situation that has increasingly become more relevant in today's world. Even if you don't work from home full time, it's helpful to consider the office aspect of your space. Especially when you do spend time doing work at home, it's critical that your home office be functional, but that doesn't mean that the workspace can't be fun, too. Let's take a look at a few ways to ensure your workspace at home stays useful while also being a place you enjoy spending time.
Incorporate the Personalized Touch
The biggest advantage of a home office over a corporate one is that your home office is completely yours. That means you have all the control over how the space works and looks. Enjoy the creativity that comes from this freedom of design. Engraved desk name plates are a simple but powerful way to help your home workspace feel legitimate while adding a nicely personal touch.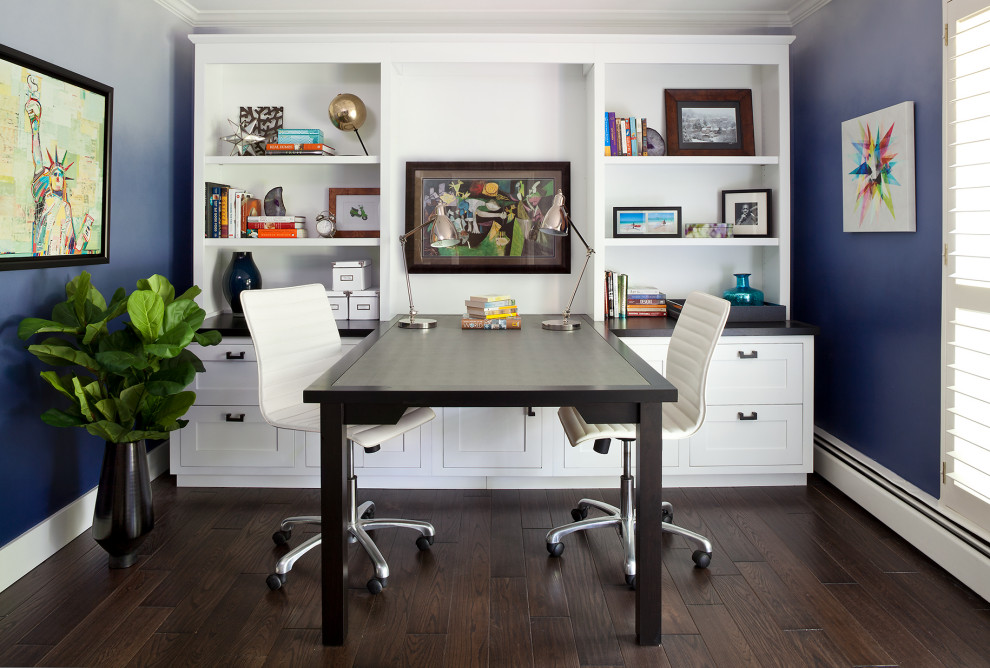 Your home workspace may be shared between you and a spouse or other family member. If this is the case, make sure to acknowledge that in the decor choices. Everyone who uses the space for work should see themselves reflected in its design, even if that's only in a small way. The little aspects can make a dramatic difference.
Grab the Useful Gadgets
For your home office to be both fun and functional, you want to get the items you need to make it possible and enjoyable for you to work there. From personal fans to good pens, grabbing the useful gadgets that are appropriate for your situation will make all the difference in your work from home environment.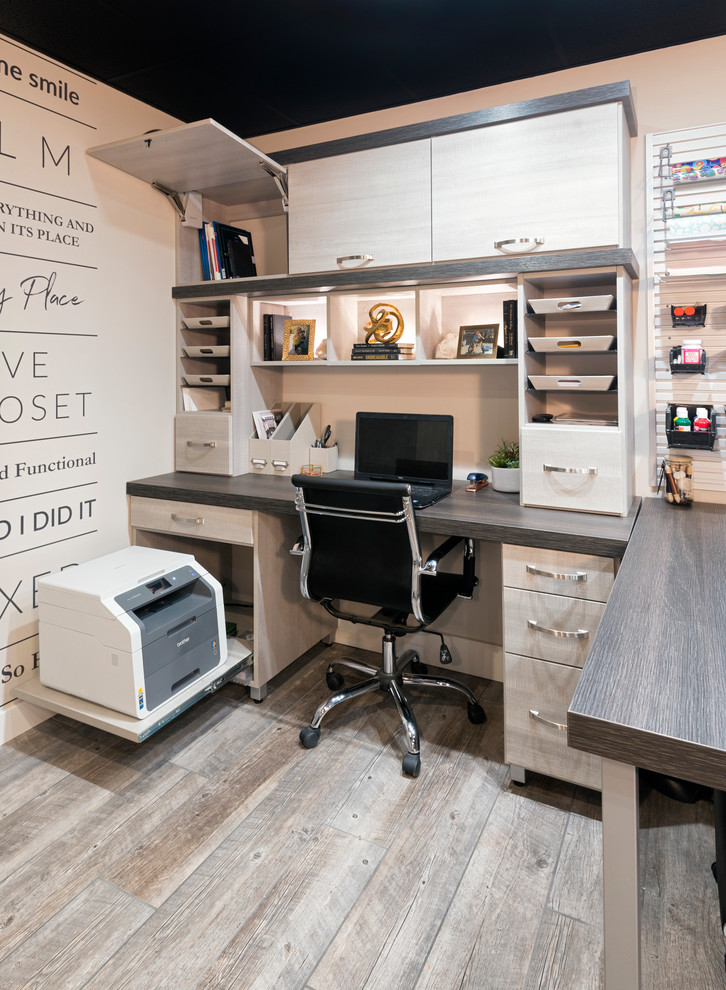 Photo by Inspired Closets by Tom
It's easy to let your home office get overly cluttered with items that aren't actually very useful or relevant, so be careful with the balance here. There are plenty of home office must-haves that will make your workspace a pleasure and a productive place, but only you know what will be best for your preferences and circumstances. For example, a standing desk makes all the difference for some people, while others only find it clunky and a reproach, as they prefer to work in a comfortable office chair.
Use What You Already Have
While it is fun to go out and grab essentials for the home office, at some point, you have to stop buying office supplies and actually get to work. When you're at that point, it's time to use what you already have. It's easy to overlook aspects of your home office setup that can actually make a huge difference in the fun and functionality of the space. For example, make sure you acknowledge the opportunities for bringing in natural light while you're working.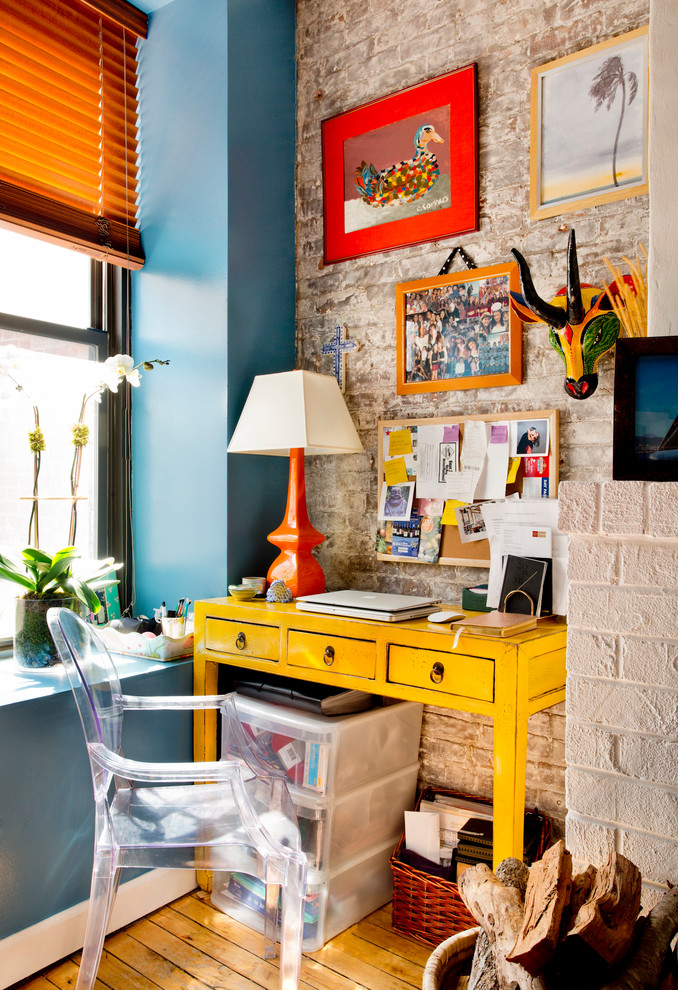 Consider the possibilities of shuffling around elements in your office, or from the other areas of your home, so your office is uncluttered and has ample space. Greenery is also often a great element to bring into the home workspace. Adding plants to the workspace is a quick way to get a big boost in satisfaction.
Consider a Color Scheme
If you want a fun home office, one of the best ways to make that happen is with a dedicated color scheme incorporating bright colors. You may think it's a waste of time, money, and energy to get so specific with your home office decor as to need a color scheme. However, you're going to be spending a lot of time in the office, and the colors you're surrounded by can dramatically affect productivity when your space is inviting, with a balance of excitement and comfort.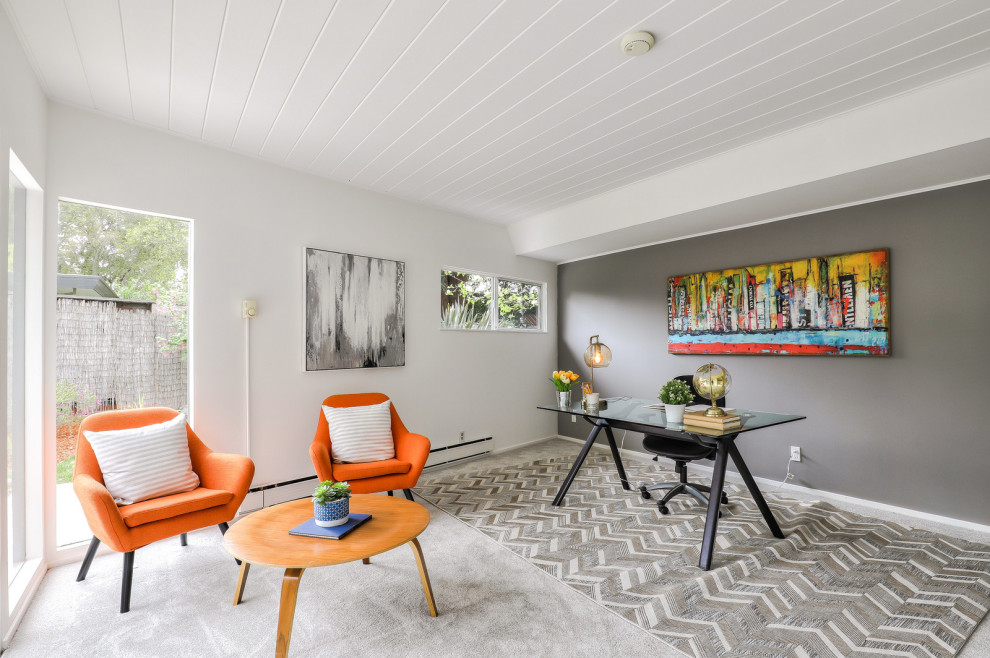 Photo by Boyenga Team / Compass
Freshening up your office with a new coat of paint on the walls that introduces a brighter color can really bring your office to life. It'll be easier to regularly devote time and energy to a place that doesn't physically drag you down. You don't have to just incorporate the color scheme with wall color. Even little touches in the furniture or decor can go a long way.
It's OK to Experiment
A dramatic refresh of your home office, if that's in the cards for you, is probably something you'd prefer to do in a large one-and-done effort. That's great when it works out. But remember that when it comes to the balance of fun and functionality for your office at home, you don't have to figure everything out all at once. A willingness to try new ideas and evaluate how they work will help you craft, through time, the workspace you want.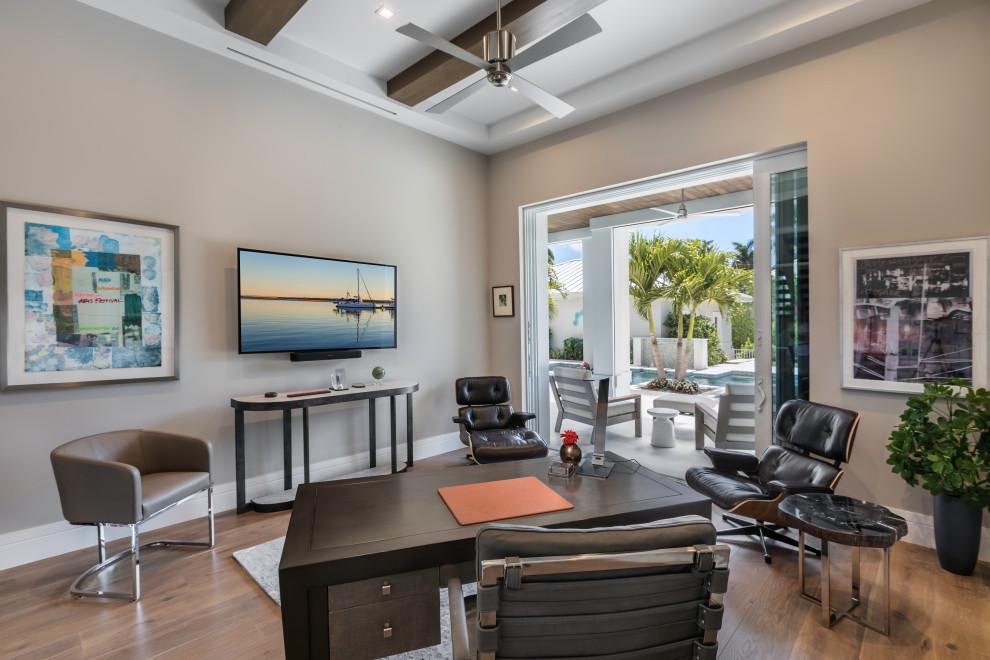 Photo by Seaside Custom Builders
Of course, fun for you isn't the same as fun for your coworker at their house, and you can't expect your workspace preferences to match anyone else's. Let yourself experiment and see where it takes you! Just as working from home is a continuing process, so is creating a fun and functional home office. Creation takes time and exploration.