No matter whether you are looking into selling your home or renting, some investment needs to be done in order for it to be sold/rented for a higher price. Naturally, to you – your home is priceless with all the memories and wonderful moments that have happened in it, but – the time has come to move on.
My wife and I had to rent our house because our two youngest kids left for college, our oldest daughter got married and it was simply ridiculous for the two of us to live in a huge space on our own. So, we looked at renting a smaller place while we started the necessary preparations for renting the house.
Here are a few tips on what we did (and we did it successfully!) without having to break the bank!
1. Make a plan
All good things in life come from a well thought out plan, and so does selling or renting a house as well as its refurbrushing. Even though it'll seem at first that all rooms need fixing, that's probably not the case. Inspect your house thoroughly for all that needs fixing and touching up and write it down. Then, write the down your budget and see how you can work all the repairs in. Once you have a clear idea with where to start and how much money to spend, it'll all be easier.
2. Exterior of the house
First impressions count, in relationships and all other interactions. When you have a potential buyer walking towards your house, the first thing he is going to notice is what it looks like, whether it's clean, painted, what the yard is like and whether there are some eyesores like cans full of trash, dead trees and shrubs, bare spots in the lawn, house paint that started peeling off, etc. So, for the wonderful first impression, get the exterior of your house fixed. Invest in some inexpensive fixes that'll give the house its glow. How do you feel about a stone walkway from the driveway to the front door? What about adding a few flowers pots and plants along the front of the house? How about you installed a new fence around the property and painted it white? Maybe washing the house's exterior and then applying a new coat of paint? Fixing the door bell, adding new locks and door handles? Adding new paint to window trim and other wooden surfaces? Yes, please!
3. Interior of the house
Now that you've taken care of the exterior, it's time to devote your time and energy to the interior. The first thing you should do is obviously clean the house from bottom to top. Then, replace all broken lights and keep them the brighter possible. Investing in new linens and curtains is a good idea as this will add a touch of elegance to the house. To create a perception of a larger space, add tall mirrors in high-traffic areas. Naturally, do this only if your space allows it.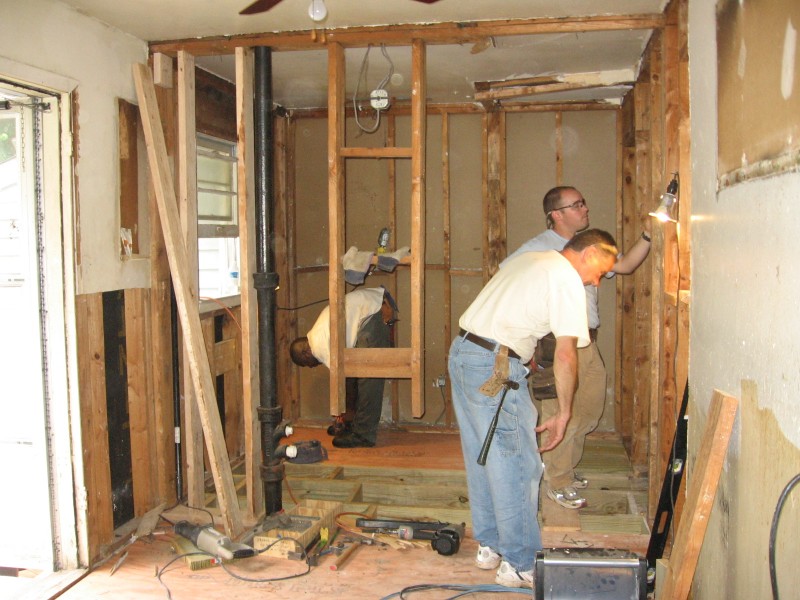 source
The kitchen and bathroom spotless must be spotless, no argue.  Replacing fixtures such as sink faucets and shower heads is only logical. Also, don't let any leaking faucets ruin this sale for you! Resolve any plumbing issues the house may be having.
source
To give your house freshness and that feel of newness add a fresh coat of paint or new wallpaper to prominent rooms such as the living room and kitchen. Unless you'll be changing furniture, don't choose anything drastic, color-wise. Wash all walls that you do not plan to repaint and shampoo all carpets and rugs. Maybe even invest in new ones if your budget allows it.
4. Upgrades
With inexpensive upgrades to some of the rooms, you may give the house a totally new feel. As one of the main rooms in the house is the kitchen, you should look at upgrading as better as possible.
source
To dramatically increase a kitchen's visual appeal, add new countertops. You can also apply a new coat of stain to kitchen cabinets. If your budget allows it, invest in an elegant dining table and chairs. This will further enhance the kitchen's appeal.
To further cut energy consumption, install motion-sensitive switches instead of leaving the regular ones. You can also replace switches with dimmers.
You already know that doing any fixes around the house on a budget can be really demanding and even on a verge of being called a magic trick, but as you can see – with good planning and proper organizing of what you've got – you can achieve much!