As homeowners, you've done what you consider the hard part: purchasing a home. Now, however, comes the time for executing all the DIY projects around your home. That includes all the painting, Wallpapering, and other projects to make your house a home. Some of those DIY projects that you plan to tackle are outside. Continue reading for a guide for those building an outdoor patio and get a list of tools and materials you'll need.
Having the tools you need for DIY projects both inside and outside is essential for homeowners. For your outside patio building project, you will need:
Spade
Garden hose or stakes and mason line
Landscape fabric
Tamper or plate compactor
Wheelbarrow
Gravel or limestone paver base
PVC pipe (2) cut to the length of your patio
2×4 board
Plastic edging (optional)
Polymeric jointing sand
Broom
Flagstones, bricks, or pavers
Builder's sand (also called leveling sand)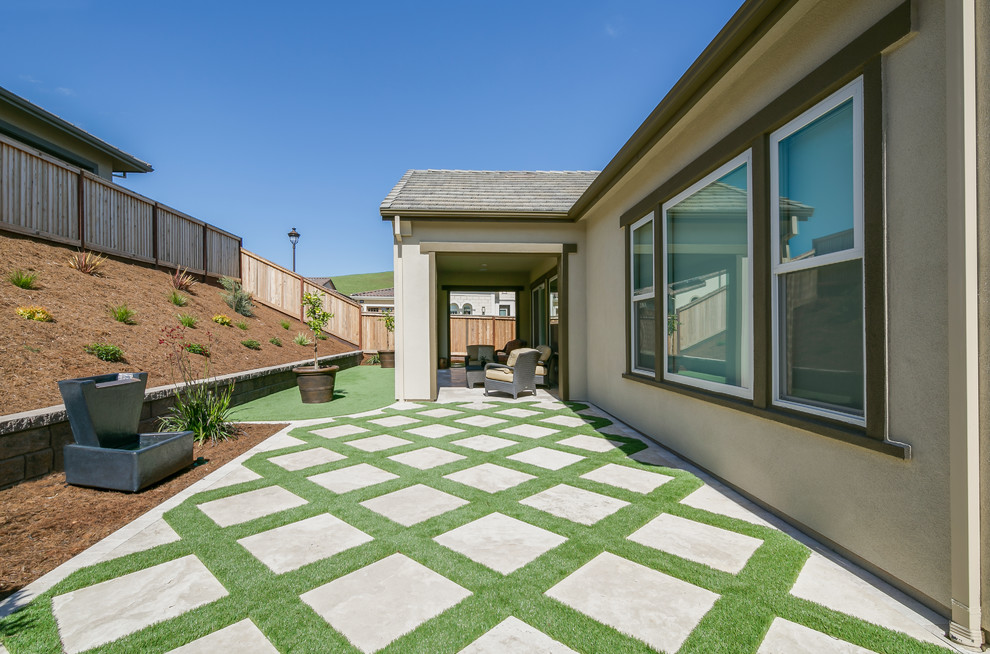 Photo by DPG Pavers and Design
Determine Where Your Patio Will Be
Determining exactly where your patio will be is essential for your DIY project. That includes selecting how far into your yard your patio will extend. It would help to consider how many yards you will have after building your patio. If you have small children, will you want a play area for them? Also, do you use your patio to entertain, or do you have a deck?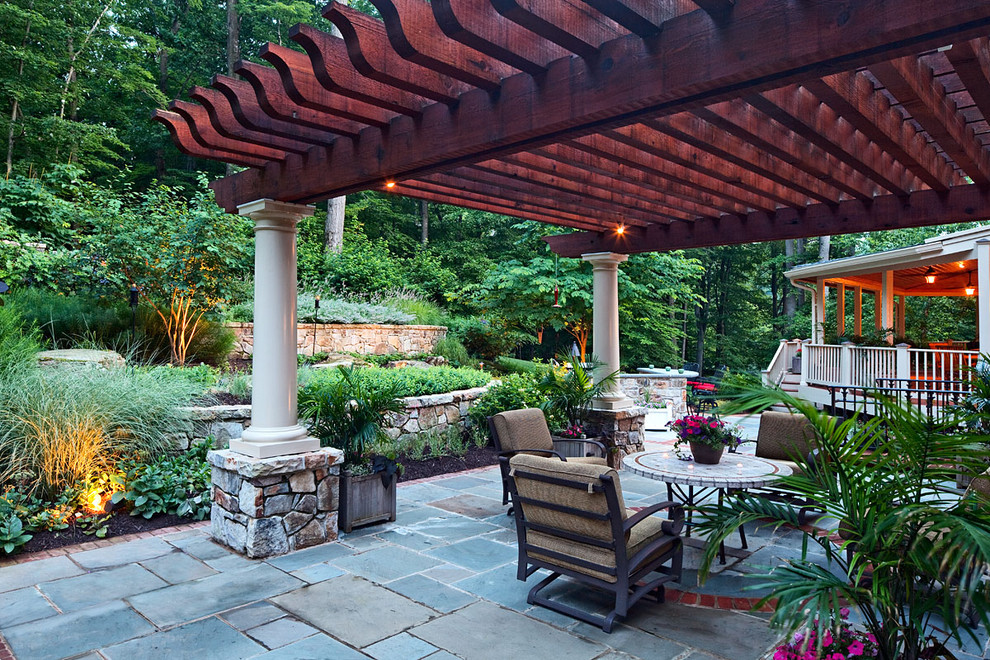 Photo by SURROUNDS Landscape Architecture + Construction
Do this by laying a garden hose in the shape that you want your patio. Keep in mind that if you use patio stones or brick, you can extend your patio later. However, using the hose will visually show how large your patio will be.
Determine What Stone or Material Your Patio Will Be And the Pattern
For a DIY project, especially for first-time patio builders, purchasing bricks or pavers that are straight cut or have a slight curving pattern will work well. Some popular types of pavers include:
Concrete Pavers
Stamped Concrete
Brick Pavers
Flagstone
Slate
Rubber Tiles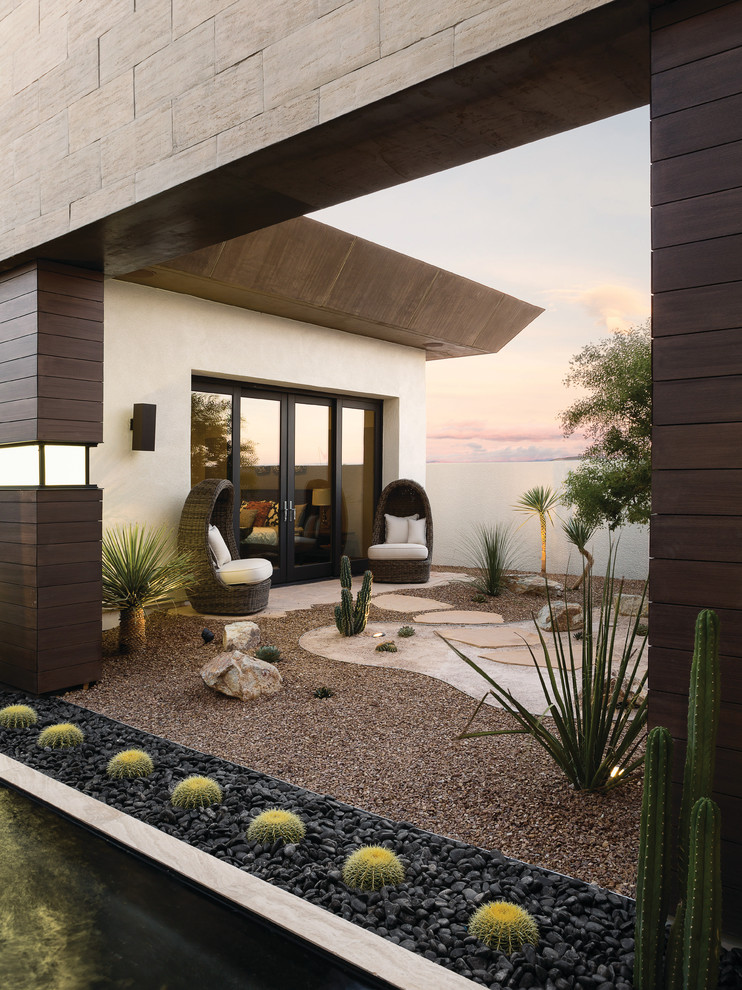 Building Your Patio
Once you have everything you need and are ready to begin your project, there are specific steps to be taken, outlined below.
Step 1: Lay Gravel Base
All patios need the support of a gravel base. Lay two to three inches at a time and finish with 6 inches of the base.
Step 2: Build Retaining Wall Block
Your retaining wall goes along the edge tune design for your patio. It goes directly on the gravel base and gets held together with a construction adhesive.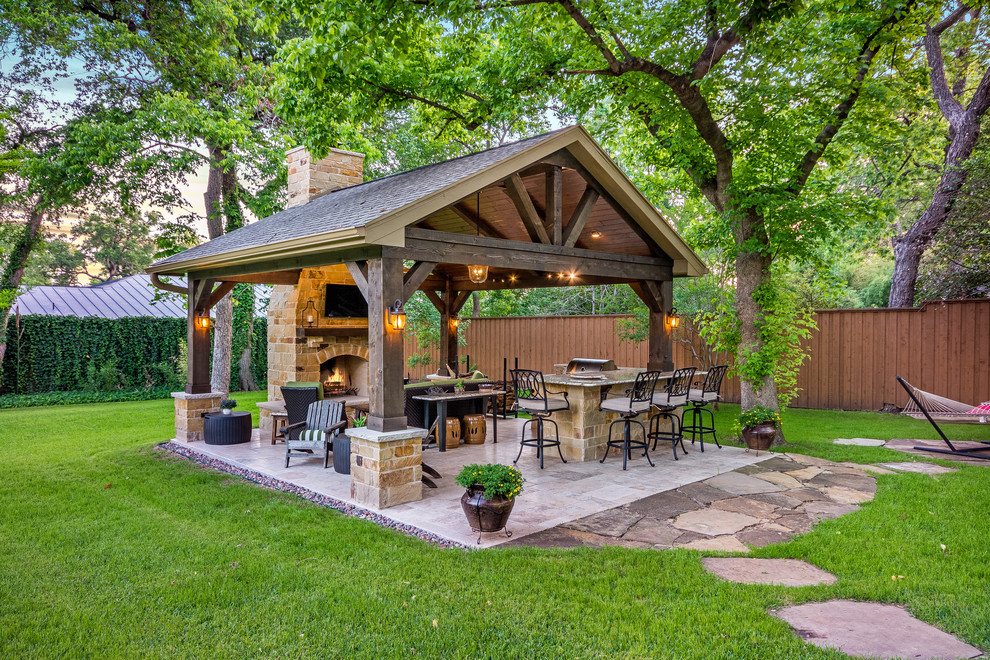 Photo by TCP Custom Outdoor Living
Step 3: Place the Pipes
Pipes help determine the correct measurement of leveling sand will be needed. Those pipes will be removed before you lay the papers.
Step 4: Decide if Your Patio Will Have Accessories
You must determine if your patio will have certain accessories built into the ground. That includes lighting, curtains, or other unique features. Here is where you would install an industrial curtain track. Your patio can be enclosed with a divider curtain or tarp when entertaining and strong winds threaten to blow everything off the patio. You can use a grommet kit to secure your tarp in place.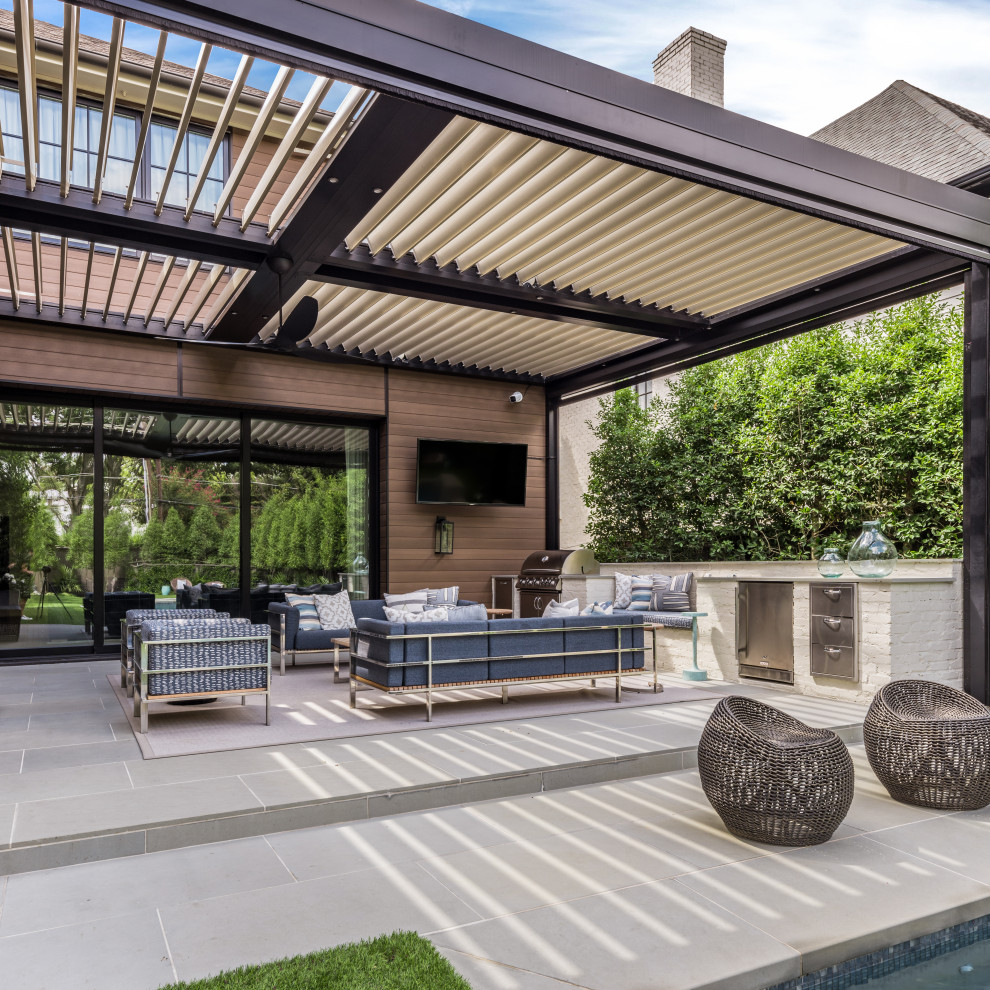 Photo by DDLA Design Landscape Architecture
Step 5: Laying the Pavers
Starting at the outer edge, lay your pavers in the pattern of your choice. Remember to leave small gaps between the pavers.
Step 6: Make Sure Your Pavers are Even and Straight
Use a level to make sure your pavers are even. If not, tap them with a rubber mallet.
Step 7: Install Edger
Install paver edgers about every foot to ensure that your papers don't go over the edge.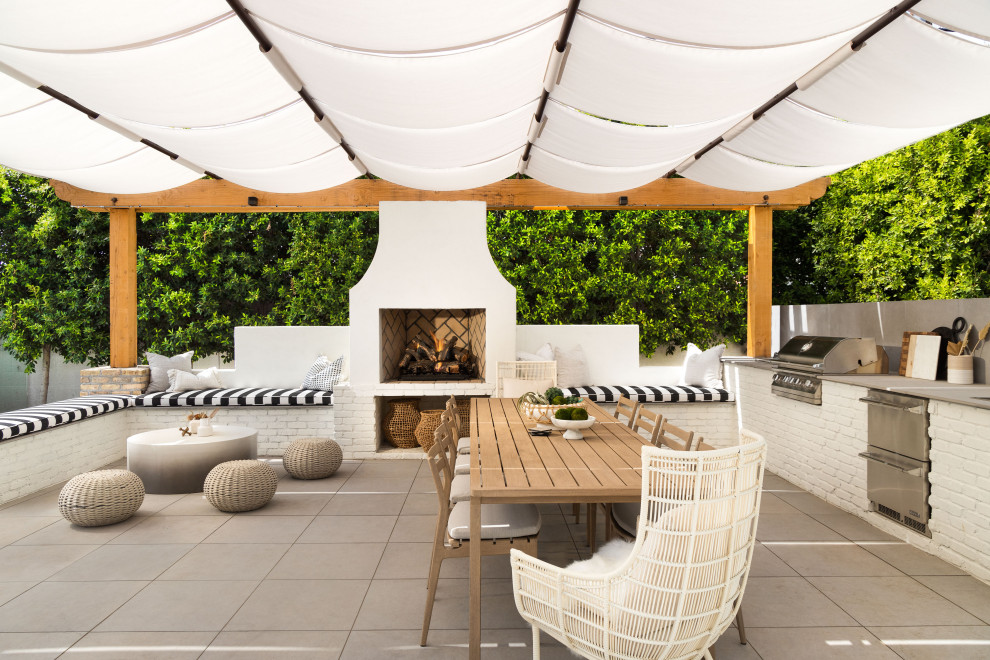 Step 8: Add Sand Between Pavers
When you have all your pavers in place, adding sand will keep weeds from growing between them. Let your jointing sand dry before sweeping off the excess.
Conclusion
Taking on DIY projects when you purchase a home is exciting. This beginner's guide and the steps to take are above for those interested in building their patio. Good luck and enjoy your new space.