Decorating a bathroom is bit different than remodeling any other part of the house; part of it because you are limited when it comes to accessorizing, part of it because of the space limitations. Yet there are a few tricks you can use to upgrade the look of your bathroom, and make it gorgeous.
Most designers agree that bathroom mirror is the most important part of any bathroom, at least when it comes to the luxurious feel of it. The drill has changed in the past years – a mirror used to have a purpose of helping someone to get ready for their day while nowadays apart from the function, a mirror adds style to your bathroom.
So, that's what we will be talking about today – proper bathroom mirrors that'll give a special vibe to your bathroom!
Think about your options
1. Framed Mirror
This type of mirror comes with a frame already attached. Most homeowners rather opt for this type of mirror because it takes up less time shopping for it then for both pieces separately. They are also preferred for the ease of hanging and depending on the type of frame they can look absolutely stunning in your space.
2. Frameless Mirror
A frameless mirror comes only with the mirrored glass, no frame attached. This type of mirror has become particularly popular for modern spaces, due to its "floating" effect. These are also easy to install or hang. Usually, they are glued to the wall to eliminate bulky hardware which is visible.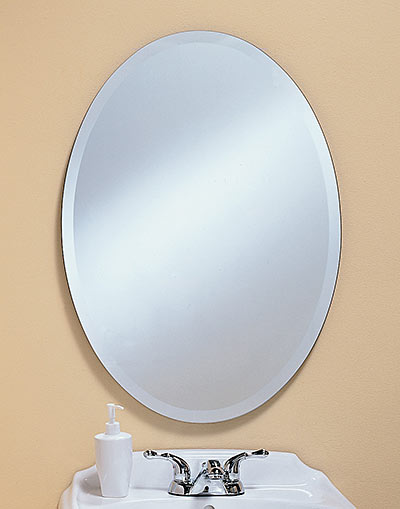 source
3. Custom Mirror
Choosing a custom mirror isn't that uncommon. The customer picks the mirrored glass and frame separately and decides on the shape. Basically, options for these custom-made mirrors are endless. The key to the mirror looking just the way you hoped it would is attention to measurements and detail. Since this is a two-step process, installation and hanging is a bit extensive.
4. Mirrors with built-in lighting
These are great for practical reasons, especially for the ladies. Putting makeup is a bit hard in darker spaces. The lighting in a mirror will provide that extra glow and you'll be able to see what you will really look like when out and about in town.
The size matters
1. Length
The size (length) of your vanity countertop will typically be dictated by the size of your bathroom mirror. A rule designers follow is to pick at least 2 inches small in length than the vanity.  This eliminates "the box" look that tends to cheapen the design of your entire space and provides 1 to 2 inches on each side of the bathroom mirror.
2. Height
After determining the length of your mirror, consider the height. A bathroom mirror should be placed at least 4 to 6 inches from the ceiling and no taller than your vanity. The height of your mirror also depends on your bathroom lightning position. If the light is located directly above the mirror space there are certain things to be considered.
 Shape and style
Great thing is that you can basically choose a mirror in any size, shape and color imaginable. The trouble here is that you'd often get sidetracked being offered so many options but then again never with the possibility to actually see the finished looked of your favorite pieces in your bathroom. Well, there is a trick that can end your troubles.
Make cardboard mirror imitations of shapes you were considering for the bathroom and "try them on". Attach the template to the wall using tape. See how they fit your space and then choose the one you think will look best and then order the mirror.
Function is important
Unlike a decade or so ago mirrors are no longer just for reflections. They are also very functional. Bathroom mirrors combined with vanity cabinets are now a great place for storage and they can be found in both traditional and modern styles.
Choosing bathroom mirrors is an important task as it can determine the look of your bathroom.
Depending on the overall style of your bathroom, you can opt for either of the two styles. Typically, a mounted box vanity cabinet is traditional in style, yet there is also a possibility of modern designs as these are usually created with sunken cabinets which are completely invisible when closed.
Both are brilliant options for anyone who wants to add a little more storage space for grooming products.
With these little tips we hope we helped you a lot to determine what direction you'd like to go with your bathroom mirrors. If you've got some advice, please share them with us.