When you move into a newly constructed home, you'll have the luxury of being in a place that's brand new throughout. This means that you'll be able to rest assured that you won't need to make repairs immediately, and that the building materials that were used were modern and eco-friendly as well. But a new construction could also feel a little drab, and it can be difficult at first to make it feel like your home. Continue reading for a few tips to solve this problem easily.
Decorate Your Bathroom
Your new bathroom may be fantastic in appearance, but it may feel a little cold until you really make it your own. Start with a great shower curtain if you don't have glass shower doors. Then add a cute floor mat and some attractive decorative towels in addition to your hand towels to spruce up the space. Add some fragrant candles, window treatments, and art on the walls so you can make it feel like a spa retreat rather than a plain old bathroom.
Photo by Kati Curtis Design – Browse eclectic bathroom photos
Paint the Walls and Hang Up Your Art
When you move into a new build house, the walls are likely going to be in a plain color, such as a cream color or white. This definitely doesn't hold any character, so one of the first and easiest ways that you can make your house your home is by repainting the walls in whatever hues you like best. Once all of your walls have been repainted, you can go ahead and add your favorite art and portraits to the walls to give every room a unique vibe of its own.
Photo by Lisa Wrixon Interior Design – Search eclectic kids' room design ideas
Make Everything Comfortable
Your home should be totally comfortable and totally "you." When you walk through the front door, you should immediately feel a sense of ease. One of the best ways to achieve this is by infusing every room with comfort. Add warming candles to your kitchen, along with warm lighting. Then go with blankets and cute pillows on your sofa, as well as a thick duvet and extra pillows on your luxurious bed.
Photo by Shift Interiors – Browse Scandinavian living room ideas
Let the Light In
If you've purchased a newly built house, like one of the beautiful ones my sister bought in Bella Montagna, you'll be able to enjoy some really incredible and breathtaking views from every room in your home. Take advantage of this by opening up the windows rather than covering them with thick window treatments during the day. This will allow plenty of natural light to flow through, making you feel like you're in a complete state of bliss.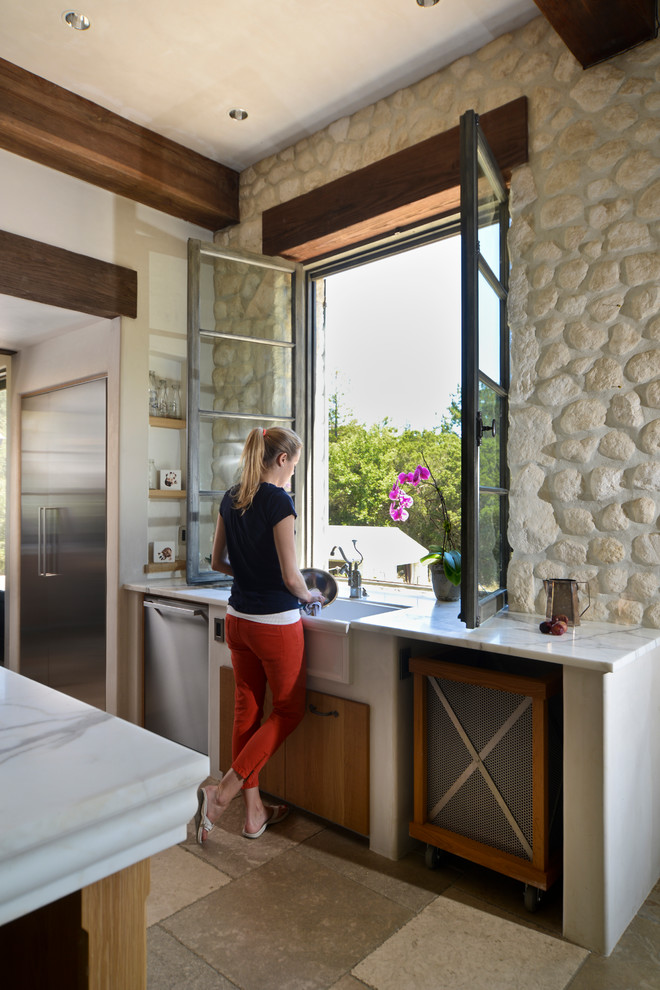 Photo by FGY Architects – Search Mediterranean kitchen pictures
Place Your Favorite Items Everywhere
Whether it's your favorite picture in a frame or your favorite souvenirs from trips that you have taken throughout the years, you likely packed a lot of little items that really mean a lot. To make your new house feel like your true home, place these beloved items throughout every room in easily visible areas.
Photo by Blakes London – Search traditional living room pictures
Making your house feel like home is really all about incorporating elements that are "you" throughout the space. Have fun and enjoy the end results!