Lamps and lighting aren't only a necessity when it comes to design, they also create endless possibilities for unique and interesting interior design. By decorating with lighting in mind, you can create both harmony and functionality – and at the same time make the environment feel stylish and exclusive.
You can create depth, and height with great lighting and draw attention to the most impressive areas in your home. It all comes down to balancing light and shade and bringing fresh energy to the interior and maximizing the impact of your space. In the post below, we have collected the best tips on how to create a well-lit space in your home and spruce up your interior.
General Lighting
General lighting can be seen as the basis for all good lighting and here you should choose a light source that spreads an even light over as large an area as possible.
A high ceiling fixture may be sufficient, but sometimes you may also need to supplement with indirect lighting, for example with hidden lamps on top of a high bookshelf.
Mix different types of light sources to give the room a lively atmosphere. Make sure you have both lamps with directional light, general light and softer mood lighting. When you get light from blown glass pendants, wonderful shadows, shapes and textures are created and the room comes to life compared to when you only have a ceiling lamp that spreads an even but "flat" light.
Mirrors with Light Source
Mirrors help spread light and can enhance the look of a room. By combining mirrors with a light source, they become masterful eye-catchers that spread a wonderful mood light.
Many would place such a mirror in obvious parts of the home such as the hall or a walk-in closet. But why not experiment and decorate the living room or bedroom with this type of mirror as it can contribute to the overall interior.
Light Up Dark Corners
Dark corners are perfect places to be creative with lighting. Place a lamp hanging from the ceiling, or positioned on a side table or the wall. This will give a playful effect to the room and we promise that the corner will suddenly be one of the coziest areas in the home.
For instance, you can choose a wall lamp that's both height-adjustable and the screen can be turned sideways. It's the perfect solution for a reading corner or next to a sofa.
The corners around closets, shelves, kitchen counters and cabinets are areas that are often neglected. With correctly placed lamps in the corners, the room can instantly get a whole new vibe and energy. Feel free to use so-called up-lighters in various floor corners that shoot up walls and make them glow bright and make the room feel higher than it is.
Accentuate the Beautiful
If you have art or curtains you love, they shouldn't be left in the dark. Use ceiling spotlights and direct them to the long wavy curtains or beautiful paintings. If you have, for instance, silk and velvet curtains, the material can look dull in the dark, but if you illuminate them in the evening, you can watch them slowly come to life and brighten up the entire room.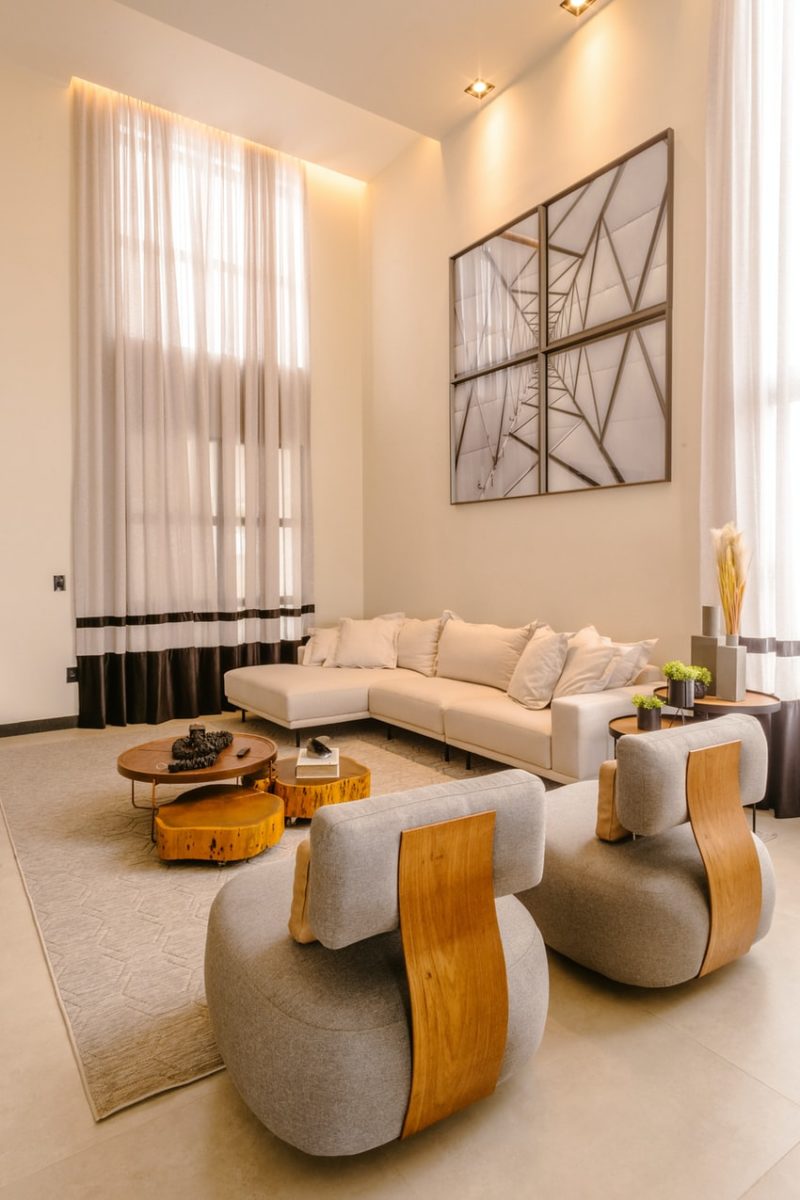 If you have floor plants you take extra care of, put a floor lamp that shines both up and down behind the plant for a spectacular effect.
Mood Lighting
The feeling you want to achieve in a room is affected by your light sources. For the home to feel both soft and inviting, mood lighting is important, especially if you have decorated the space with dark and rigid details. Placing smaller light sources on different levels on the bookshelf, on the side table or desk will give a specific atmosphere to your living environment
A tip is to convert your functional or general lighting to mood lighting using a dimmer. There are also dimmable light bulbs that can be controlled via a switch.
Let the Desk Lamps Set the Style
If you have fixed general lighting with recessed spotlights in most of your rooms, it will be the work lighting with traditional desk lamps that will create a sense of style. Here you can choose a neater model for a more minimalist expression or a larger classic model that becomes a nice element and can enhance the feeling of an otherwise simple office interior.
Final Thoughts
Lighting is a very important part of the interior as it influences the character and atmosphere of a room. Not only will the abovementioned lighting tips create better functionality and design, but they'll also help you achieve a nice balance between light and shadows and thus a better and more pleasant mood.