Quartz kitchen worktops are steadily becoming the top choice for property developers, architects, interior designers and homeowners across the world. If you are planning to renovate your kitchen and have decided to change the worktop already installed there, we suggest that you begin by looking at the option of quartz kitchen worktops.
Food binds families together. So many of our memories, be it from our childhood or our adult lives, are linked to delicious meals that have been shared with friends and family. Another important feature that makes the kitchen so crucial to every home is the fact that homeowners spend a considerable amount of time there. Therefore, any kitchen space has to be comely, comfortable as well as highly functional.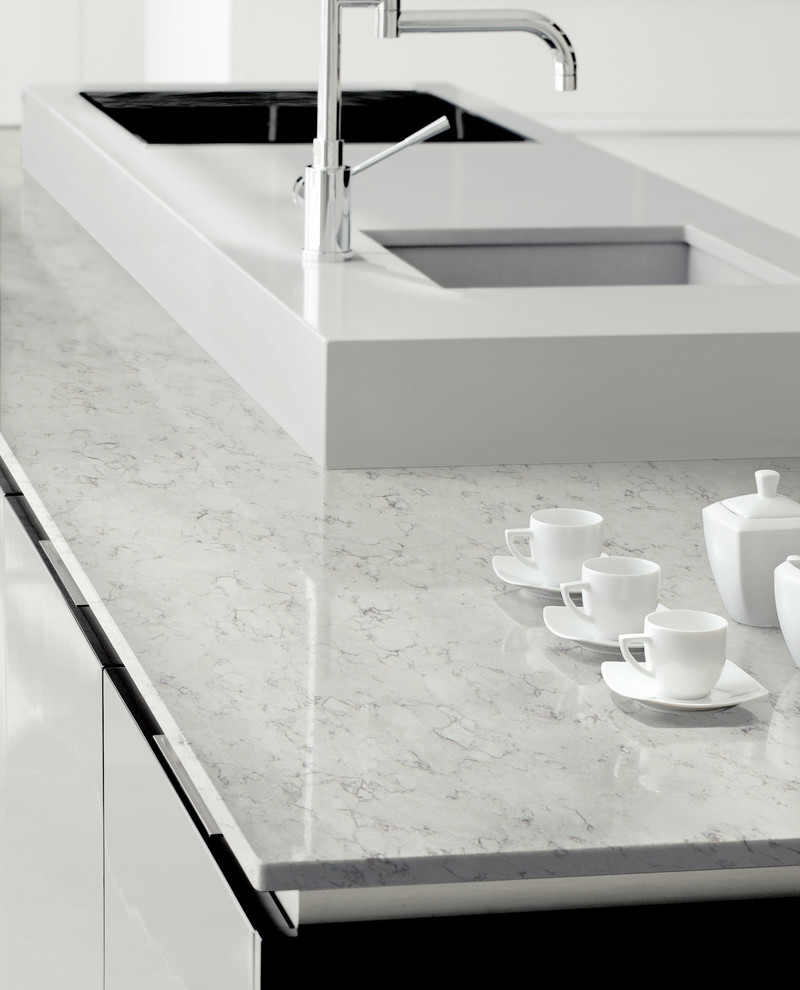 Photo by Cosentino – Browse contemporary home design ideas
We strongly believe that the kitchen is the heart of any home. Therefore, we also believe that extra care should be paid to it while building or even renovating one's home. Snap decisions may seem like the easy way out but in the long run they will hurt if proper care is not taken.
A kitchen renovation might seem like a tedious process but with a little research and some good advice from experts in the field makes the jobs really easy. There are few basic questions that you need to ask yourself.
Why are you renovating your kitchen?
Does this renovation mean overhauling the entire kitchen or just an area?
How important is the role of aesthetic detailing in this renovation?
Finally, what is the budget that has been set aside for this renovation?
If you are planning to renovate your kitchen then we are sure that you would want to look into the position that your kitchen worktop is and if you need to replace it. There is a plethora of options that is being made available today when it comes to worktops. The material ranges from wood to stainless steel and also to stone. There are a few considerations to be kept in mind while choosing the appropriate worktop material. If you are looking to install a worktop and want it to last a long period of time, then you should consider stone worktops.
Photo by Total Kitchen & Bath, Inc – More traditional kitchen ideas
Why choose a stone worktop?
To begin with, stone kitchen worktops look so pleasing to the eye. With its earthy structure, these worktops are definitely favourites when it comes to making your kitchen look grand without adding too many elements to it. A stone worktops speak 'volumes' when it comes to style! And, when it comes to durable, sturdy and long-standing kitchen worktops, granite and quartz are the best. Quartz worktops particularly are known to last for the longest period of time. Silestone quartz worktops, for example, are sourced from its parent company Cosentino based in Spain. The company has a global presence across 5 continents and is known for its highest standard of quality, innovation and commitment towards its clients. The company has been faithfully meeting all its requirements for the past 20 years. Cosentino is one of the first companies to produce quartz tops that are today being used for a variety of purposes.
What is Silestone?
Before getting into the details of installing a Silestone quartz worktop in your kitchen you should also know what Silestone actually is. To put it simply, Silestone is a material that is made up of 94% quartz. Quartz, interestingly, is the third-strongest stone found in nature. It is a metamorphic rock and is non-porous in nature. Because of that, there is no space for bacterial growth on the worktop. Other material such as wood can become breeding ground for bacteria because of their porous structure. This makes Silestone quartz kitchen worktops an ideal choice for your kitchen.
Photo by Kitchen Cove Cabinetry & Design – Browse contemporary kitchen ideas
Why choose Silestone for kitchen renovation?
Availability of colours
Silestone quartz kitchen worktops are available in a range of colours: Silestone Orion White, Silestone Blanco Zeus, Silestone Lagoon, Silestone Lyra, Silestone Niebla, and Silestone Cemento Spa to name a few. This huge range of colours gives you the option to choose the best colour to match the other components of your kitchen, as well as complement the overall look of your home. For example, a Silestone Orine White kitchen countertop will look absolutely stunning in a minimalist kitchen. It will also go well with the stainless steel appliances, wooden crockery and other elements in your kitchen. The wide range of beautiful colours along with the grainy, rocky structure of your Silestone kitchen worktop will definitely add value to the way your kitchen looks. These worktops are also available in a number of finishes and they can be tweaked to match your preferences.
Photo by McKinney York Architects – Search contemporary kitchen pictures
Silestone is extremely strong
Because it is made from 94% natural quartz, Silestone worktops are very sturdy. They are, in fact, stronger than marble worktops as well. The sturdiness of quartz ensures that you kitchen worktop is always prepared to take on objects that are heavy without the fear of wear-and-tear and chipping. Moreover, because it is non-porous in nature, it will, in all probability remain intact even if there a sudden heavy impact on the surface. However, it does not necessarily mean that you test the strength of your Silestone kitchen worktop by placing something exceedingly heavy on it!
Silestone quartz is acid resistant
Because of its composition, Silestone quartz worktops are acid resistant in nature. This ensures that there are no ungainly marks left on your pristine Silestone Lagoon worktop just because you spilled some lemon juice or coffee or even vinegar on it. All you need to do in case of spillage is to wipe the product away using a wet spot sponge and the worktop will look as good as new!
Photo by Cheryl D & Company – Search traditional kitchen design ideas
Low maintenance
Like we mentioned earlier, maintaining the original appearance and durability of quartz worktop is comparatively easier than having to be constantly worried about your wooden kitchen worktop getting scratched easily. For example, you go ahead and install the Silestone Toffee kitchen worktop in your kitchen. Now, all that you will have to do ensure its maintenance is regularly cleaning it with a soft sponge using a mild detergent. However, keep in mind that you should heavily scrub the worktop. If some food item has settled on the surface, then you can easily scrape it off with the spatula and then wipe off the surface with a wet sponge. Do not use dishwasher cleaning agents though. A simple mild detergent will do the job just fine.
Your worktop will be scratch resistant
Quartz is one of the strongest stones in the world. It has the ability to even cut glass; which is something that not even marble can do. Therefore, in case you accidently (we do not recommend it) use the kitchen knife directly on the worktop surface, thereby bypassing the cutting board, chances are that your worktop will not get scratched. However, just to ensure that the worktop is not unnecessarily damaged, we suggest that you should always use a cutting board in the kitchen and also just remain a little mindful about sharp objects coming into direct contact with the worktop.
Photo by CATO creative Ltd – Discover contemporary kitchen design inspiration
Final point: Silestone quartz kitchen worktops deliver exactly what they promise
A lot of people are of the opinion that quartz worktop are very expensive and therefore, not suitable for all. However, what you need to keep in mind is that once you install it in your kitchen you will be relatively worry-free. Unlike worktops made of wood which require constant and at times costly maintenance or those made of stainless steel that are quite prone to scratches, quartz worktops are relatively hassle-free. With a little bit of care and due diligence you will get value for the money that you invest in it. Moreover, with the advent of modern technology, it has become relatively easy for homeowners to install stone worktops. Companies dealing with installing them ensure that their personnel work at the site of operation (in this case a client's home) with utmost respect for the privacy of the client. Also, the level of sound emitted from the stone-cutting machine is carefully manipulated to remain within an acceptable range so as to not cause any inconvenience to the client.
Photo by Planet Furniture – Discover farmhouse kitchen design ideas
In today's day and age both aesthetics and functionality play a huge role in arriving at crucial decision involving our living spaces. Quartz kitchen worktops serve this dual purpose exceedingly well.
Further to the above, we believe that when a homeowner thinks of renovating their kitchen they need to invest in items that will last them for a long period of time. Renovating one's kitchen is not as simple as buying new curtains for the bedroom. It requires a lot of research and foresight. You want your kitchen to become better than what it is at this point in time. Therefore, you should look at the possibility of maximising positively on every decision that you make — right from something seemingly minor as a new dinner set to something huge such as changing the worktop in your kitchen.