In the recent years, exposed aggregate concrete has become everyone's favourite and is a big household name today! This exposed aggregate concrete is a decorative form of surface concrete. It is used in sidewalks, driveways and patios. It looks so unique and extraordinary because of the presence of stone, pebbles and sand. And to bring out the various designs and effects or patterns, the finishing of exposed aggregate concrete is done by stripping the surface or by seeding.
You can achieve a decorative driveway, sidewalk or patio by using the exposed aggregate concrete. Therefore, in order to get a spectacular look at reasonable cost, exposed aggregate concrete is the way to go!
Photo by Skale Building Design
There are various benefits also that come with the installation of exposed aggregate concrete.
#1. Highly customizable
You can add various materials, create unique designs, modify them to form new patterns and get bold or subtle effect according to your taste and preference.
With a wide range of texture and an array of colours to choose from you can be free to choose them at your will and create something new and beautiful.
#2. Complements designs
The best thing about these exposed aggregate concretes is that they are highly versatile.
They can easily blend in with almost any design. They can be also pulled off with a house that has natural stones.
The colours can be as subtle and as bold as you want. You can go ahead and add almost any material like quartz, granite, limestone or basalts that would enhance your home even more.
#3. High durability
Since this decorative process has the structural integrity of concretes it is highly durable and sturdy.
This will create a natural aggregate finish that will ensure not only the ability to withstand heavy traffic but also make it look beautiful.
The material is able to sustain various elements like a heavy weight and other climatic or non-climatic conditions, without sinking or damaging the surface.
Photo by J.A. Smith Construction & Design Studio
#4. Safe and resistance to traffic
This is a very sturdy and a strong option to get your driveway, patio or sidewalks to be decorated in.
They are made in such a way that they are able to withstand heavy traffic without causing any sinking or damage to the floor.
This solid floor plan would be safe in all the conditions and resistant to traffic.
Another big benefit is that this exposed aggregate concrete surface is slip-resistant. Because of this property, it is extremely safe for children and elderly both.
Photo by Adams Construction Services, Inc.
#5. Most practical solution
Exposed aggregate concretes give you a more appealing, stylish and modern flooring that is sure to grab everyone's attention!
This is a material that will create a more natural looking pathway that basically needs less or no maintenance at all.
It just needs regular cleaning of the installed concrete so that it is hygienic and clean.
By installing these exposed aggregate concrete, you will be eliminating the formation and growth of any kind of weeds or moss altogether. Thus, it makes exposed a practical and beneficial choice for home owners.
Photo by Merz & Thomas Design/Builders
Exposed aggregate concrete does not only have durability but also has a range of design possibilities that you can take full advantage of. Different colours and textures enable you to form your own unique design. Exposed aggregate concrete designs involve artful combinations of many materials like stones etc. to give you a design that is unique in its own way.
Photo by Giffin & Crane General Contractors, Inc.
Although you will require a professional to help you carry out this process, it will be worth every penny. So, it is not only important that you get the best materials and best quality aggregates, but it is also important that you hire a professionally skilled contractor to turn your dream into a reality!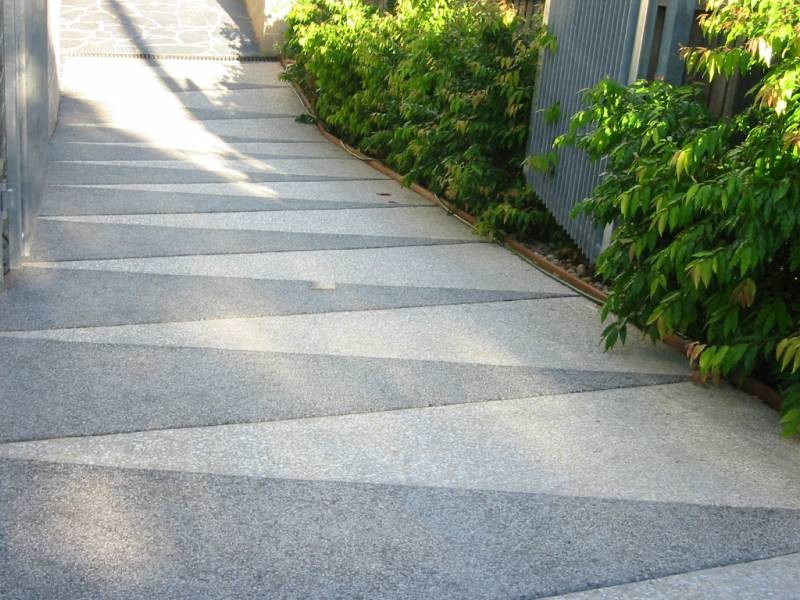 Photo by Designer Premix – Exposed Aggregate Concrete
About the Writer
This post is written by Joseph Webb. Joseph is an excellent blogger and philosophers, His keen observation to provide useful information which helps readers to get more ideas. He can be found on Facebook and on Twitter as @aussiesmag.