If you often love to visit the spa, you immediately start feeling like turning your home bathroom into a personal spa. Having your own spa at home is advantageous because you will be using it in a private and comfortable environment. Moreover, you will be saving cash as well and enjoying its simplicity. You might be used to going to the luxurious spa, but what if you create one in your own home?
Creating a spa in your home bathroom will tend to increase the value of your home should you choose to sell it sometime in the future. The benefits of having a home spa are endless. If you are thinking of converting your home bathroom into a spa, in this article, you will get to know some tips you can implement in creating your home spa bathroom.
Tips on how to turn your bathroom into a spa
1. Use a calming colour scheme
It is worth noting that colours play a huge role in impacting people's moods. When choosing which colour you want to paint in your home spa, always go for colours that have been proven to soothe the mind and reduce stress. One of the easiest ways of creating a feeling in the room is through colours. If your bathroom has several hard surfaces, choose colours that bring out calmness.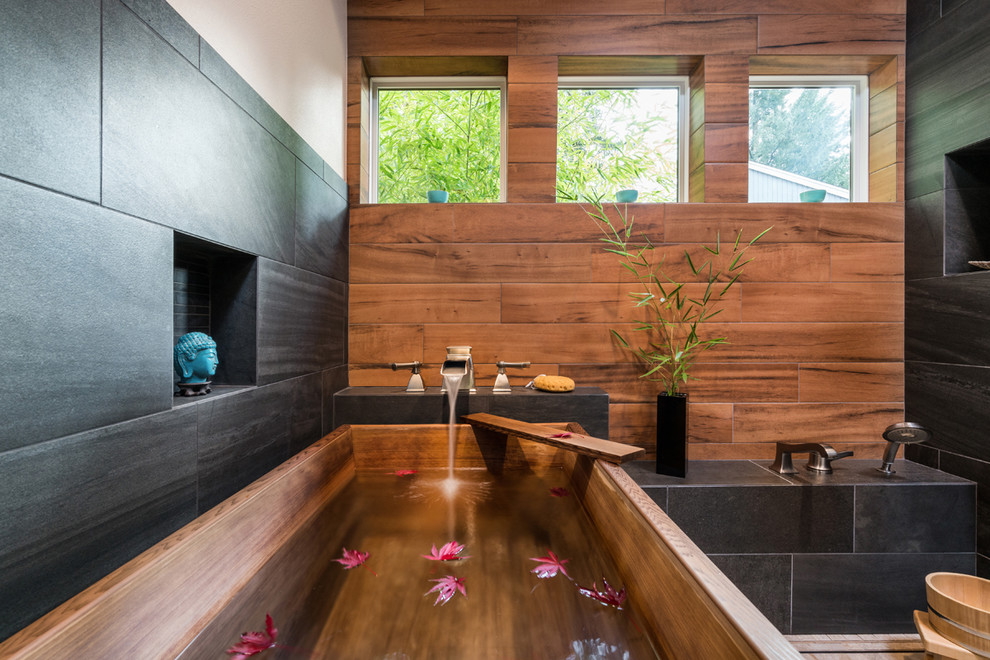 Painting the ceiling and walls of your bathroom plays a huge impact depending on the vibe you want to bring out. Painting a lighter tone colour will make your bathroom feel bigger. On the other hand, painting a darker shade of colour will add drama to the room. You can also use a matte finish or flat colour to absorb light, creating a smooth look when your bathroom has low light.
2. Create a mood through lighting
Lighting can affect the mood of the room. Therefore, always be keen on choosing the lighting to use in your bathroom as it can make your bathroom feel and look like a luxurious spa. Most spas use candle lights to bring out a calming atmosphere. You can also replicate this in your home spa.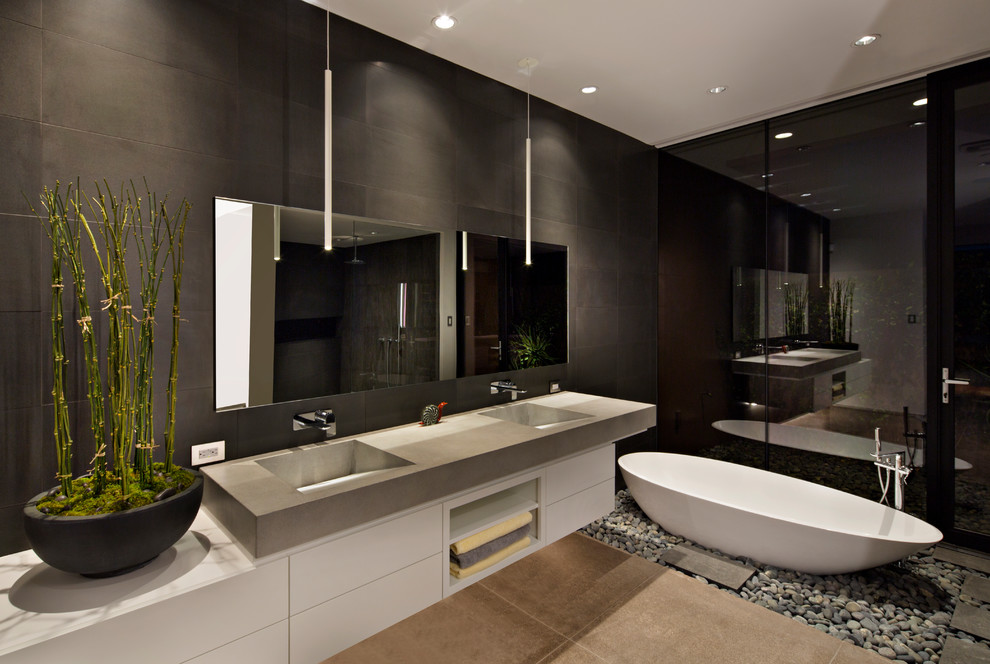 Photo by Tate Studio Architects
Use muted lights which you can dim down at any given time. Using light dimmers is great as you can adjust to create different environments in your home spa. Moreover, you can add lights around the sink or bathtub and you can also use floor spotlights.
3. Stand alone tubs
Bathroom fixtures have been around for a long period of time. Bathtubs have evolved from being mere functional fixtures to being the main focus in a bathroom. They come in different sizes and styles and it cannot be easy to choose the right one. Stand alone tubs can also be known as freestanding bathtubs. Freestanding bathtubs are finished on all sides, plus they can stand alone. The standalone feature is the reason why they are known as stand alone tubs.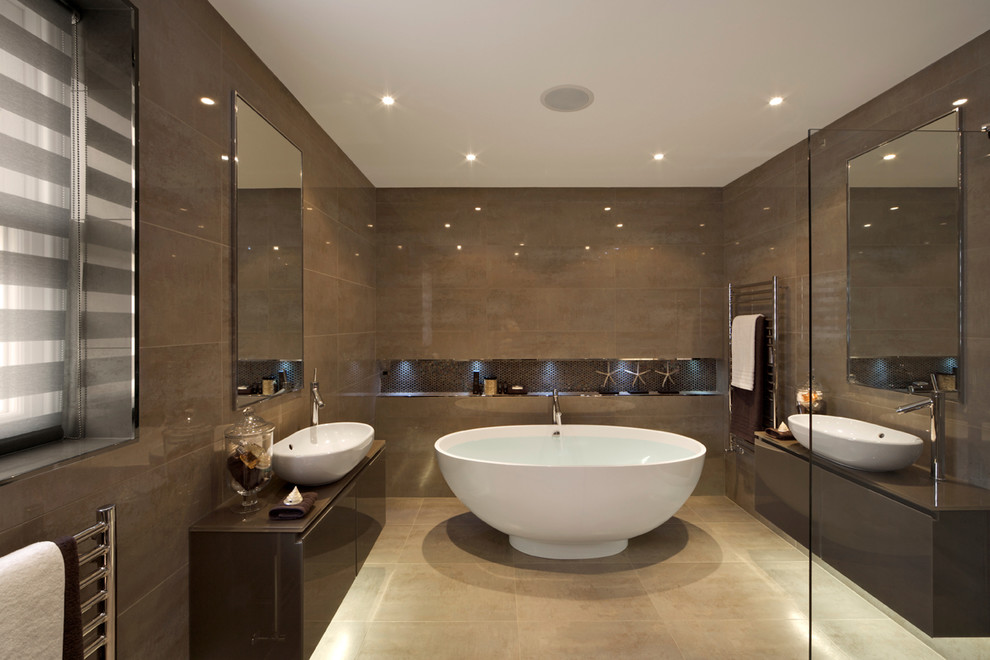 Photo by GOODFELLAS CONSTRUCTION
Freestanding bathtubs are designed to be more like furniture compared to the existing bathroom fixtures. In the past few years, freestanding bathtubs have been seen to be expensive features.
However, in recent years, their prices have become affordable. This means you can add freestanding bathtubs at a pocket-friendly budget. Freestanding bathtubs will be a great touch in your home spa as they can pull off a shower/tub combo in a unique way. It would help if you considered using these stand alone tubs as they are flexible when it comes to placement. You can place them anywhere due to their all-sided finish feature.
4. Wall mounted sinks
To create a more luxurious home spa, you can choose to install wall mounted sinks as they will make your bathroom airier and more open. Wall sinks provide clean, straight lines that bring about a great look in any design. Wall sinks are free of clutter and are easy to clean. This makes your bathroom sanitary and presentable.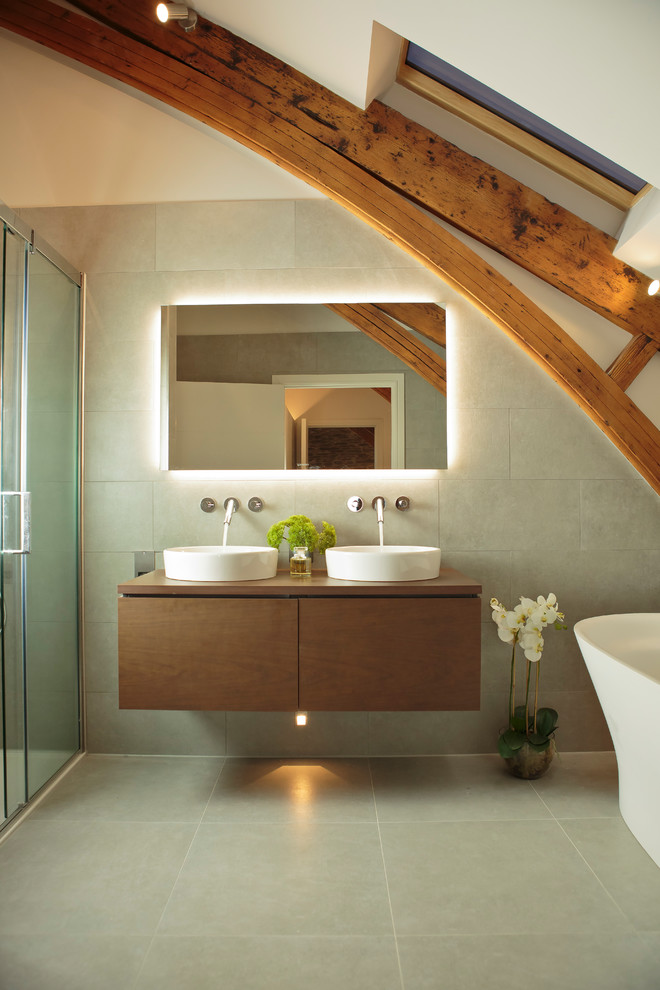 Final thoughts
Visiting a spa is always a fun and relaxing experience. But doing that at the comfort of your home is even more fun. Even if you are working on a tight budget, you can still develop a unique spa in your bathroom. You just have to focus on low-cost but high-impact items that will replicate the environment of a spa.