Do you have a standard wooden or aluminum entry door? Upgrading can allow you to show off your style, and invite your guests in with a conversation starter. Did you know you can boost the value of your home with a more expensive front door? We will talk about four ideas for upgrading yours below.
Add longevity and beauty
Improving the long-term value of your home with replacement doors using fiberglass is a lasting change. These doors will never rot or warp like wood. Experts suggest using pre-hung doors when yours is over 25 years old. Otherwise, you may have air leaks and big gaps. If you do not have experience measuring for this style door, then it is best to allow the seller to measure the opening. You can choose from a variety of looks including wood grain and solar-reflecting paint.
Add natural light
Swinging for a door with a stained glass window, a modern door with long, slender windows, or a custom door can improve the atmosphere in your home. The additional light will brighten up the entry and any rooms open to the door. The larger the opening, the more the effect. While you can even have a window-like door, it's best for your privacy that the glass be frosted, marbled, or stained.
Photo by Sheila Mayden Interiors
Improve security
A solid steel door can look commanding with a bold color like bright red. You can add light with glass windows, but these doors offer the best protection with no windows. Your insurance rates will likely drop when you upgrade to a safer entry door. Of course, you don't need to completely replace your door to beef up your front door security. Security screen doors can be added on top of your existing door much like the security screens on windows.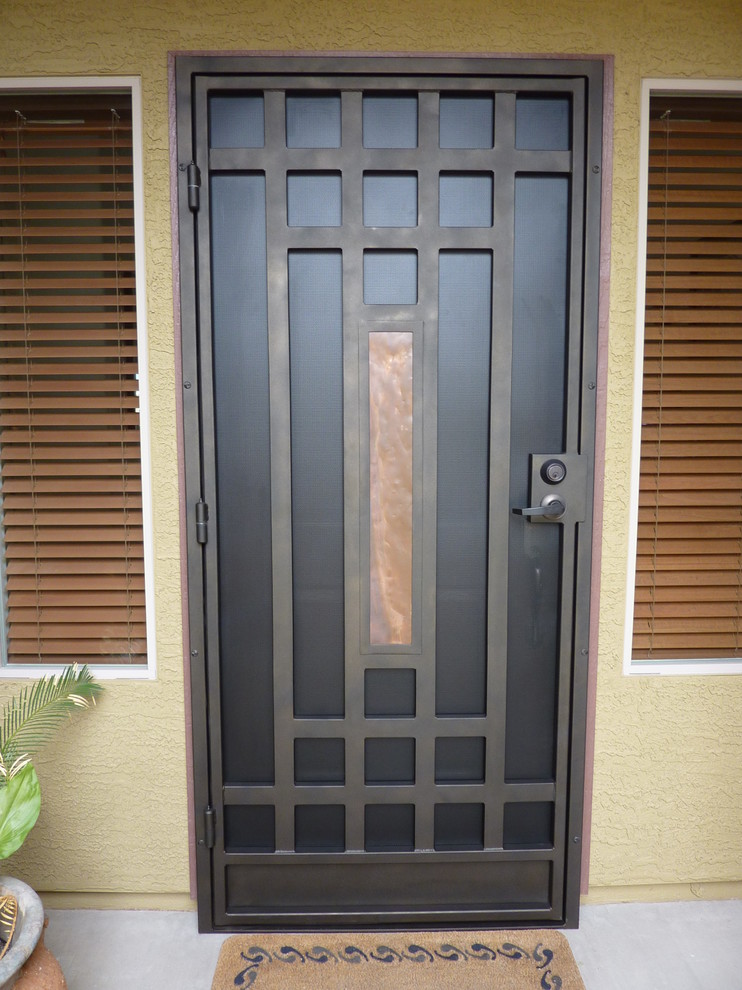 Save energy costs
Solid wood doors provide a lot of insulation against cold wind and ice. These doors are thick pieces of wood you can carve to any style you want. For example, ones with arches or eyebrow tops are stunning. One downfall of this door type is it is heavy. Fiberglass doors use foam insulation with high R-values. These doors will block a lot of cold air, and they keep central air from escaping in the summer. You will reap the benefits of lower utility costs year-round.
Photo by Rudloff Custom Builders
You can show off your style with a dual entry door using any of these materials. The faux wood is a stunning look when you want to keep the charm of a particular species. Contemporary styles might include sleek, minimalist designs or a castle theme. You can personalize your door any way you want. As long as you choose a door with a purpose, the customization is the easy part. Go for safety, long-term use, or saving money on gas and electric.
Author Bio
Meghan Belnap is a freelance writer who enjoys spending time with her family. She loves being in the outdoors and exploring new opportunities whenever they arise. Meghan finds happiness in researching new topics that help to expand her horizons. You can often find her buried in a good book or out looking for an adventure. You can connect with her on Facebook right here and Twitter right here.