Though we primarily associate it with medieval churches, stained glass can be used to accentuate your home decor as well. Typically this means using it sparingly and cannily. Attention should be paid to choosing the right design and choosing the right object.
Shades and Lamps
The innate grandeur of stained glass can be contained by limiting it to household objects like lamps, lampshades and light fixtures. These offer a chance for a splashes of color in an otherwise muted room. Surprisingly, such objects are also prone to lend a modern touch to living rooms, dining rooms, and elsewhere.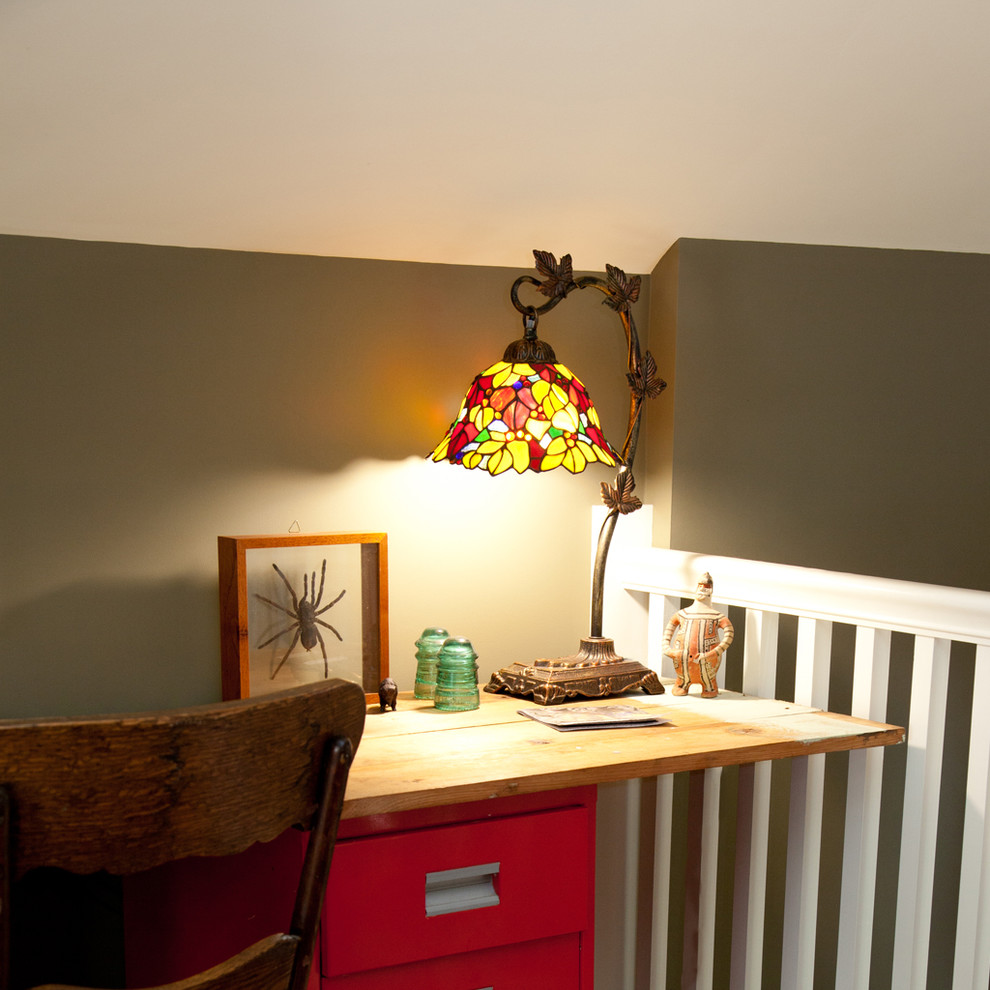 Screens and Dividers
Portable screens, walls, and dividers take to stained glass beautifully. Their quality of permitting light while still creating private space almost cries out for bold, illustrative designs. Typically, we don't demand a portable three-section screen conform to the visual elements of a room. We read them, rather, as sculptures or paintings within the room, so there's permission to seek images that are beautiful in the "grand style." Floral and aviary themes are especially popular.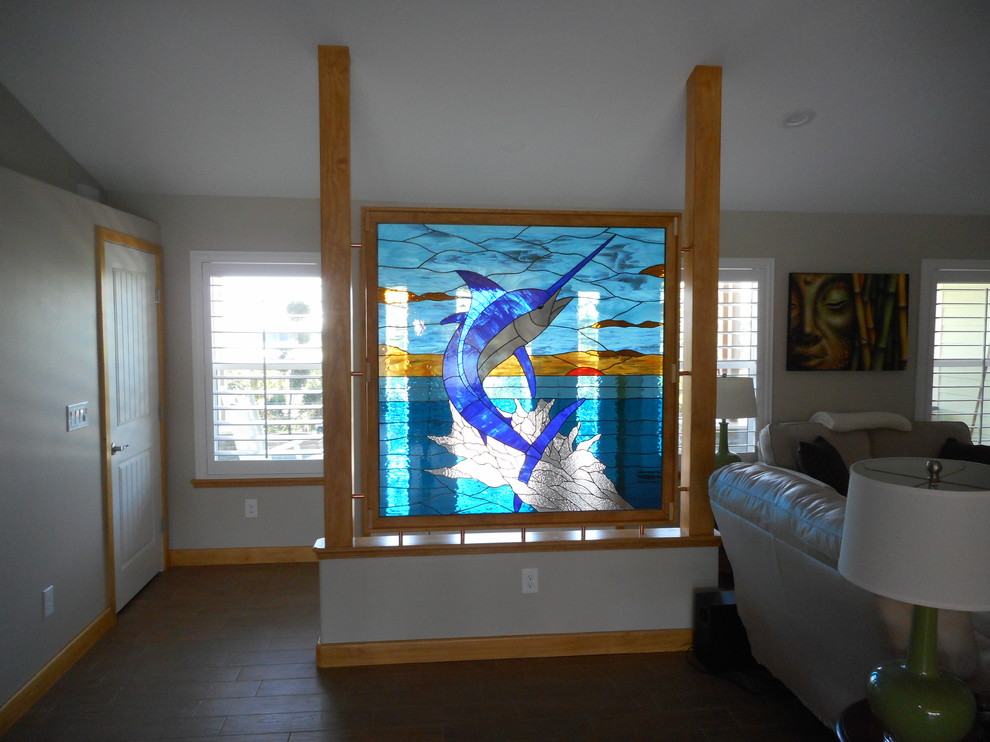 Photo by Designer Art Glass And Door Center
Windows
When it comes to stained glass, don't be too quick to surrender windows to the great Gothic cathedrals. Even the most ordinary balloon-frame house might have hidden potentials. It might simply have that "one right window," the one that is already large and dramatic, that seems noble enough for decorative stained glass.
Photo by Seattle Stained Glass
It could be a sun-roof, or a foyer, or the rectangular windows above doors. Height lends dramatic presence while reducing the chance of the glass getting broken in some household accident. Any glazier could do the installation quickly and inexpensively.
Maybe you dislike looking at what's outside that particular window, and have judged that a stained glass window would look lovelier than the view you now have of the spare auto parts rusting across your neighbor's fence.
Photo by Deimler Family Construction
One of the best places for stained glass is bathroom windows. Privacy is obviously desirable in a bathroom, and such windows beautify a room notoriously difficult to keep beautiful.
The Right Design
Designs on stained glass can run to the majestic and visually stunning, and there's no doubt that the effect of stained glass, itself, is more inclined to drama than intimacy. Yet when compared to transparent glass, the actual action of stained glass is to enclose interior space and make it private from the outside. To "warm" that space, remember that stained glass designs can also be cool geometric patterns and as contemporary as a solid pane of purple glass.
Photo by Seattle Stained Glass
There's no limit to the kind of objects made with stained glass surfaces. If so inclined one can actually take off stained glass shoes each night before going to sleep in a stained glass bed. For more modest folk, however, these are some preferred objects and locations within the home which take to stained glass particularly well.