Whether you have a small urban courtyard or an extensive backyard leading to a lake, seating throughout your yard and patio is an important feature of your outdoor design. The first consideration is your personal preference. What style do you prefer? Do you like sleek and contemporary? Do you prefer comfort and coziness? Do you like to entertain? Will there be another couple, or do you want to entertain large groups? All these questions help to determine not only your landscape design, but the type of furniture you will place in that landscape.
Start with an evaluation of the space you currently have. Is there an existing patio? Is it large enough for the number of people you would typically invite? Do you want to expand your patio or leave it as is? Don't forget about the front and side yards as well. You may want to redefine these areas when entertaining. Besides the patio, are there any other areas like a porch that could be utilized when entertaining? Do you have favorite trees and shrubs you could use for privacy? Here are some suggestions on ways to provide seating arrangements.
1. Fire Pit.
Fire pits are very popular. They can be a free-standing metal pit or a stone and mortar structure. Your fire pit can be connected to your existing patio or be a separate feature out in the yard. Remember to allow enough space to arrange chairs around the firepit. This will be a great secondary area for your guests to enjoy.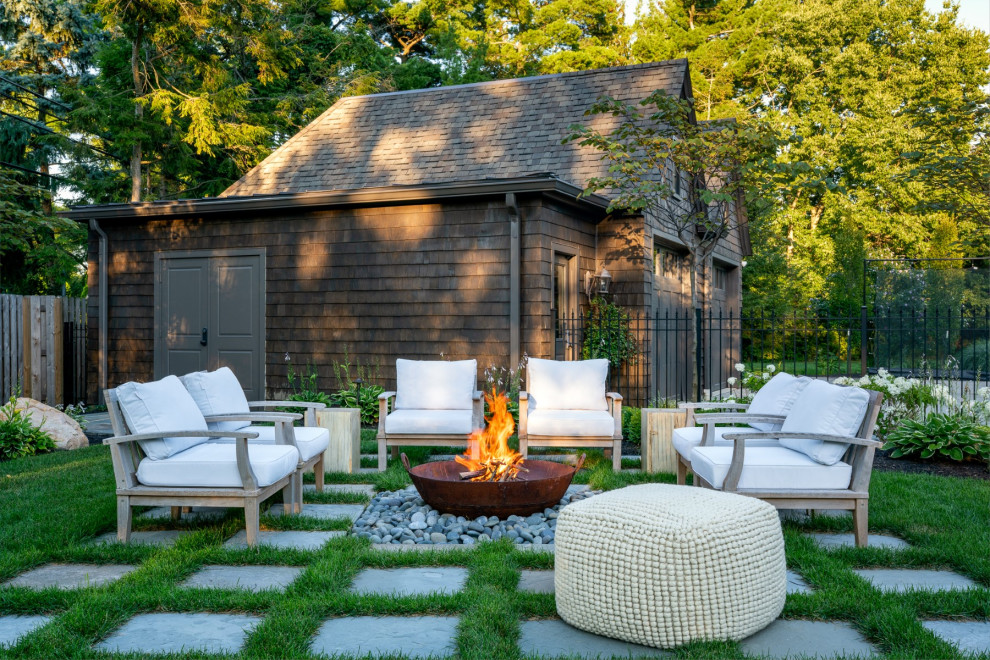 Photo by Hidden Creek Landscaping, Inc.
2. Pool Deck.
If you have a pool, the deck adjacent to the pool would be a lovely spot for dining in the evening. Upgrade your outdoor furniture around the pool from utilitarian plastic lounge chairs for after swimming use to a comfortable dining table and chairs. With lush flowers and greenery surrounding the pool, covered with twinkle lights and some floating candles on the water, you will have a most romantic setting for your guests to enjoy.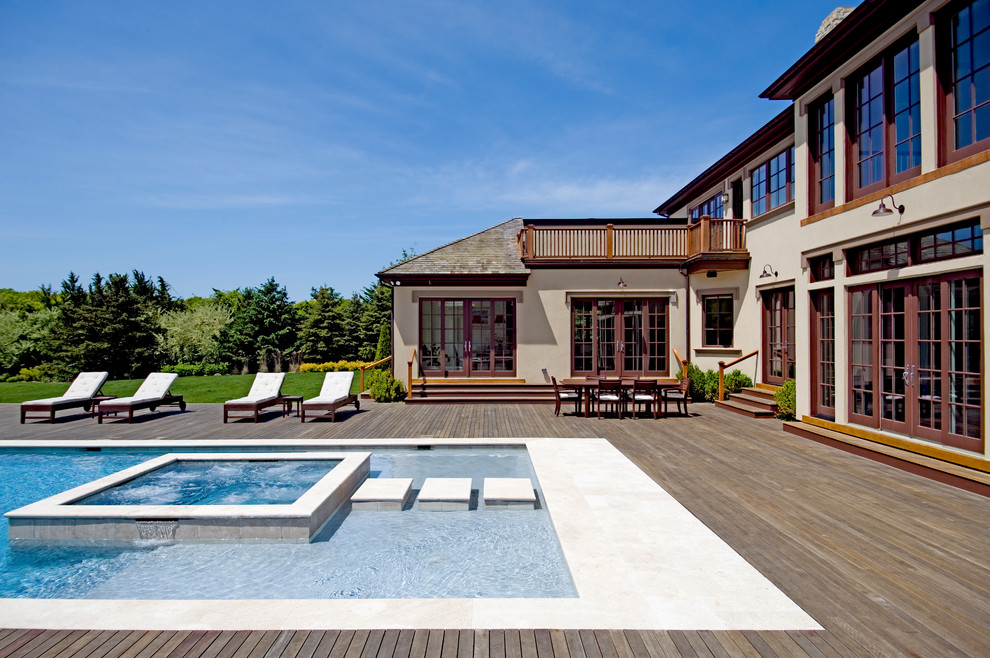 Photo by Perello Design & Build
3. Garden Shed.
Spruce up your garden shed with a fresh coat of paint and some window boxes filled with flowers. Add a small deck to the shed and place a couple of chairs for an intimate setting with a view of the yard and gardens.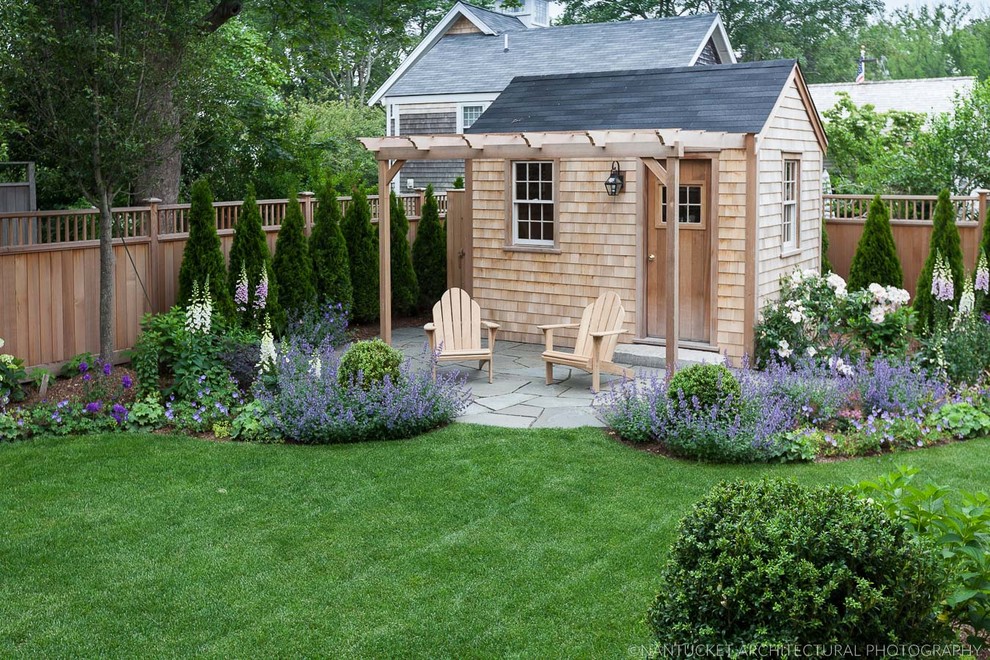 Photo by Nantucket Architectural Photography
4.Arbor Seat.
What could be more entrancing than sitting in an arbor covered in beautiful climbing roses? Add the perfumed scent and you will have a multi-sensory overload. Plan your garden to include a rose garden and to provide your guests with a truly unique experience.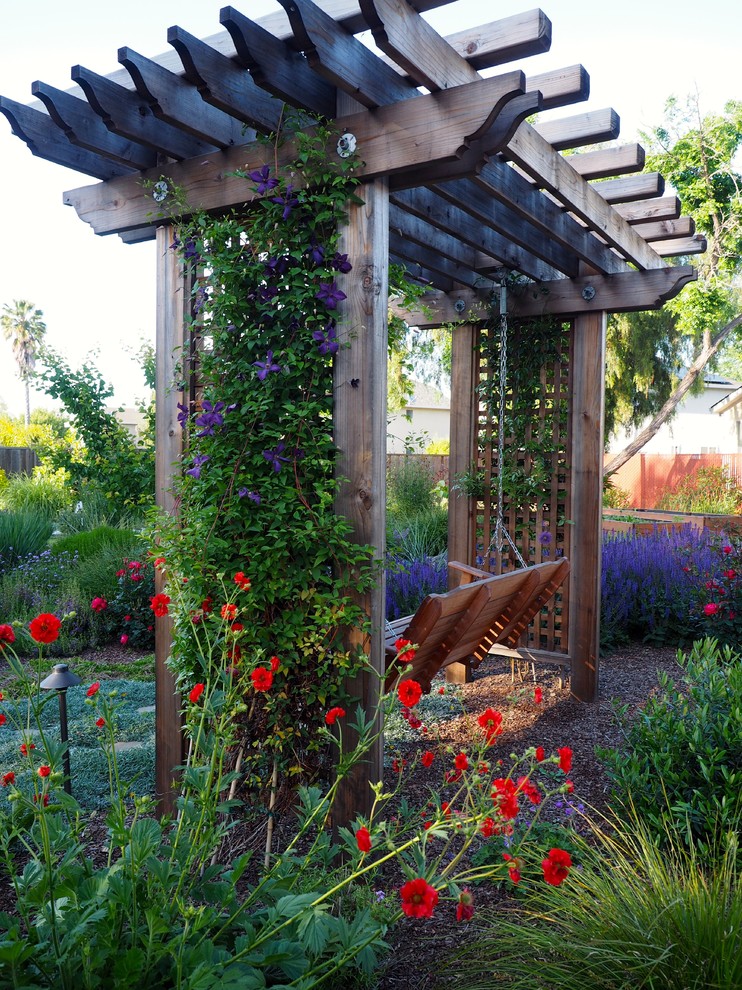 Photo by Just in Thyme Landscape Design
5. Vegetable Garden.
Place your outdoor dining table in the pathway of your raised bed vegetable garden. This is the perfect location in your yard for a farm-to-table type dinner. Use your own homegrown vegetables and herbs in the meal you serve guests.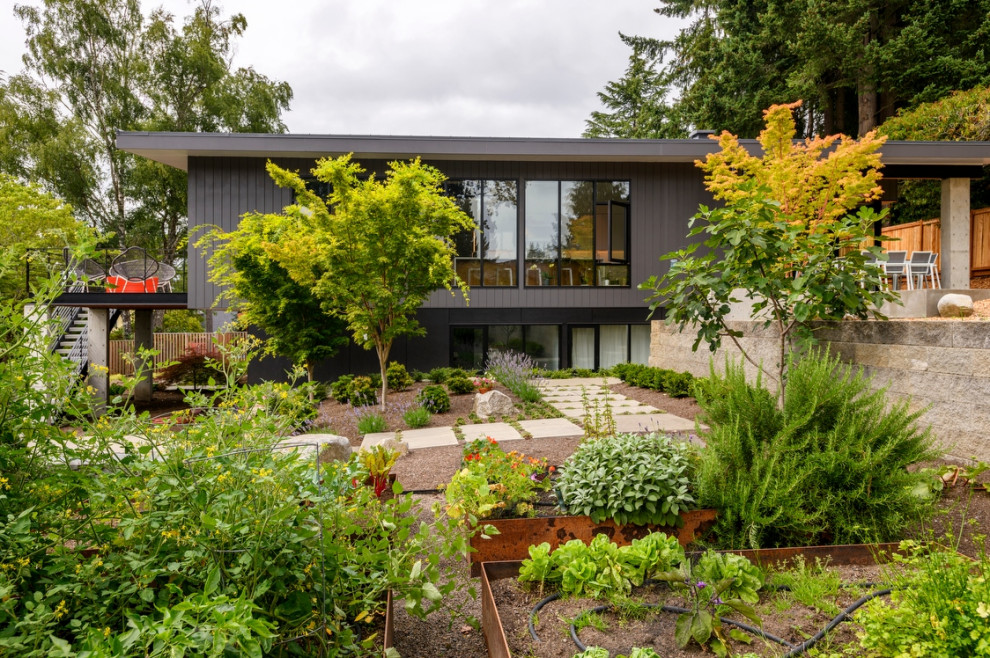 Photo by Lane Williams Architects
6. Rustic Bench.
If you have an area in your yard where you planted trees, add a path to a rustic bench hidden inside. Surround the bench with ferns and other shade plants for a forest glen look where your guests can enjoy a shady retreat. If you have mature trees, hang a hammock between them. A decorative pillow and coordinating throw are all your guests will need for a dreamy nap.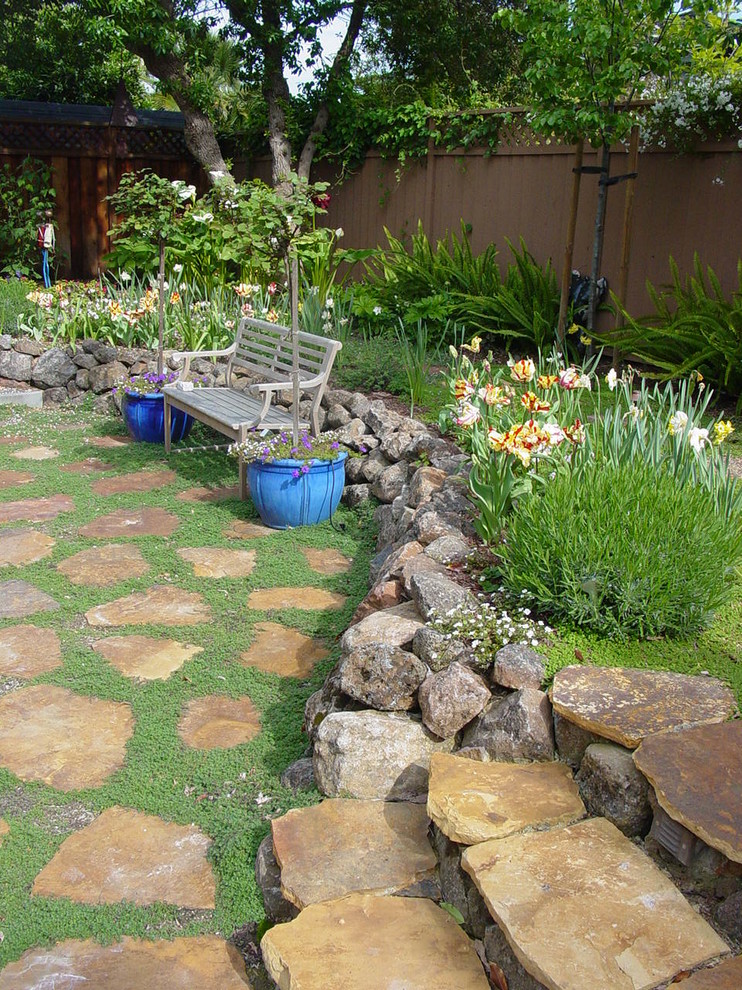 Photo by Elemental Design Group
7. Climbing Vines
If you have a pergola over your patio or a gazebo out in your yard, consider planting climbing vines to cover the roof. Not only will the vines provide shade and cool the area underneath, but the vines will give a natural lush leaf cover overhead to enjoy. You could make your roof even more beautiful by planting flowering vines like wisteria or hydrangea vines.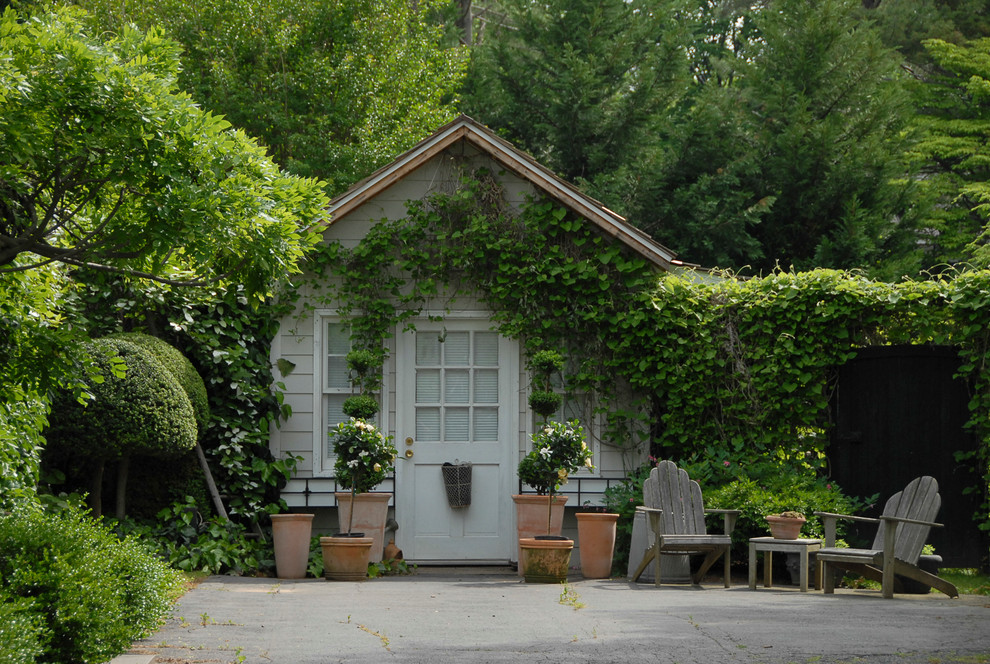 Photo by Elizabeth House & Garden, LLC
8. Benches.
Whenever you need to build a retaining wall or a decorative wall, have seating incorporated into the design. A low wall can also be used for seating along its entire length.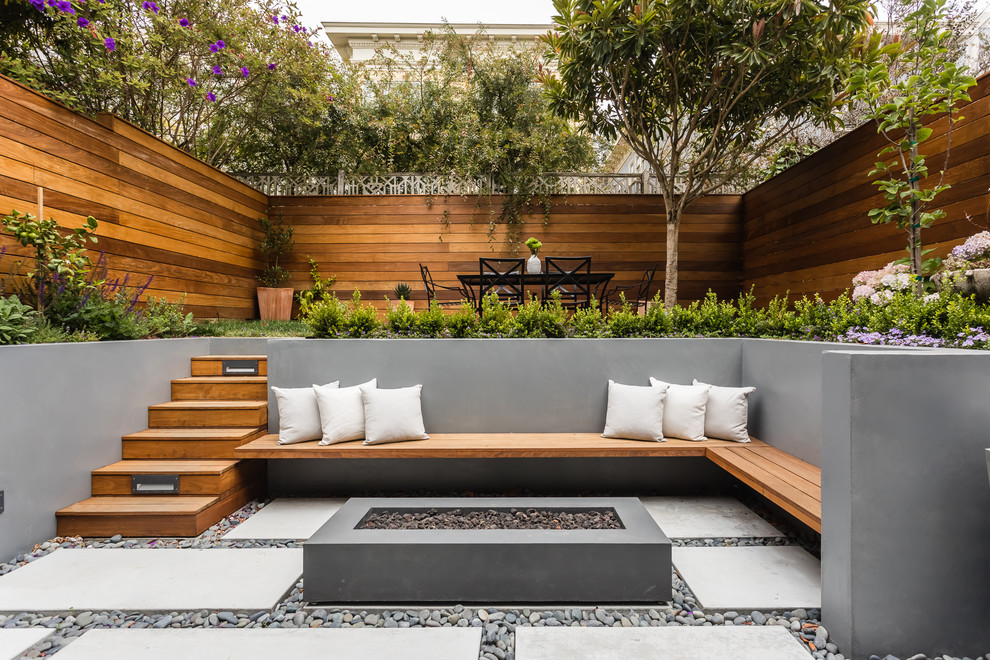 9. Hanging Seats.
Hanging seats can be added to your patio if you have a pergola to hang them from. There are also seats that hang from a frame that can be used anywhere in your yard. Some of these chairs can rock for added comfort.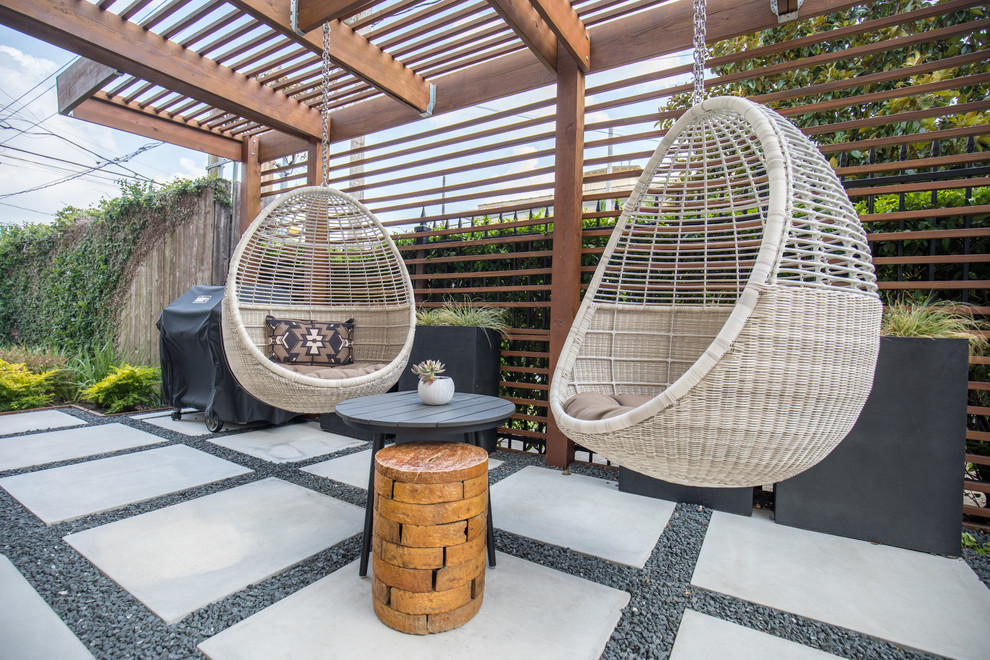 10. Courtyards and Side Yards.
Don't forget these two underused areas. Your entry courtyard is a perfect place to have a small dinner table. Decorate with lots of plants and lighting for a romantic dinner for two. Your courtyard could also be a great location for drinks and hors d'oeuvres before dinner. Use a portable bar and small tables for the food. A couple of benches or outdoor chairs will be needed for seating.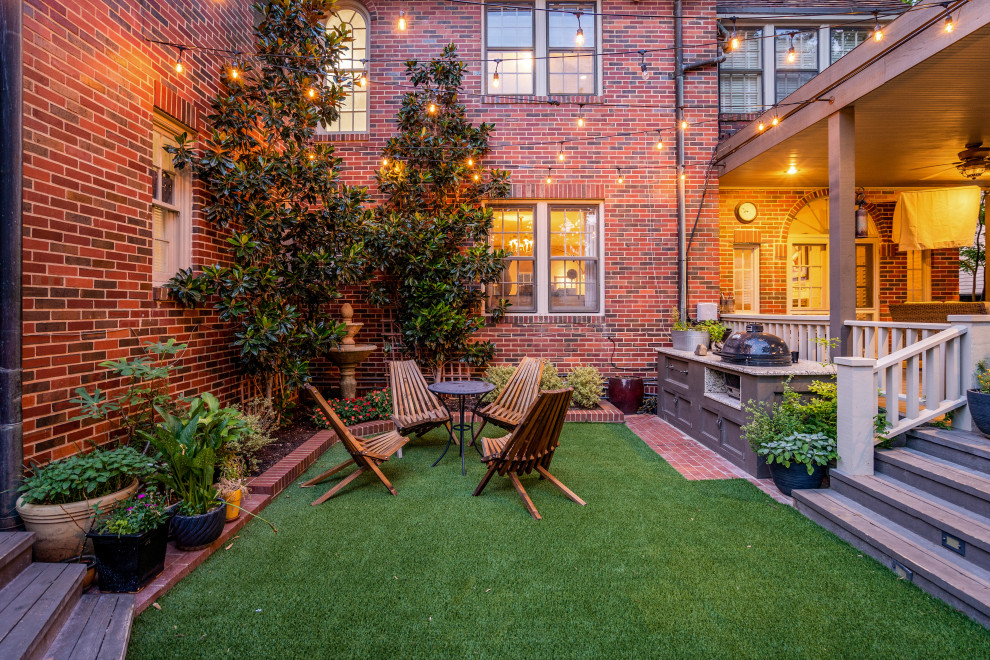 Photo by SchindlerDesignCo. – Custom Pool Builder
11. Water Features.
If you have a water feature like a pond or lake, an overlook would be the perfect place for seating. Even if your water feature is a fountain or a birdbath, it is relaxing to sit and observe the birds and possibly other wildlife enjoy a drink of water in the summer. Make room in your garden for the visitor and leave a bird guide on the table next to the seat.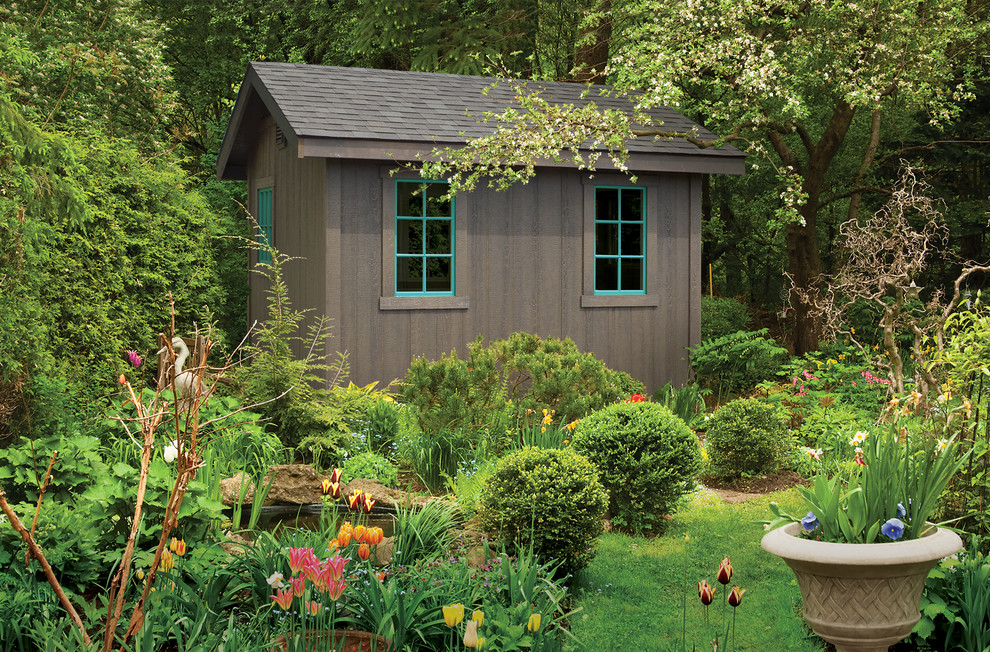 12. Secret Garden.
Your secret garden doesn't have to be walled in. It can be walls of shrubs. Start in a corner of your yard where you already have a fence for two of the walls. Plant vines to cover the fences in just a couple of years. Add trees and shrubs on the remaining two sides with an entrance made by overlapping one wall. Add a comfortable seat and a small table. Your secret garden will be a retreat for you to read a book or listen to music. It could be your spot for yoga or tai chi to start your day. Your guests will love discovering your secret garden.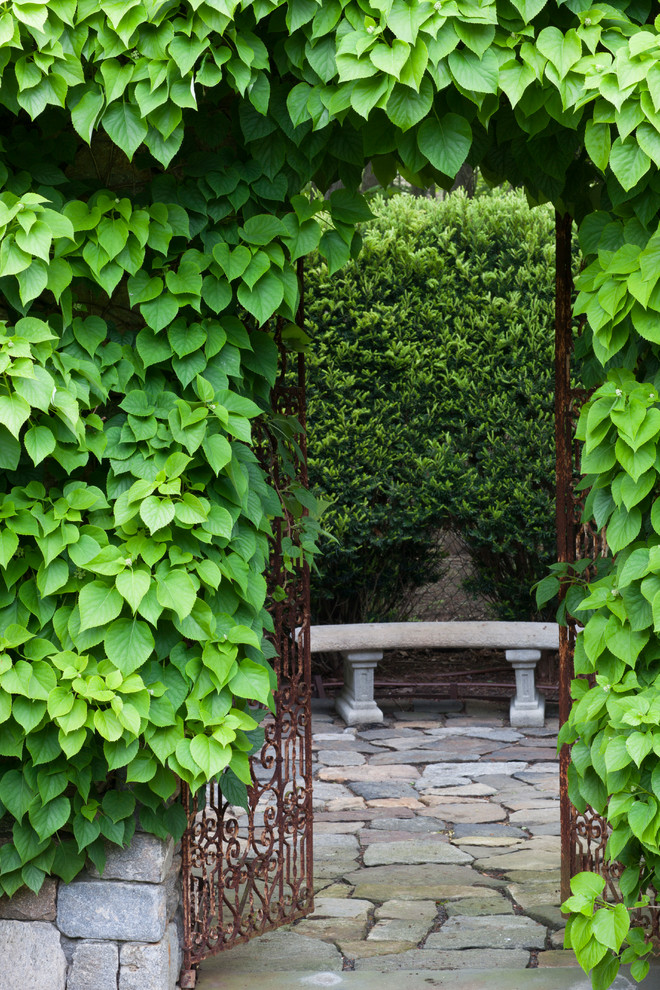 Make your yard a special place by just adding one or two of these suggestions and your yard will be the place everyone wants to be invited to.