Shabby small bedroom design adds a charming, chic appeal to a compact bedroom that would otherwise go unappreciated and, for the most part, all you need are a few vintage furniture pieces along with some fluffy pastel bedding and a few luxury items to create an elegant escape all your own. Furthermore, since shabby bedroom design centers around rustic, used pieces, it's just perfect for various budgets.
For more on creating the small shabby bedroom of your dreams, simply check out the following shabby chic bedroom designs that are sure to spark your creativity.
The Vintage/Antique Shabby Chic Bedroom
Nothing quite says vintage like shabby chic bedding and antique accessories in white.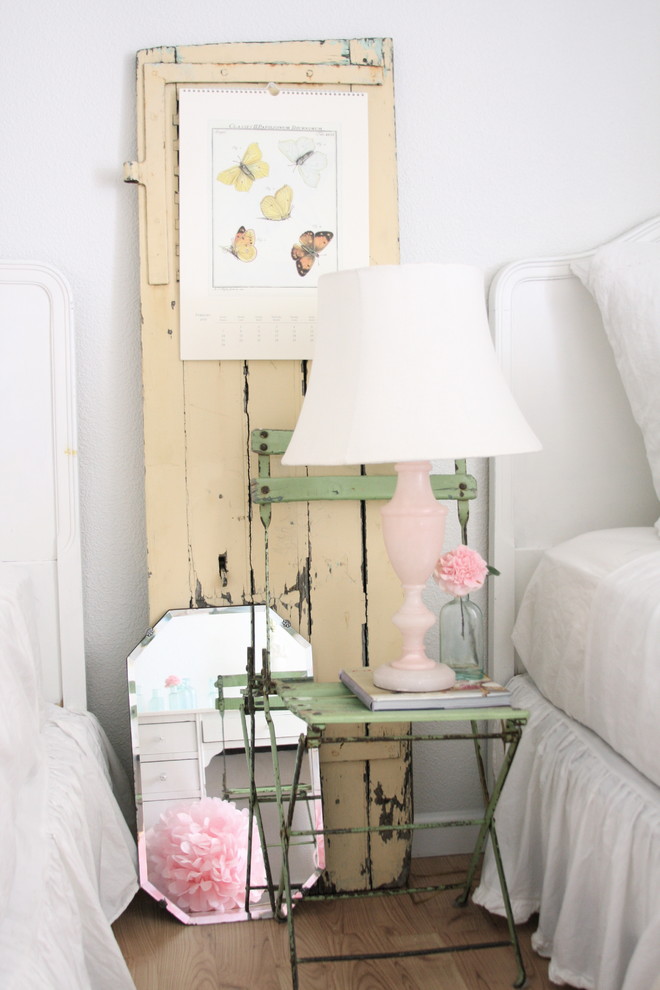 A time-worn mirror embellished in a white frame, a pair of vintage white painted nightstands, an antique wall mirror, an aged headboard in white, and ruffled white and rose print bedding and curtains set the stage for this quaint shabby bedroom. Complete the look with a pair of vintage lamps on each side of the bed and a string of lights over the window treatment for a whimsical appeal.
The Beach Cottage Shabby Chic Bedroom
The beach cottage bedroom is the perfect expression of coziness, which is just perfect for catering to overnight visitors in your guest bedroom.
To create this look, simply begin with a vintage wrought iron headboard, then incorporate a white nightstand, a pale blue lamp, and white sheets with pale blue bedding for a breezy seaside feel, and don't forget the white-washed walls for added effect. In the meantime, a black and crystal lamp chandelier positioned just above the bed and zebra print roll pillow add mystery.
The Rustic Farmhouse Shabby Chic Bedroom
There's no escape like a farmhouse getaway, and with this rustic farmhouse bedroom design, you can get away whenever you'd like.
Photo by tumbleweed and dandelion.com
To create this look, simply set the setting with a vintage white bed adorned in cozy white bedding along with a rustic white nightstand beside the bed and a distressed armoire rightly nestled in the corner, while wooden floors and a brown woven basket placed atop the armoire balances the white-hued furnishings. Sheer white curtains and an antique pitcher complete with fresh flowers add a breath of fresh air to the room, as a white candle chandelier hanging softly above the bed adds a touch of elegance.
The Vintage Shutter Wall Chic Bedroom
This white worn shutter wall bedroom creates a swampland feel that many down-home girls are sure to appreciate. Simply, complete the look with a white wrought iron bed with soft, white bedding, vintage nightstands with vintage lamps atop, and a lively white wreath placed above the bed to bring it all to life. Lastly, vintage print carpeting completes the mood.
Photo by Amy Bartlam Photography
The Lavender Dreams Shabby Chic Bedroom
A shabby small bedroom amidst a lavender backdrop creates a romantic ambiance just perfect for the true romantic at heart. For the romantic bedroom of your dreams, establish your palette with lavender walls coupled with a vintage iron wrought bed embellished in various lavender and white bedding along with your favorite antique wall decor and weathered furniture balanced throughout. Sheer white curtains, a couple of burlap boxes neatly placed beneath the bed, and a rose print lamp shade chandelier hanging above the bed completes this look.
Photo by Rachel Ashwell Shabby Chic Couture
The Victorian Shabby Chic Bedroom
Beckon your inner Victorian with a shabby chic bedroom complete with a white Victorian style vanity for applying your makeup and brushing your hair 100 times a night. Meanwhile, a vintage four poster bed, or perhaps a sheer white canopy for even smaller rooms, some storage at the foot of the bed, an antique wardrobe with mirror, and wood floors, for a beautiful contrast, provides the perfect place for a queen.
The Attic Shabby Chic Bedroom
Small attic spaces offer the perfect place to unleash your shabby chic style.
Bellowing white fabric beautifully adorned from a whitewashed ceiling sets the stage for this ethereal escape. To complete the look, simply incorporate a low-profile bed embellished in soft white and rose print bedding, an antique bedside lamp, and a low hanging vintage candle chandelier, perhaps for a bit of late night reading. In the meantime, a book stack romanced by soft pink roses adds yet another layer of chic.
The Bohemian Shabby Chic Bedroom
This Bohemian shabby chic style bedroom pays homage to unconventionality with a distressed wood doors headboard as the focal point.
Meanwhile, an aged wrought iron bed dressed in a lace bed skirt and natural linen duvet, a string of white pearls hanging from the door handle, and rose print fabric attached to the door help soften the look, while reading lights attached to the door adds functionality. Finally, an antique stone planter positioned neatly atop a nightstand transports you to another place.
The Pretty in Pink Shabby Chic Bedroom
One can't help but feel pretty submerged in all this pink.
For this look, pink rose print bedding beautifully draped upon a white vintage bed accompanied by a pair of white antique nightstands and rose art in vintage white frames completes this picture perfect shabby bedroom. At the same time, the teacup lamps remind you that teatime is at noon, and the storage chest at the foot of the bed serves as the perfect stage for displaying your antique collectibles while the inside can be used to safeguard unspeakable treasures.
The Small White Shabby Chic Bedroom
This small shabby bedroom is the epitome of shabby chic bedrooms. An antique wrought iron daybed styled bed dressed in a rainbow of pastel bedding in addition to a white cabinet positioned just above the bed, weathered white shutter closet doors, and sparkly chandelier inspire great awe for such a small space, as an antique nightstand, vintage footstool, and plenty of storage complete the look.
Overall, when designing shabby small bedrooms, simply stick to the basics, which typically include distressed metals, whitewashed woods, floral prints, pastel fabrics, sparkly chandeliers and more, and you can't go wrong.