If you have a nice outdoor area around your house, you do not need to hire a designer to decorate it. In this article, you will find a selection of exciting concepts for your yard or garden.
If you live in a private house with an outdoor area, you can just tuck a small table and a pair of butterfly chairs in the grass. That will be enough to make the owners of cramped apartments envy you! But if you are ready to invest a bit more funds and effort in your outdoor area, you can turn it into a relaxing space with designer looks. In this article, you will find 11 inspirational ideas on how to do it.
Create a Dining Spot
You should put the table and chairs in a place that is well-protected from the wind. All the furniture should be rather heavy and preferably not foldable. Sometimes, the place where there is no wind might lack a picturesque view. In this case, you can try the following.
Hang lanterns on the trees and the fence.
Hire a painter so that they create a nice mural on the fence or on one of the surrounding walls.
Install a screen with an elegant pattern that would hide those objects that you would not like to see.
All these solutions are budget-friendly. They will add a distinct character to your dining area.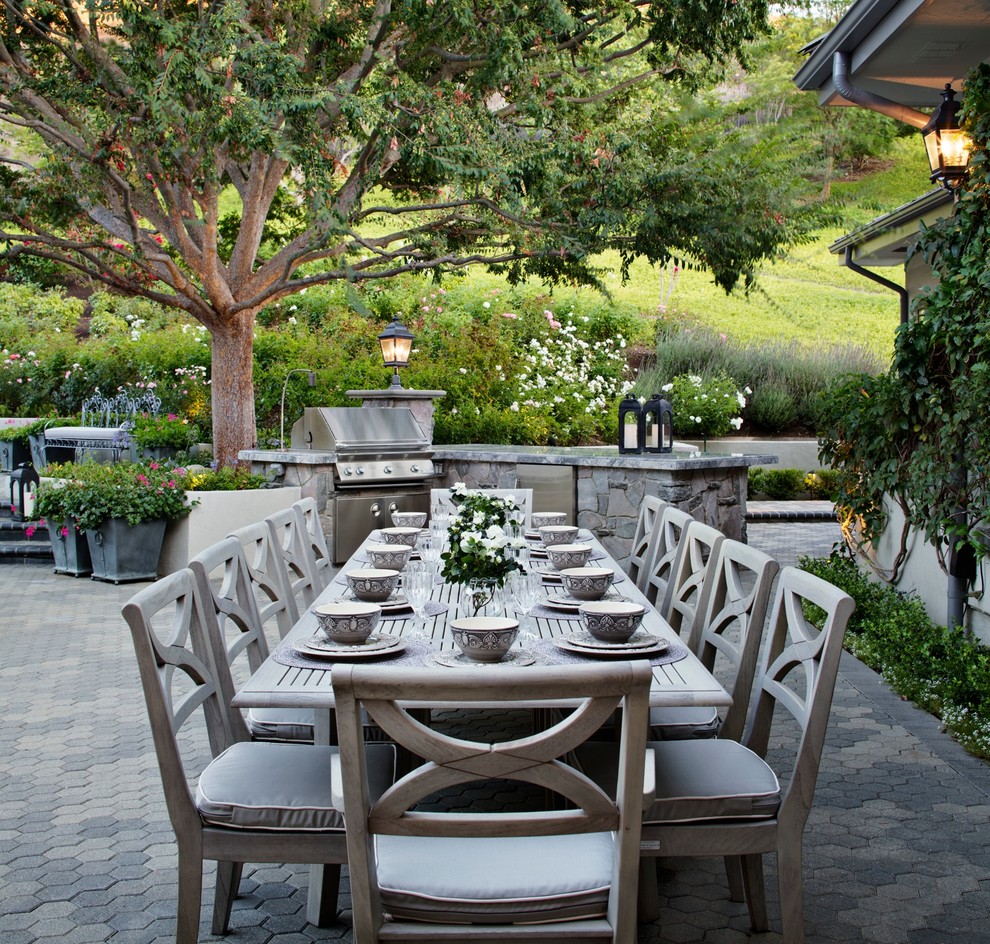 Cook Meals in an Outdoor Kitchen
It might either complement the dining area or substitute it. Cooking in the open is much more fun than indoors. If you like to invite guests, you will not be separated from them while checking the barbecue. You will be able to keep up the conversation and enjoy the cooking in a completely new way. And of course, you can add a stylish cocktail bar to the kitchen.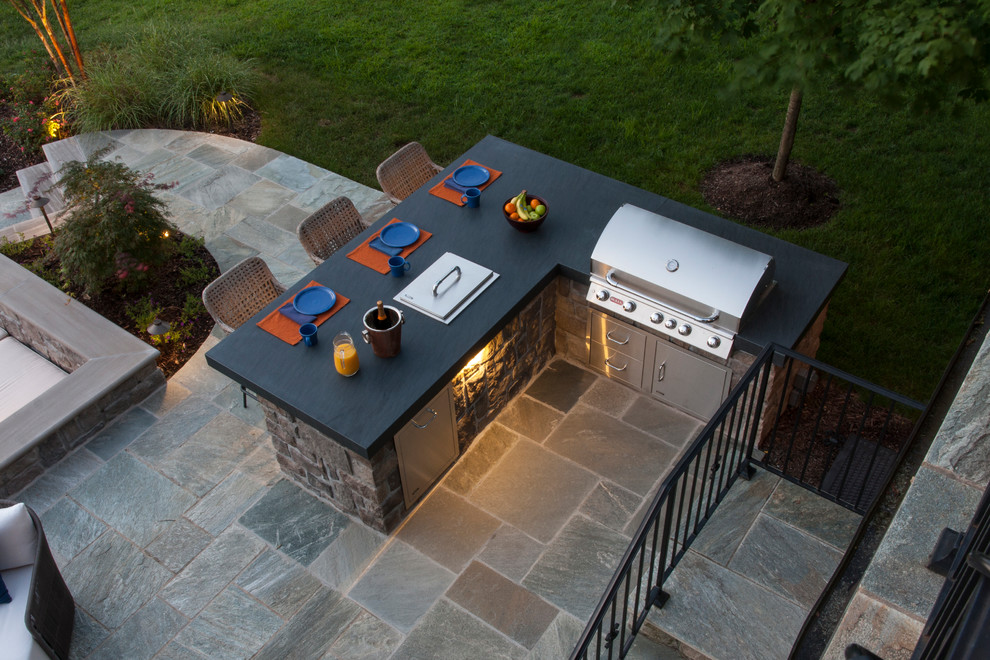 Photo by Groff Landscape Design, LLC
Install a Fire Pit
For safety reasons, you might prefer artificial fire. If you live in a warm climate, you might want to switch on the "fire" but turn off the heat. Around the pit, there should be some seating.
You can put cozy benches with multiple pillows and cushions.
A large sectional would do too.
Alternatively, you can install multiple hang chairs around the pit. They do not need to be identical — an outdoor area is a great place to experiment with eclecticism. While full-fledged swings might seem a bit childish, swinging on a hang chair is much more entertaining than sitting on a regular bench.
Plus, it would be nice to hang mood lights above your head. Also, you can attach a colorful "Relax!" sign to the tree or some other hard surface.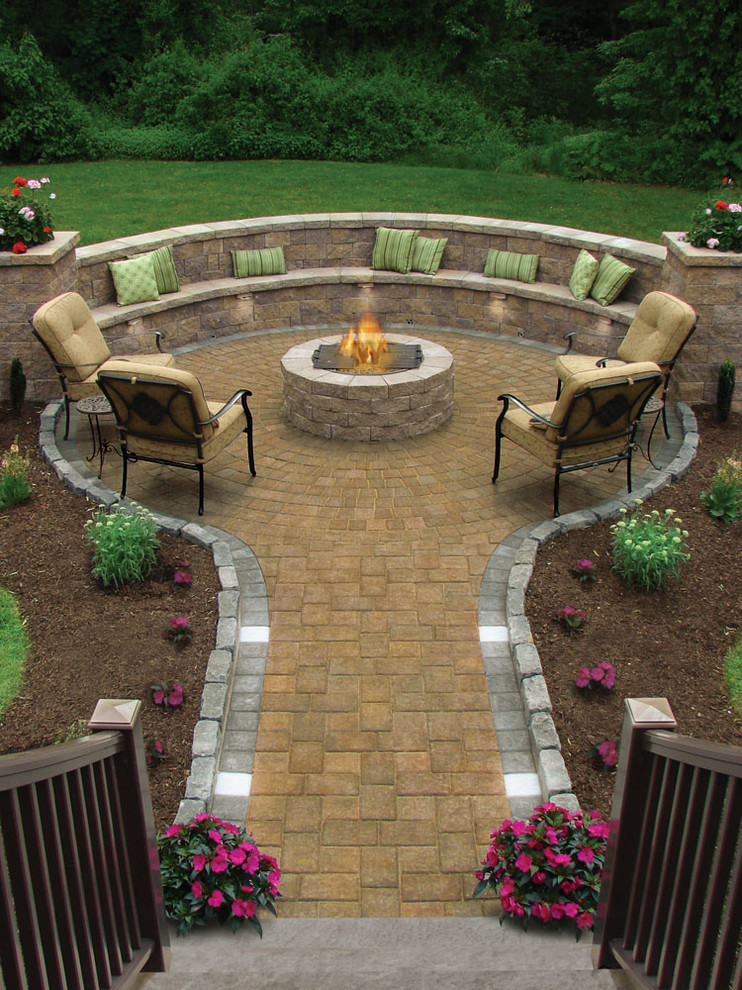 Make a Reading Corner
To create the "Alice in Wonderland" feeling, you can reproduce the ambiance of an indoor room alfresco. Spread a polypropylene rug for color and softness. This material is highly durable and stain-resistant. When exposed to water, it will not grow mold or mildew. Bring out an armchair and a coffee table. Install a torchiere or hang a lamp above the armchair. Vines trailing down from overhead and vintage shutters will complete the picture.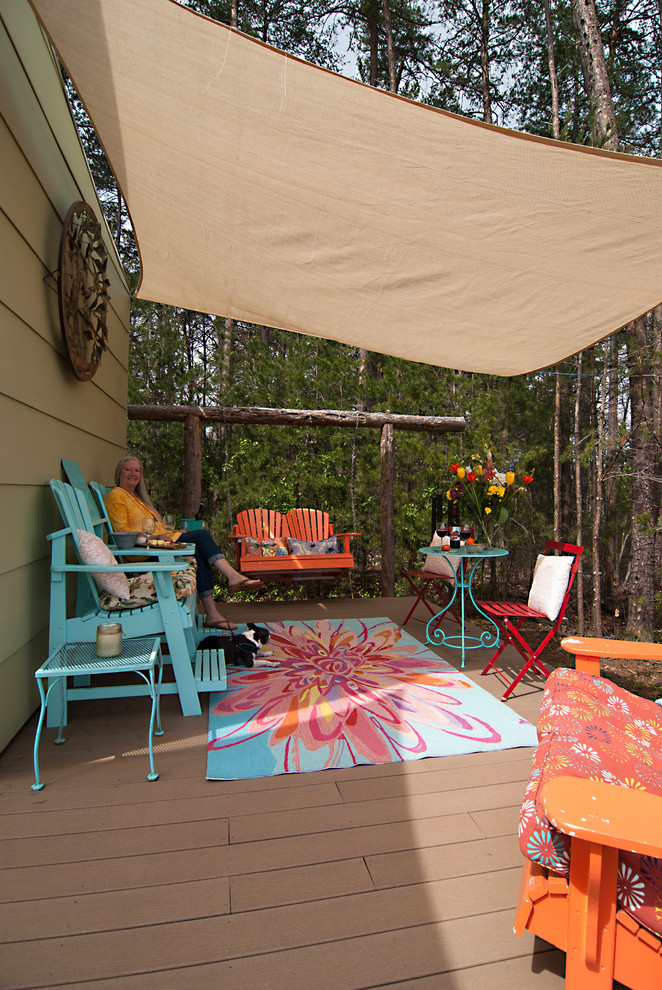 Photo by Pippin Home Designs, Inc
Build a Pergola
Outside, there should be climbing plants around the columns. Inside, there should be some kind of seating and a table where you can drink cocktails and play cards. Consider using reclaimed wood furniture — it will create a tropical ambiance. To match it, hang bamboo blinds from the roof.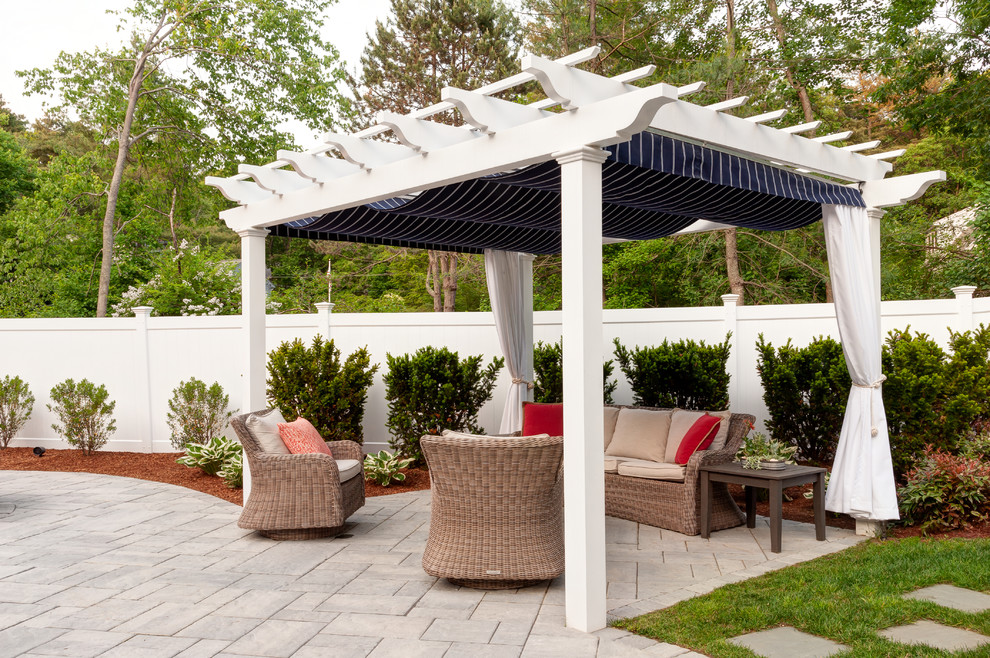 Hang a Hammock
From the aesthetic point of view, one beautiful hammock will become an opportune design accent for your outdoor area. But from a practical viewpoint, it might be better to hang several — depending on how large your family is. When a person gets inside the hammock, they will be unlikely to leave it any time soon. They might have a nap or just enjoy deep relaxation. So you need to make sure that the hammock is not the only point of attraction of your outdoor area. All the other family members and guests should be able to find cozy nooks for themselves too.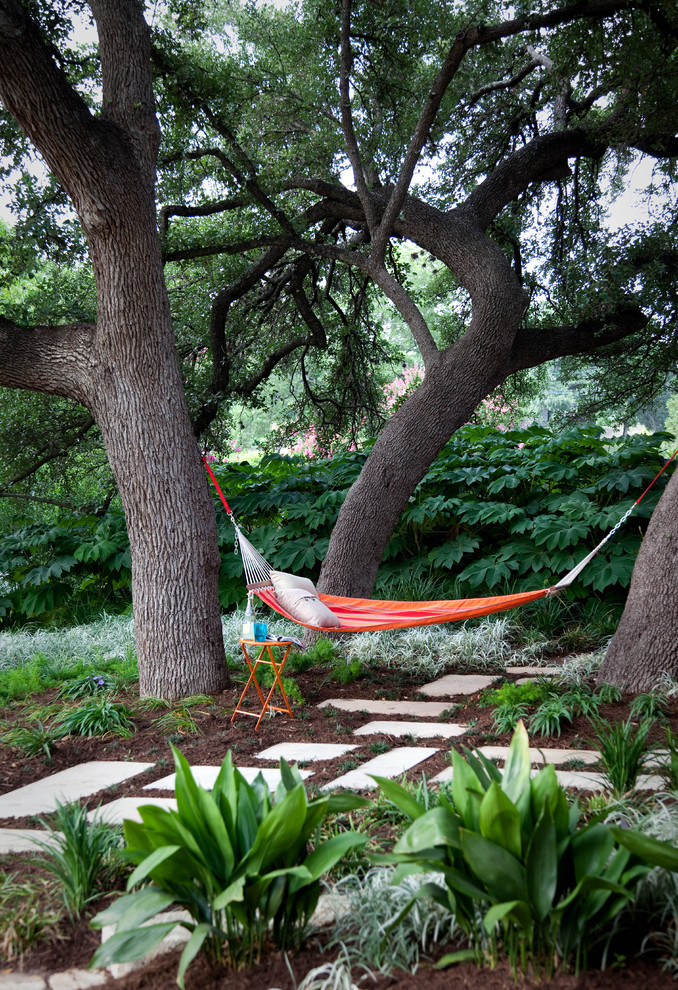 Sunbathe on a Lounger
Create a small beach area with loungers and umbrellas. Use aroma spray to make the air smell with the sea. Put an inflatable pool nearby if there is enough space. Probably, you should not bring sand close to your house because it will make the territory look like a desert. Long green natural grass will be the most opportune addition to your home-made resort.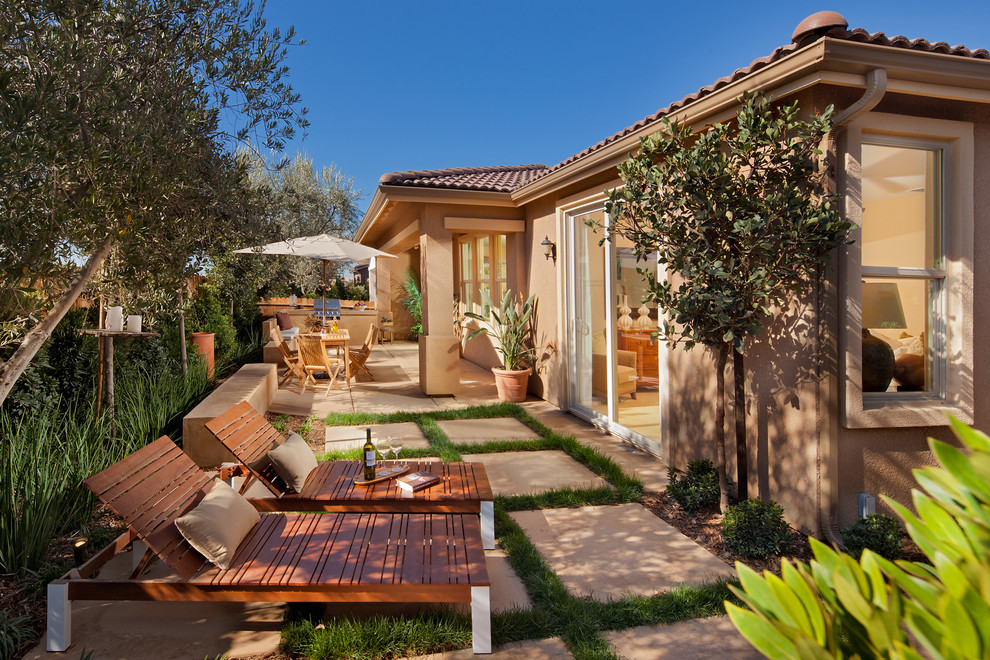 Take a Bath
If you like spa treatments, put a large bath under a tree or shed. Even the simplest one would do — but you can afford a jacuzzi with multi-colored lighting, that would be amazing. You can soak in a large jacuzzi together with your friends and drink champagne.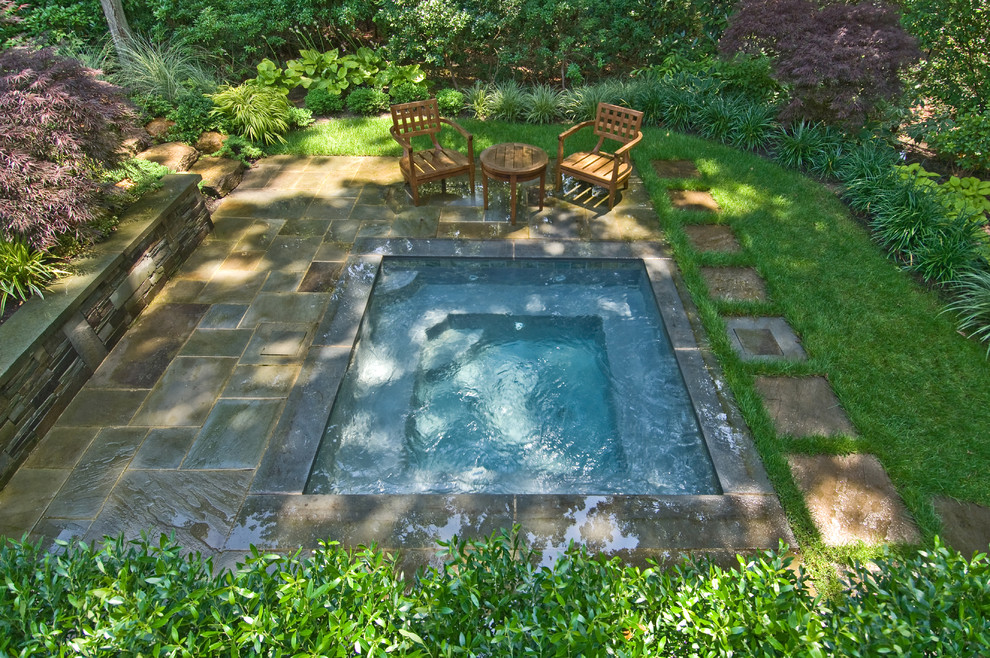 Photo by Barry Block Landscape Design & Contracting, Inc.
Vertical Garden
This is a genius solution for those who lack space for a horizontal one. To create a stunning composition, you can use trailing vines, flowers and herbs. Here is a short step-by-step instruction.
Measure the space and calculate the number of vertical planting pouches.
Hang the pouches securely.
Add soil.
Start planting.
Such a garden is quite a gem in itself. But also, you can easily combine it with any of the above-mentioned solutions, be it a reading corner or a dining area. Just make sure that the insects will not disturb you when pollinating the flowers!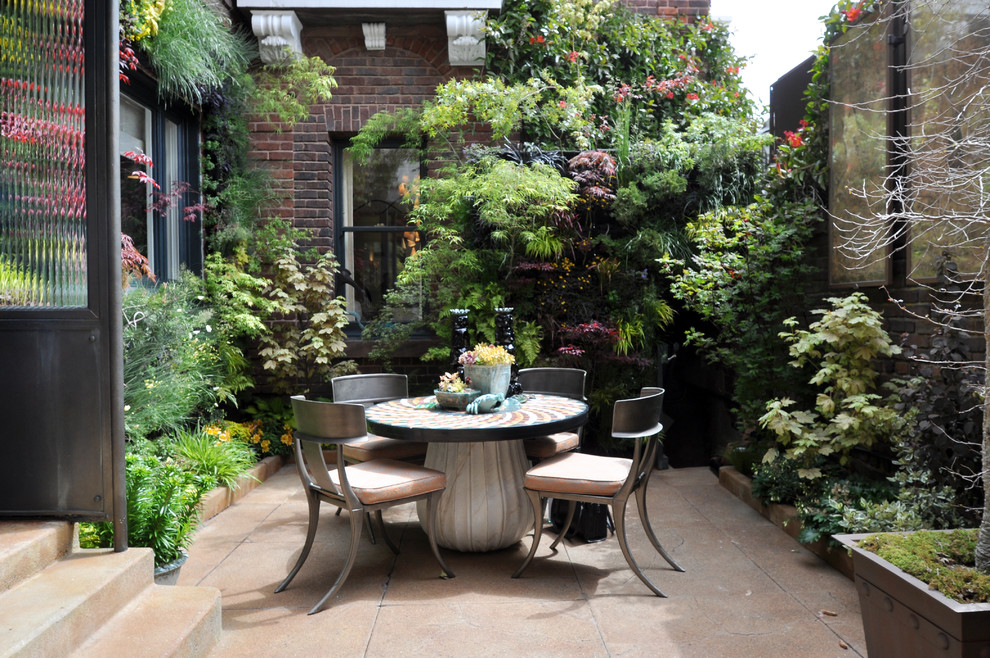 Plant Tall Bush to Separate Your Meditation Corner from the Rest of the Yard
Spread a blanket or carpet on the ground. Hang a dream catcher on a tree branch. Bring a small table where you would put an aroma lamp and a wireless speaker. If there is enough space, you can put a Buddha statue or any other sculpture there — it will only contribute to the ambiance.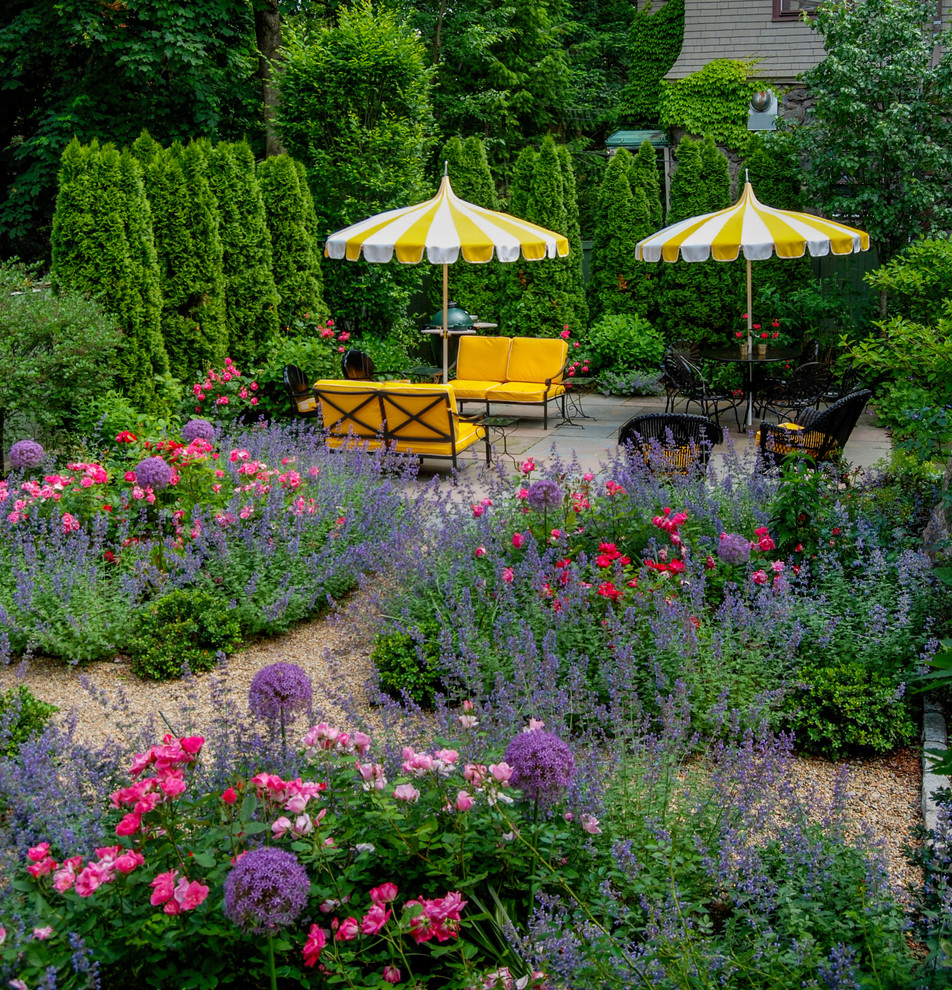 Final Thoughts
Hopefully, this article inspired you to turn your outdoor area into a unique and extremely relaxing space. Sometimes, just one or two details are enough to completely transform your yard or garden. Invest some time into searching unusual decor items in shops that sell designer furniture, such as Room Service 360. Ask you family members about their preferences. And most important, listen to your heart and trust your gut feeling!