Granite is the most loved kitchen worktop material throughout the world. It is versatile, durable and even resistant to heat and scratches at the same time. However, its porous nature requires this stone to be sealed annually for gaining the ability to resist stains, scratches and heat impact. Moreover, it requires regular maintenance to upkeep its aesthetic appearance and even leaves you cold in winter months.
But due to busy work life, nobody really has time to put so much effort to maintain their countertops every now and then. That's the reason why many modern day homeowners are preferring quartz worktops over granite. Another advantage of purchasing quartz worktops is that these are cheaper than granite.
Not just quartz, even composite worktops consisting of porcelain and ceramic are being adored by many interior designers for their glamorous appearance and ability to resist any kind of stain or heat impact. If you are also looking for a better alternative to granite, here are some of the amazing kitchen worktop materials that you may consider for your home:
Engineered stone (or Quartz)
Engineered stone or quartz, such as Silestone and Caesarstone worktops, is made from 85-90% natural quartz, certain raw materials and pigments for different colours. The result is a super durable and non-porous worktop surface that doesn't require maintenance as your granite, limestone or marble stones do.
Photo by Llama Group
Be it Caesarstone or Silestone worktops, both are good choices for minimalist home renovation while adding stylish appeal to the interior. Unlike natural stones, these man-made stones are also available in pure white or pure black options – without veining. So, if you want to give a monochrome look to your kitchen interior, these are great for making your dream kitchen possible.
Dekton worktops
Dekton worktops are another great choice for kitchen countertops. These are created out of a sophisticated blend of high-quality raw materials. It results in products that are made the latest glass and porcelain worktop surfaces. The manufacturing process of these worktops is quite different to the ones seen in other man-made products such as quartz. The raw materials are pressed into an ultra-compact format using a "Sinterization" technique, unlike no other countertop. Cosentino who makes Dekton, boasts a press with the strength worth three Eiffel Towers to compact each slab.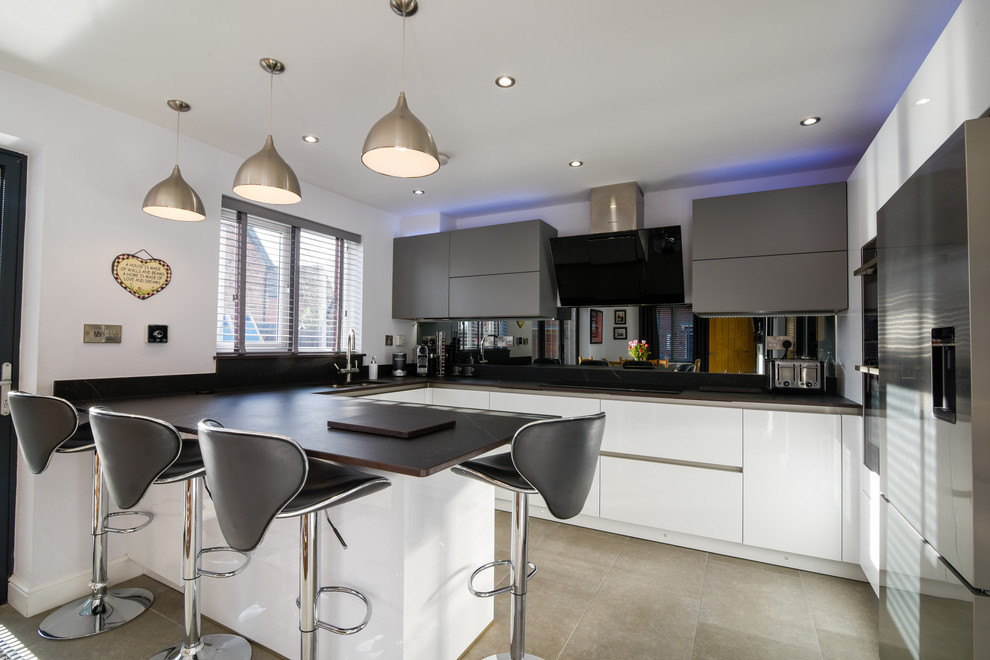 This makes it super strong and durable enough to withstand even high temperature without cracking, burning or leaving any marks on the surface.
Unlike granite and quartz that are stain-resistant, Dekton is stain proof. This means you don't have to worry about any stains on the surface if this highly durable material is installed onto the countertop. Due to all these unbeatable abilities, these worktops are one of the best alternatives to Quartz and Granite worktops. Dekton is not only beautiful and sturdy but it is also a versatile product. You can choose Dekton in 8mm, 12mm, 20mm and 30mm thicknesses. Similarly, the different designs and finishes allow you to choose from a practicality unlimited range of possibilities when it comes to designing any interior. Also, in contrast with quartz, Dekton can be used externally. Dekton exterior walls and Dekton floor tiles are increasingly popular in modern and traditional spaces.
Neolith worktops
Neolith is a piece of a progressive new alternative for a man-made stone called Ultra Sintered Technology.Neolith worktops are sintered porcelain and ceramic surfaces that are highly resistant to impact and scratch. Neolith countertops are available in satin, silk, polished and river-washed finished to match the interior of any style or theme. These worktops are made from all-natural materials, including feldspar, silica, clays and mineral oxides. Plus, the colours are due to the natural pigments.
Like Dekton, Neolith is also compressed under high pressure and temperature conditions using Sinterization Technology. This process makes it ultra-durable and stain resistant. Even the whitest Neolith with spillage can easily be wiped off clean without leaving any stain marks. In addition to its stain and scratch resistant properties, Neolith surfaces can be used both indoors and outdoors. This makes it popular product for garden table tops, barbecue worktops and other applications and areas such as exterior walls and floors.
These are some of the high-quality and durable alternatives to natural granite. You may consider them for your kitchen worktops if you want a stylish yet highly durable counter space.