Your home property is an important asset that you would want to last as long as possible, and that's why it requires upkeep and proper maintenance. One way to keep it in mint condition is to clean the exteriors. Having a schedule to check and clean your home's outdoor setting will contribute to retaining or even improving your home value.
This blog post is intended to provide you with a cleaning checklist that you can rely on when cleaning the outdoors of your home. When you ensure that the exterior parts of your home are well-kept, you can prevent breakdowns and save money at the same time. Repairs will be minimal, and you can ward off instances where you need to pay large amounts of money because of unrepairable home exterior conditions.
If some tasks require skills that you're no longer confident doing, hire a professional exterior property restoration service provider like Pressure Perfect Sarasota FL, and consider the following checklist in maintaining your home's outdoor:
Windows
Unfortunately, when things get pretty busy, windows get the least attention when it comes to maintaining your home. Various DIY window cleaning methods exist, but unfortunately, they don't provide the deep clean your windows need. It might be confusing which methods work great, as there are too many tips online. It's frustrating to follow a procedure and realize it requires too much time and even results in windows with streaks which could even be harder to remove.
When such situations arise, you can always depend on professional home exterior cleaners. They know how to get your windows shining again with some streak-free cleaners, which are also non-toxic, making them ideal for your family. Schedule a deep cleaning session for your windows now and then. When your windows are clean, your views from the inside out will be more transparent, and your home becomes more appealing from the outside.
Gutter
One of the home's most important exterior components is the gutters. Its purpose is to control the rainwater flow, so it won't flood your home and ruin the walling of your house. It's also responsible for protecting your roofs and the foundation of your home. Your house may experience leaks if your gutters become clogged. You must clean them as often as necessary, especially if there are some trees beside your property. While you're at it, ensure to check for damages, holes, or cracks.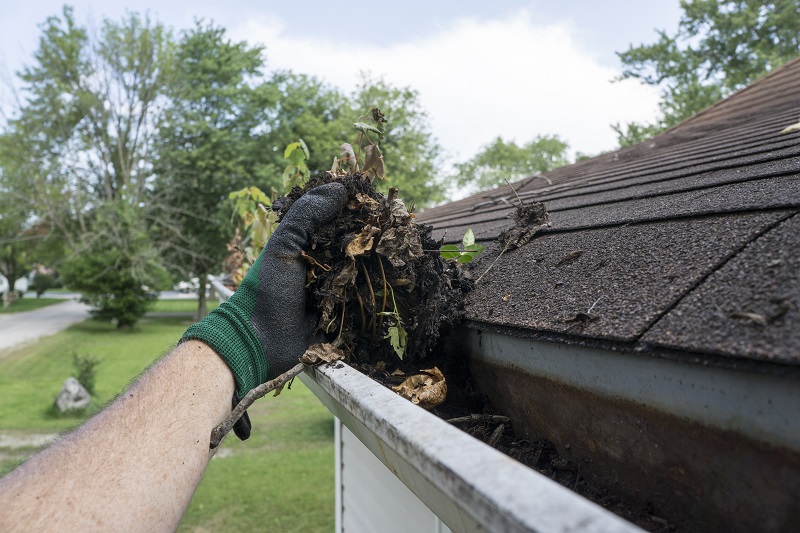 Although this task can be done by yourself with a sturdy ladder and cleaning materials, you can hire professional gutter experts who can provide your gutters the care and repair that they deserve.
Deck
Your deck may not be used during the winter season, so it's probably covered in grime. The first thing you have to do is sweep and remove the grimes. Be on the lookout for loose nails and signs of cracked wood on your deck. This could be dangerous for anyone spending time on the deck. Clear the boards of leaves and debris. You can clean it using the following tips:
Use a pressure washer to wash out the entire deck.
With a robust cleaning solution diluted with water, you can spray it along the surfaces and have it soaked and stayed for about 15 minutes.
Using exterior brushes, scrub the deck surfaces and rinse them down with your garden hose.
Pool
Having a pool requires specific procedures to maintain it. The pool must be treated to ensure the water quality has the proper Ph balances. The valves and filters must be changed frequently, and all pool equipment should be inspected before you can go swimming. Cleaning and maintaining the pool is relatively more accessible and more convenient when you hire a pool specialist.
Yard
Deciding for a yard cleanup isn't dependent on the season. All year long, you must focus on tending the quality of your yard to ensure your home's aesthetics and cleanliness. Lawn and yard care can be done in many ways and steps. Consider the following:
Clean Up Leaves As Often As Possible
When your yard is left without proper maintenance, debris and piles of leaves will be accumulated. This will be prone to attracting molds and bacteria, which will trigger diseases. The best time to rake and sweep all the leaves is when the ground is no longer wet.
Handle Aggressive Weeds Early
Spring is the time to get rid of weeds. When daylight hours increase during the summer, weeds that are invasive or aggressive will multiply further. The deeper the roots go, the harder it will be for them to be pulled out. So, it's best to pull them out as early as possible.
Check The Soil Conditions and Loosen Them If Necessary
People often walk on grass lawns, which compact the soil. It's recommended that you aerate your property, especially if patches and some areas are already balding. You can do this by allowing water and air to penetrate the roots faster, which then improves the quality of the soil.
Conclusion
There you have it; with this checklist on your hand, you can focus more on improving your home exterior's condition. It's imperative to know which areas should be maintained more frequently. Remember to learn some tips and tricks when cleaning them, but it's best to hire professional pressure washer cleaners to get the best results for your home.