Whether it's a family gathering or a small party with friends, your backyard space has so much to offer, especially if you're a barbecue enthusiast. That being said, there are always things you can do to make your barbecue backyard experience even better. Are you looking for new products, design concepts, or beyond to help you get the most out of your backyard barbecues? Let's walk through a few tips that are sure to elevate your experience!
Invest in a Backyard Grill Island So You Can Cook and Entertain With Ease
If you're currently using a freestanding grill and nothing else to prepare food for parties, you might find that entertaining a large crowd can be a bit difficult. The good news? You can always fix this by adding a BBQ grill island to your backyard space. Rather than having to run inside and outside for essential cooking tools or to tackle some of your side dishes, a grill island will have everything you need within reach. This includes a sink for washing food, a built-in grill and burners, refrigerators for food and drink storage, and beyond.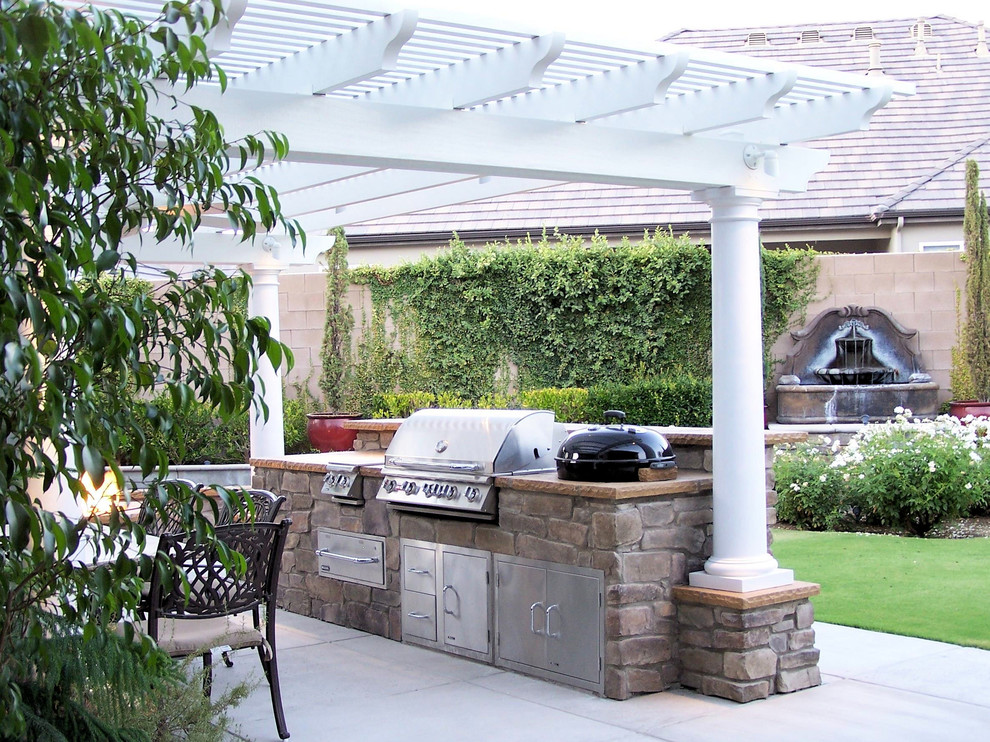 Photo by Sunset Construction & Design
If you're really looking to enhance your backyard grilling experience, you can follow up your BBQ grill island with a new patio space featuring plenty of seating for friends, family, and other guests you might barbecue for in the future.
Find Convenient BBQ Essentials You Can Have on Hand All the Time
Having to run inside back and forth to get all of the plates, utensils, and cups that your guests need as you serve up your favorite dishes can be a hassle. This is why taking the time to stock up on all the necessities you need ahead of time (and finding the perfect spot for them so that they're always accessible) is important to the backyard grilling experience. Whether you're a big fan of paper plates and plastic cups or you're looking for convenient 3-piece stainless steel utensil kits you can hand out and wash right in your BBQ island after everyone's finished, there are so many amazing ideas out there to explore.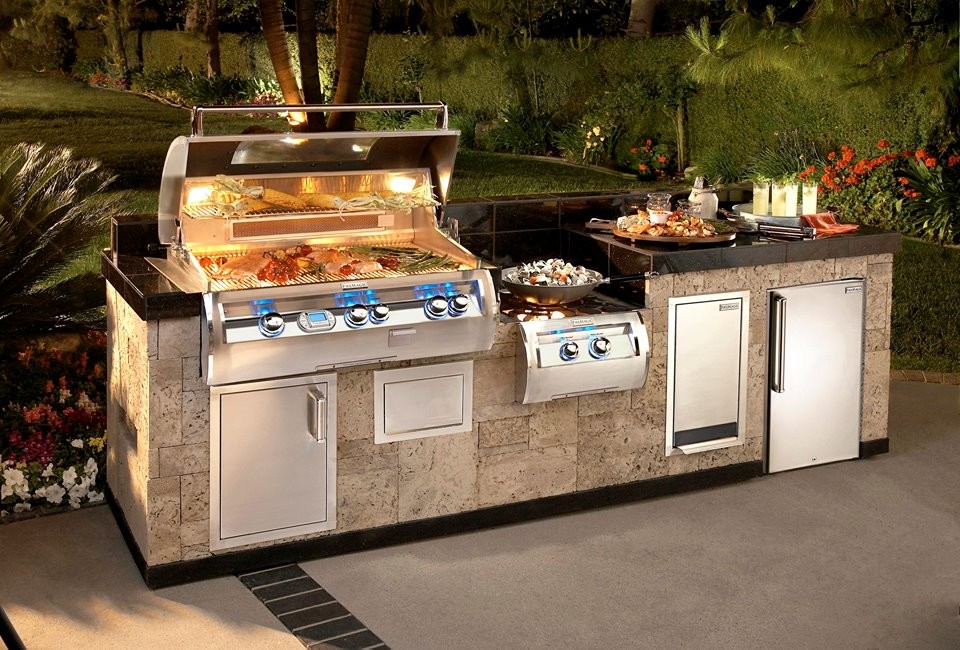 Photo by Firelight Hearth & Patio
Make Sure You Have Clean Drinking Water for Guests
Having clean water is important. You might be giving guests drinking water during the hot summer months, making ice cubes for drinks, or even spritzing certain cuts of meat as you smoke them. But if you're someone who generally has filters attached to your indoor faucet, how do you make sure that you have healthy water outside as well? If your BBQ grill island is equipped with a mini-fridge, investing in a filtered water pitcher will ensure that you have the clean water you need on hand at all times.
Just make sure that you fill it up every so often to avoid running out of clean water when you need it most.
Get an Outdoor Bar Cart to Keep Guests Cool and Refreshed
Of course, not everyone is going to want water. From alcoholic beverages, to sodas, juice, and more, all of these exciting refreshments are among some of the highlights of attending any barbecue. The biggest problem that you might encounter while trying to make sure everyone is refreshed is finding the space needed to accommodate all of these beverages. Outdoor fridges may only offer so much space. You need something that's easy to use and offers plenty of space for all of your drinks (plus more so that you can easily make cocktails and other refreshments if your guests want them).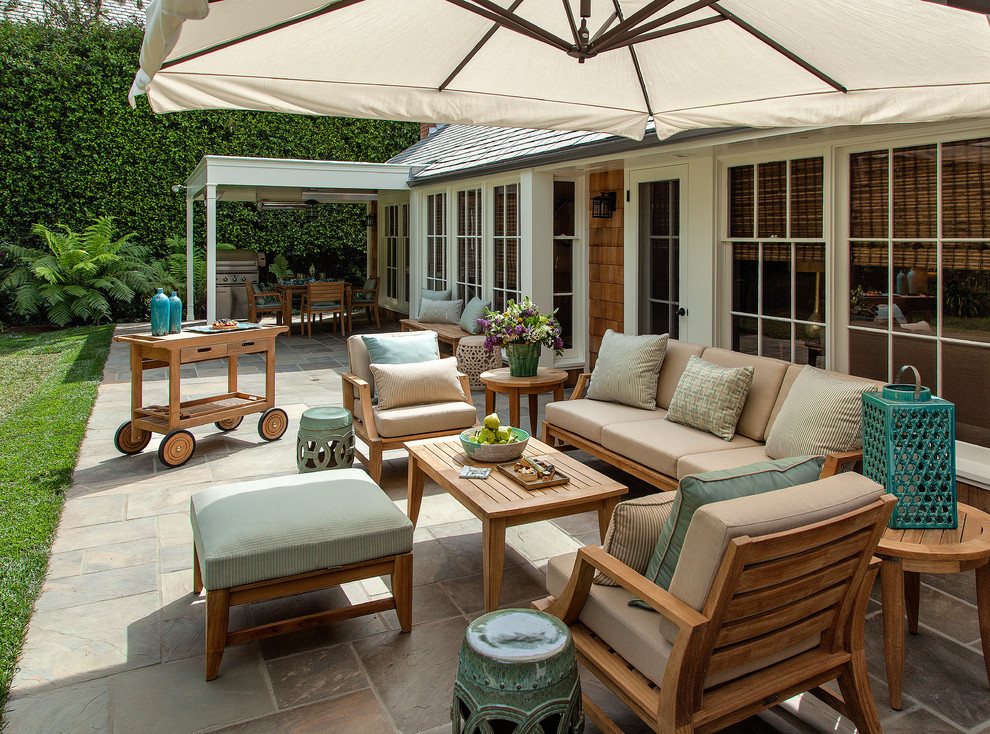 Photo by Barbara Grushow Designs Inc.
One great product to consider purchasing for your outdoor barbecue space is an outdoor bar cart. Most bar carts only feature enough space for bottles of liquor and other items that you need to make your favorite refreshments. However, many outdoor bar carts offer space for storage as well as a built-in cooler that you can fill with ice for your canned and bottled refreshments. This way, you have something you can store all of your drinks that guests can access throughout your barbecue. If they need to mix a drink or if you need to prepare a drink for someone, you have enough space to do so on this cart as well!
Your BBQ Experience Is Only Limited to Your Imagination
If you're someone who loves to grill for yourself and others, there's no shortage of products and ideas out there to make your experience even better. The only limit to what you can do or get out of your backyard grilling experience is your imagination.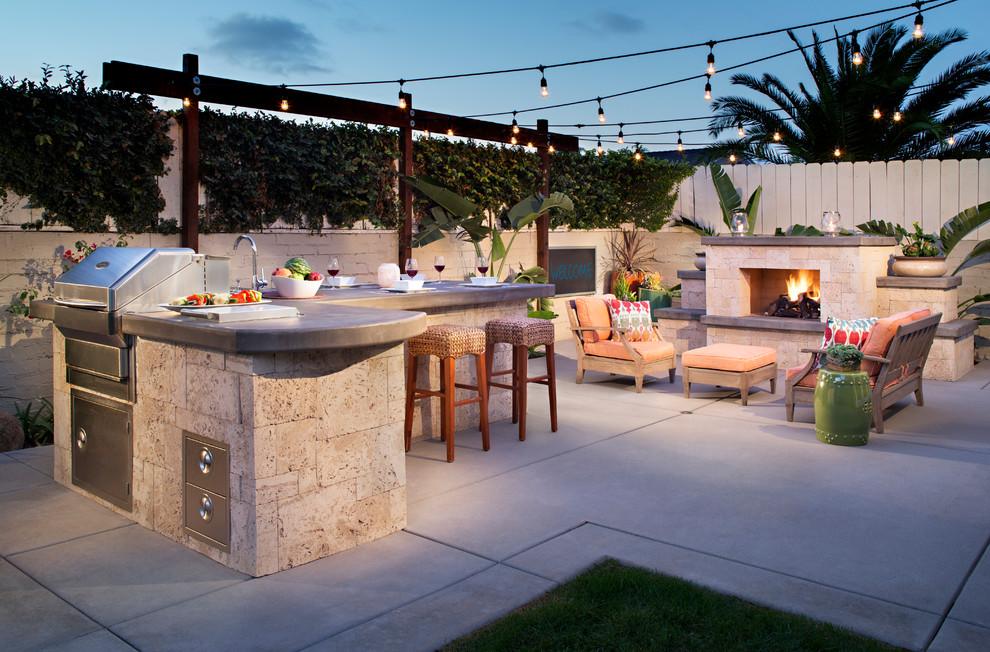 Photo by Promised Path Landscaping Inc
Are you ready to take your backyard barbecue experience to the next level? If so, get started with the ideas above to design a space just for you, and use these points as inspiration to come up with even more ideas that you can use to craft the perfect grilling space.