A flat roof is not always the most desirable look; it doesn't have the pitch that often adds character to a home, and a flat roof can sometimes look ugly and industrial rather than warm and inviting. By making a few changes, you can transform your flat roof into a green roof that is extremely pleasant to look at and very functional – it can become an urban oasis where you can enjoy a luxurious patio experience when relaxing and entertaining.
When you have a flat roof, it makes sense to build up rather than out. Whether you have the real estate to spare or not, there's no need to fuss with building a patio on the ground level of your home, especially since it may cut back on your gardening space. Instead, you can build it on your flat roof – thanks to there being no slope, you have the perfect way to build upon your home. Just remember that the rooftop patio needs to be raised up and supported by an additional structure so as not to put pressure on your home and compromise the roof. You'll want to engage the services of experienced craftspeople like Toronto's Professional Roofers when creating this addition on your flat roofed home – your roof is essentially your last line of defense against the elements, so you'll want workers who take the job seriously.
Photo by Jeffrey Gordon Smith Landscape Architecture
A green roof can include a lot of different elements: you might want to add vegetation in the form of grass as well as a garden of flowers, shrubs and small trees. You should also consider how much space you want to create for your patio.
Photo by Feldman Architecture, Inc.
Many people choose to expand their patios across the entire roof for the benefit of creating a drainage system that you wouldn't otherwise have on a flat roof. One of the greatest risks posed to flat roofed houses is the pooling of water after a storm or in times of heavy precipitation.
On the surface of your roof, you will choose various materials for the patio. Wood will be affixed to the roof and you will bring up sod and other greenery of your choosing, which will lie on an elevated platform that sits above the weather proof membranes that make up your flat roof. Once you have the basis of your patio and the the proper structural materials in place – as well as the decorative gardens – then you can then decide on seating.
Photo by Nick Leith-Smith Architecture + Design
Wooden tables and seating are going to be a better alternative to metal because they have a more organic look and feel; you should try to keep everything as natural as possible. Chairs made from dense, waterproof plastic are a good option too because they're light, and you may also want a chaise longue to recline in. Be sure that there is enough seating for all of the entertaining that you plan on doing. If you get a lot of rain in your area, you should also consider the addition of a large umbrella (also useful for hot, sunny days), which will allow you to continue using your rooftop patio regardless of what the weather might be like.
Consider the benefits of having a green roof: your flat roof will suddenly have a lot more character and provide you with a bit of luxury. It offers more seating, natural insulation, and a way to improve the environment at the same time. It can also help to ensure that your flat roof gets the drainage it needs so you don't encounter problems with pooling or leaks.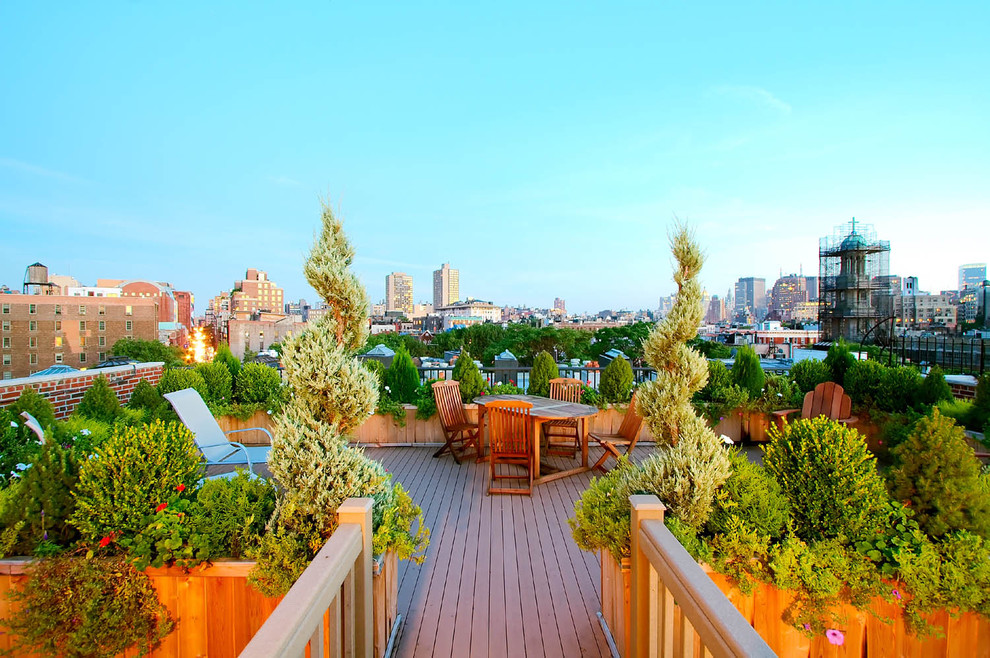 Photo by Amber Freda Garden Design