According to a recent report from the World Economic Forum, our domestic lives are set to get much 'smarter.' The roll-out of 5G and the Internet of Things means smart sensors, smart fridges, and robot vacuum cleaners will soon be standard in most homes. And smart living isn't just about convenience. It can also help us live more sustainable lives and empower those with physical disabilities.
So given that smart living is about to go mainstream, American Home Shield decided to see which US states and cities have got a head start toward the future. Using data from online realtor Zillow, it put together the following lists showing the USA's smartest States and Cities.
US States with the most smart home listings
According to American Home Shield's research, there are 2,242 smart homes listed in Florida; that's more than any other state in the US.
A typical smart home in Florida comes with over 20 devices and household apps. They include security cameras, network video recording, virtual assistants, and smart lighting systems.
US states with the highest proportion of smart tech homes
Iowa has the highest number of smart homes for sale on a proportional basis; 85 out of every 1,000 Iowa real estate listings are smart homes.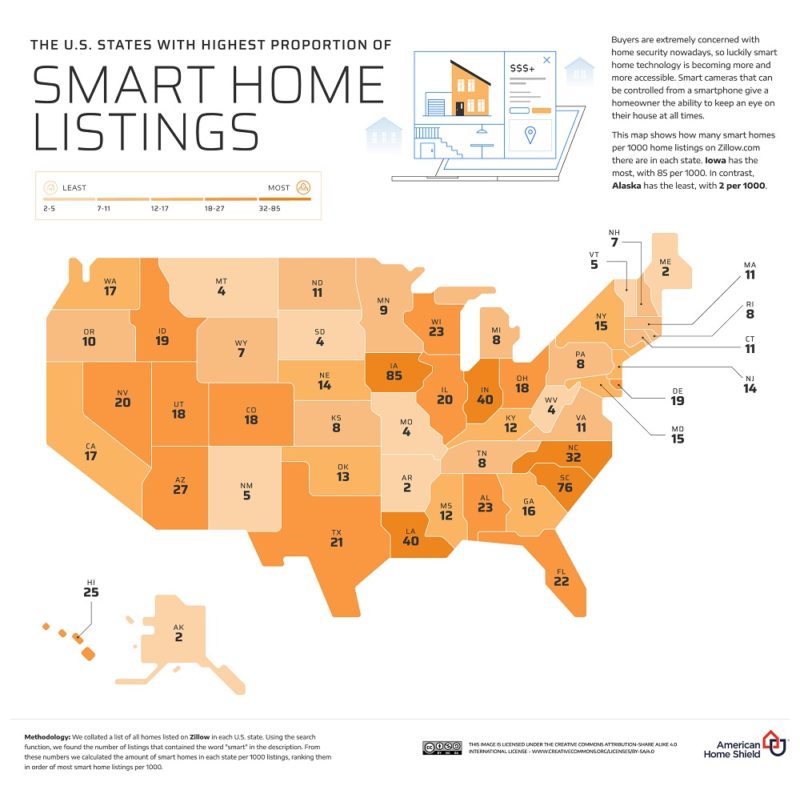 With 76 smart home listings, South Carolina comes next. Homes in Palmetto State have some of the most advanced (and quirky) smart technologies, including a 10G broadband connection, holographic televisions, and robot pets.
US cities with the most smart homes
New York is the USA's smartest city. There are currently 615 smart homes listed in the Big Apple. New Yorkers love smart thermostats for controlling the temperature in their homes during the city's hot summers and unforgiving winters.
Doggy and pet cams are also popular. So are smart video doorbells and security locks that can be opened remotely; they're perfect for letting in dog walkers, cleaning staff, and maintenance workers.
With 252 listings, San Antonio is the USA's second smartest city. The remaining top five spots belong to Chicago (204), Houston (176), and Los Angeles (169).
The US city with the highest proportion of smart home listings
New York may have the most smart real estate listings. But on a per capita basis, Madison city in Wisconsin is the real winner. 149 out of every 1,000 sellers are currently trying to offload a smart home.
Wisconsinites – also affectionately referred to as Cheeseheads – value the extra security that smart alarm and remote lighting systems provide. But they've also fully-embraced some of the more unusual smart tech, including intelligent toilets that analyze your daily 'waste.'
Joshua Coon is a professor of chemistry and biochemistry at the University of Wisconsin-Madison. He's also a self-described "smart toilet enthusiast." "There are several thousand known different small molecules that exist in urine and they give you insight into what's going on with our bodies," says Coon. "We literally flush away tons of health data every day!"
Better living through smart technology is here. When are you going to upgrade?