In most cases, bathrooms are much smaller than other rooms like the kitchen or bedroom that can be a good thing but also a bad thing. It is good because you won't have to buy as many things to decorate it, but it can be difficult because you are working with limited space. That is why you need to have super amazing ideas when you are designing your bathroom so you can have your own relaxing space.
Have a Beautiful Vanity
As bathrooms are usually a big thing, you will have to find a vanity that fits your bathroom perfectly. Keep an eye of the dimensions of it because that is half of the job when you are trying to make your bathroom amazing looking. A vanity can be used as an accent piece in the bathroom as it is quite a large piece of furniture, so choose something that is a solid colour or has subtle wood grain patterns that fit the vibe you are trying to create.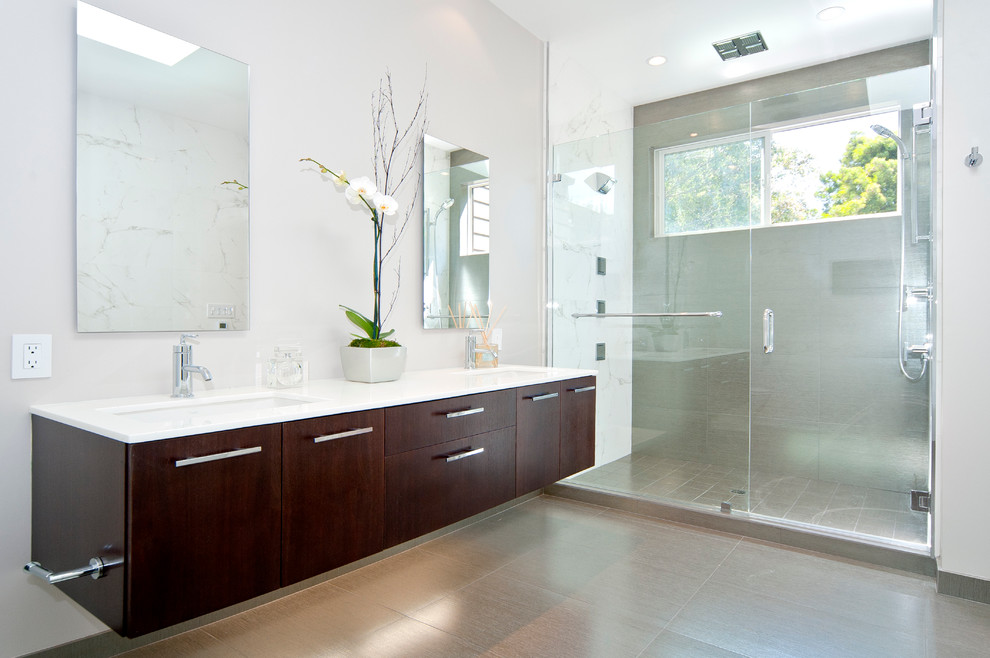 Photo by Cabinets and Beyond Design Studio
Install A Luxurious Bathtub
Even though a luxurious bathroom seems a bit too extravagant to some, it is worth every penny spent, as you are using it as space where you unwind and relax. It is not only more enjoyable to have a bathtub it is also more efficient as they are much easier to clean than a shower is. There is nothing that will make your bathroom look breathtaking than combining a beautiful freestanding tub with a vanity. They come in so many different shapes and sizes so it can fit in just about any bathroom and any style. The biggest plus is that it looks as amazing as it performs.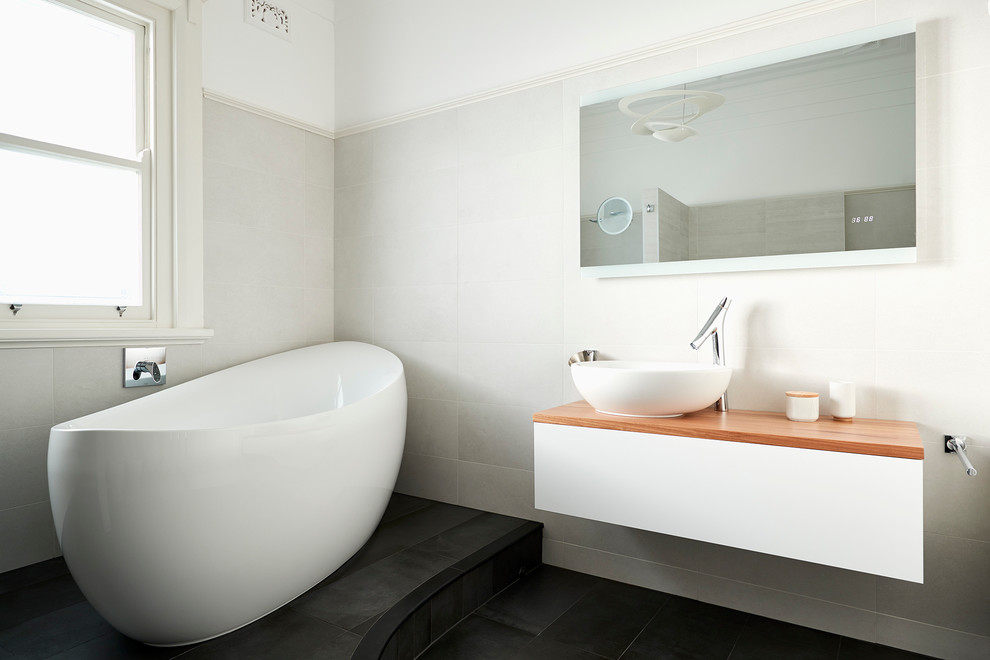 Photo by JBR – Just Bathroom Renovations
Update the Fixtures
What a lot of people underestimate is the power of fixtures you choose. The best way to make your bathroom look breathtaking is to install things like ceramic or glass sinks, copper taps and showerheads as well as adding bidet toilet seats. Paying attention to details like that will create an amazing bathroom.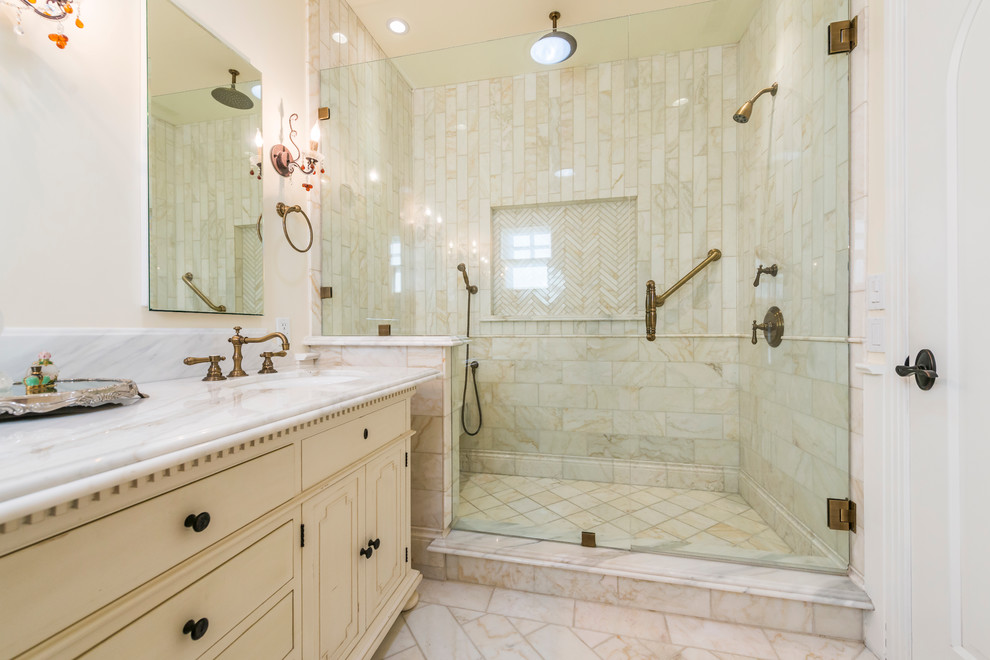 Be Creative with Floor Tiles and Wallcoverings
One of the best ways to spice up your bathroom is by having fun with your tiles and wallcoverings. When you are adding floors to your bathroom always make sure that you are choosing water-resistant ones such as marble tile or a patterned vinyl. There are a lot of options that you can go with depending on what style you are going with.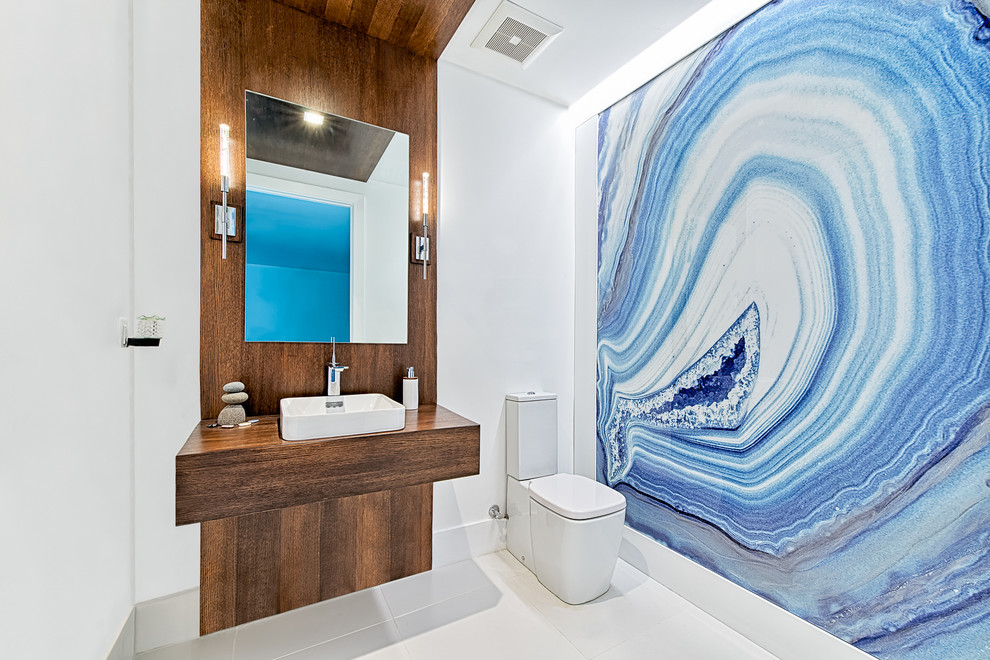 If you are someone that gets easily bored of their surroundings there is nothing better for you than installing peel and stick mosaic tiles that you can change whenever you desire. You will not only have that freedom, but you will also create a cool trendy bathroom. One important thing is that you stay away from really dark colours as your goal is to create a nice airy space.
Install New Lighting
Installing new lighting is possibly one of the most effective ways to illuminate and bring life to a bathroom. Consider removing the tacky light fixtures that are usually found in bathrooms and opt for something that is more the style you are going for. Choose things that don't draw attention away from your focal points that you already created because that will make the bathroom look more crowded. There are a lot of new trends that are very subtle and nice like lining the bottom of your vanity with LED lights or simply choosing softer, warm-toned lights that help you relax rather than having bright white ones. Lighting can make or break the style you are going for.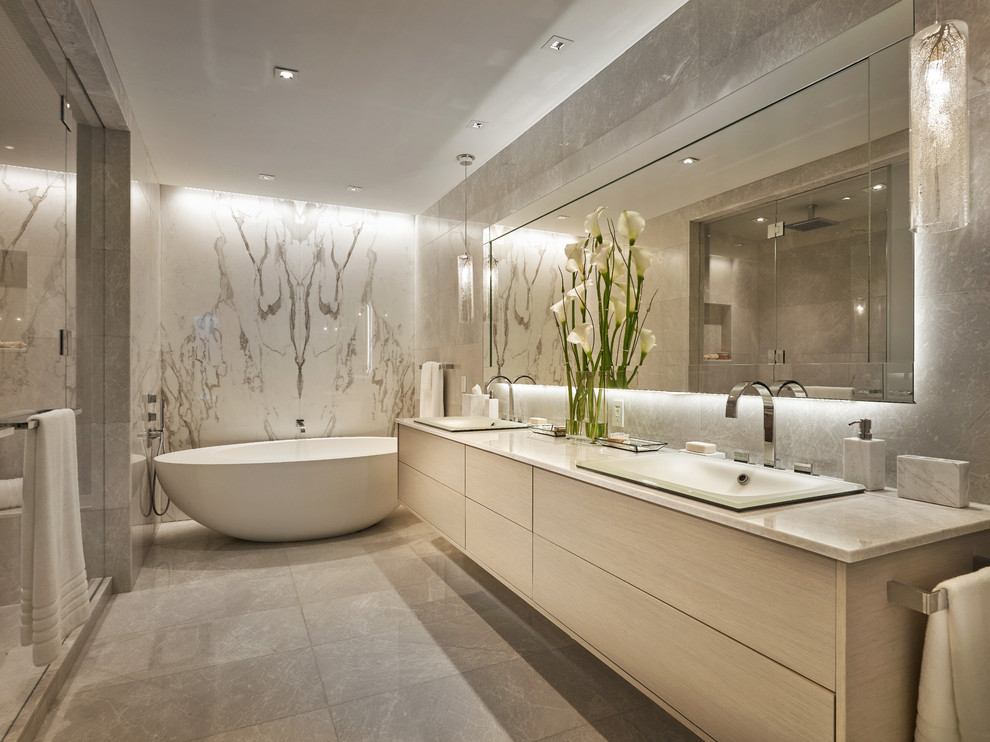 Photo by Interiors by Steven G
Because we spend so much personal time in bathrooms you must invest in that space. By creating a gorgeous space to spend time in you are helping yourself relax and have a safe space in your home.
Author Bio
Alison Pearson is an interior design student. She is a writer and designer, but her ultimate passion is design and creation. She is also a bibliophile and her favourite book is "The Sound and the Fury" by William Faulkner. Follow her on Twitter.