Who would have thought that something that is commonly viewed as trash would be taking the do it yourself project world by a storm? The pallet is ever versatile and with the vast amounts of possible crafts, it will be difficult to pick what to create. Regardless of your skill level, there's a craft out there for just about everyone, a craft that will surely emphasize your living with ease, beautify your household. If you love books or have a book worm in your life, perhaps they would benefit from a small bookshelf? Or if you're a gardener, you might appreciate a small potting bench for your gardening chores.
Interested in learning more? Read more after the break.
Common Uses for Pallets
While pallets were commonly used to help transport large items such as furniture or bulk supplies, someone out there saw their true potential as a versatile craft, that someone was soon about to change the world. The various possibilities are almost overwhelming, and Pinterest certainly doesn't help the case either! You can find a tutorial or inspiration for just about anything including coffee tables, book shelves, and even a platform on which to put your bed on! Don't believe us? Don't take our word for it, take a look at some of the pictures below!
Photo by Amber Wilhelmina Design & Interiors – More eclectic patio ideas
Where to Find Pallets
Pallets are cheap, in most cases you can find them free of charge. In fact, some warehouses regularly dispose of them or place them on their street corner in hopes that someone will eliminate the 'headache' of removing them. Little do they know, that these pallets are good for more than just transporting goods. If you're not sure where to look for them, a quick call to your local recycling center may yield some results. Another alternative place to look is on Craigslist. You may want to try the free section.
Photo by Going Home To Roost – More shabby-chic style bedroom ideas
Now that you've located your pallets, take a look at what can be achieved with a few hours of craftiness!
Organize Your Closet
Maybe your closet is a mess or those magazines at the grocery checkout lanes are making you feeling guilty; an organized closet is easy to achieve now with a few pallets. While this picture shows a bare bones idea of what can be achieved with a couple of pallets, those who are decorative and have more time on their hands may be able to get away with more. Why not get some paint involved? Or even some wood stains?
Photo by defined details – Browse rustic closet photos
Craft name here
Who doesn't love coffee? Everyone knows a coffee lover. Simple to create and super thoughtful is this coffee mug holder. Okay, it doesn't have to be just for coffee, there's tea lovers out there too! This project would probably take you less than a day to finish. All you need is a few hooks, a wood stain or paint, and some time.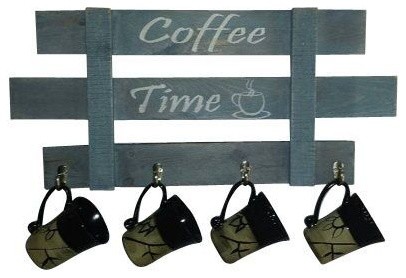 farmhouse display and wall shelves
Hanging Book Shelves
Want to foster the inner reader in your child without taking up too much space in your house? You don't need bulky bookshelves to hold a collection of books. These 'gutter' like shelves are perfect for hanging on the walls. A variety of wood stains makes it possible for you to match it to any décor or paint scheme you already have.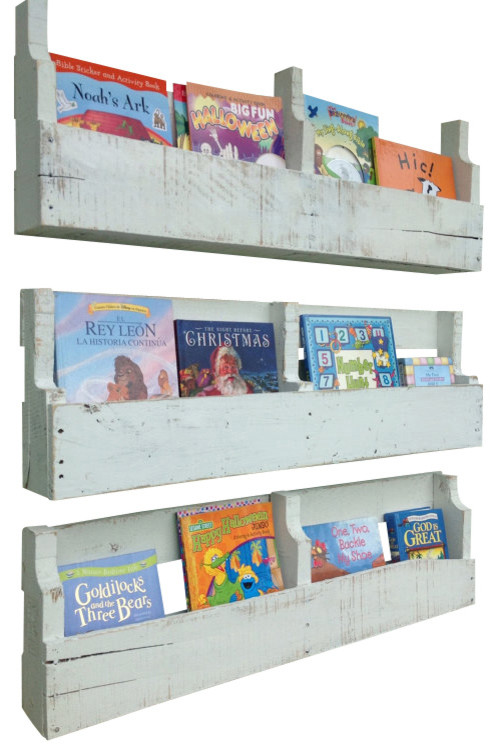 rustic display and wall shelves
Crafty Bar Stools
Yeah everyone else probably has bland old bar stools, but not you! These bar stools were created from two wood pallets and probably took the owner less time to create instead of browsing through a furniture catalog. Simply sand the wood down till it's a smooth finish, and add a wood stain of your choosing to make the wood pop!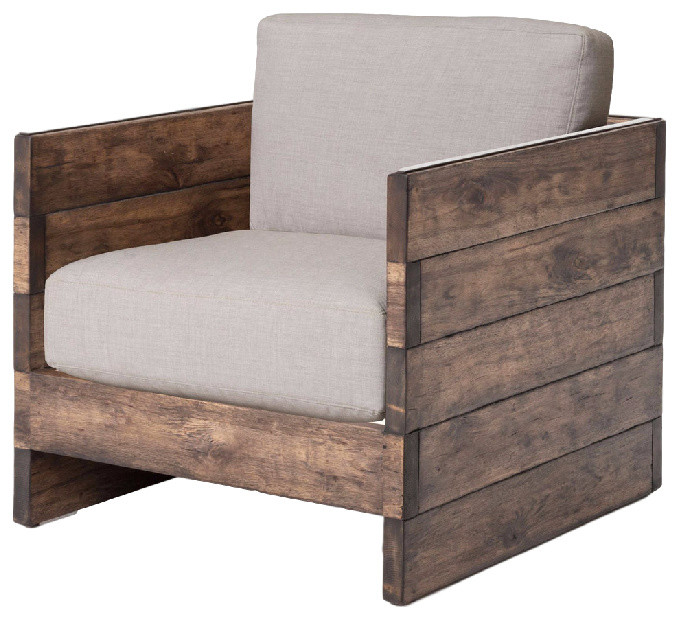 rustic armchairs and accent chairs
Everyone Needs a Desk
Yes, everyone. If a desk seems unaffordable or you simply enjoy the idea of upcycling, give this pallet desk a try. Easy to build and super customizable depending on your needs, you can feel good about recycling while having an ultra-modern desk.
Photo by Funky Junk Interiors – Discover eclectic home office design ideas
Gardening Table
Great for the gardener in you or someone else you know, this pallet gardening table is simple to create and you won't feel weird for having it in your backyard. While everyone else is wondering where you got it, you can smile to yourself knowing that you created it yourself.
Photo by The Tiny Tack House – Search rustic exterior pictures
Wine or Beverage Holders
A decoration that is easy to do.  You can keep the wood dull to keep up that rustic antique feel, or you can sand the wood down and apply a wood stain for an ultra-modern look. The choice is yours!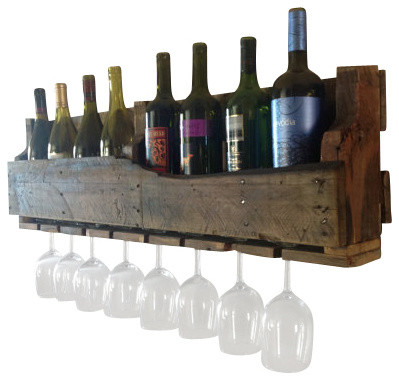 How do you see wooden pallets and what do it yourself project with pallets you`ve attempted so far? Wooden pallets are an extraordinary almost endless resource that one should consider for its crafts. What do you think? We would love to hear your opinion on the subject in the comment section.
ABOUT GIUROIU ANTON
Giuroiu Anton is the Founder of Homesthetics Magazine, an online architecture art and design resource. In the spare time he writes as a guest for several architecture websites like Freshome and Architecture`n`Design. He is currently studying Architecture and Urbanism at Ion Mincu University in Romania where he also graduated Tudor Vianu National Computer Science College, his educational background fueling his thirst for technology and design.