Are you tired of looking at a dull and worn-out asphalt driveway that was once brand new? Over time, asphalt driveways can become faded, cracked, and full of potholes. Fortunately, there are several ways to revamp and give your driveway a new lease on life. In this blog, we will be discussing five tips on how to reinvent your asphalt driveway, so you can enjoy a new and fresh look.
Sealcoating
Sealcoating is a cost-effective and simple way to protect your asphalt driveway from wear and tear caused by weather and environmental factors. It involves applying a thin layer of sealant to the surface of the pavement, which acts as a barrier against moisture, chemicals, and other hazards. By regularly seal coating your driveway every two to three years, you can help prevent cracks, potholes, and other damage, as well as extend the lifespan of your driveway. It's important to note that seal coating should only be done on a clean and dry driveway, so it's best to schedule this maintenance task during a dry season or when there's no rain in the forecast.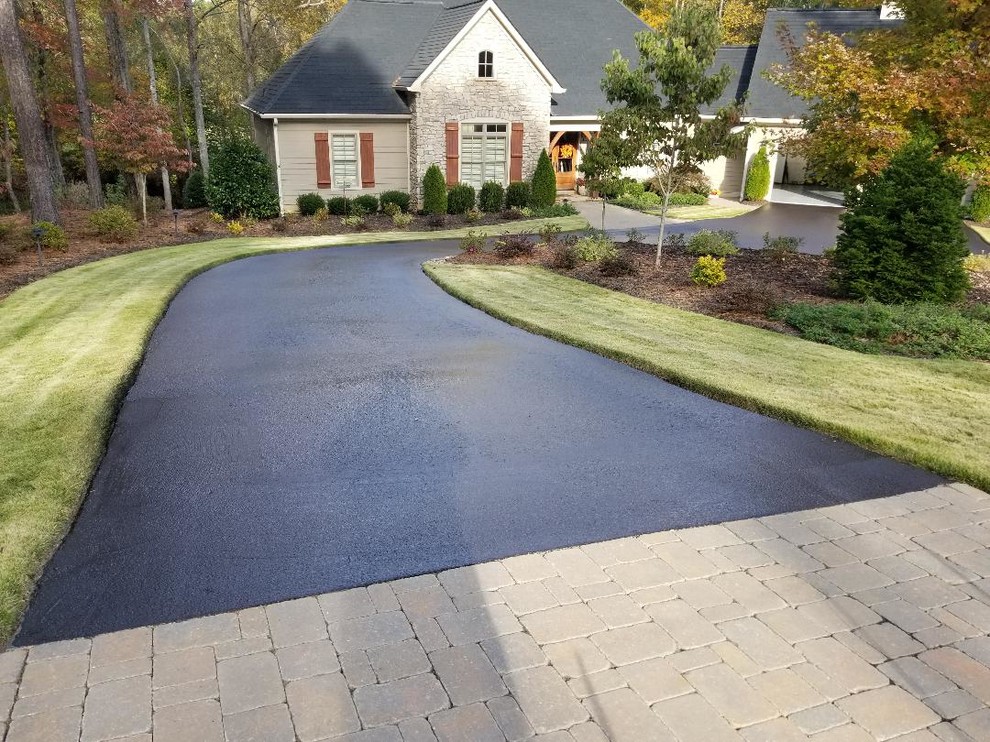 Regular Cleaning
Regularly cleaning your driveway is essential in maintaining its appearance. This includes sweeping or blowing away loose dirt and debris from the surface. You should also wash your driveway with a pressure washer or a garden hose and a high-pressure nozzle. If any weeds or grass start growing in the cracks or potholes, it's recommended to remove them immediately to prevent further damage.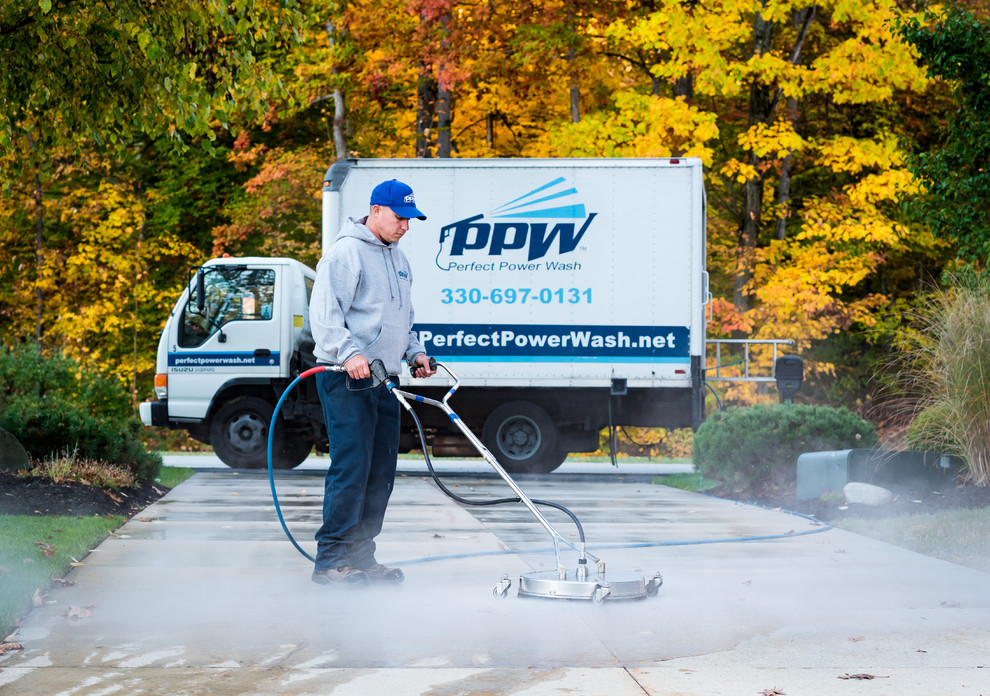 Neglecting to clean your driveway regularly can also lead to damage over time, as debris and dirt can build up and cause cracks and potholes. By staying on top of regular cleaning and maintenance, you'll not only keep your driveway looking its best, but you'll also prolong its lifespan and save money on costly repairs in the long run. Additionally, a clean and well-maintained driveway can boost your home's curb appeal and make a positive first impression on guests and potential buyers.
Stenciling and Striping
Stenciling and striping are fantastic ways to add a unique touch to your driveway. These are decorative patterns or lines that are applied to the surface after the seal-coating process.  One of the best things about it is that you can create virtually any pattern or design you like. From simple stripes to intricate geometric shapes, the possibilities are endless. Think about the style of your home and landscaping, as well as any other design elements on your property, when choosing a stencil design. Stenciling and striping not only add a decorative element to your driveway but also help to cover up any imperfections.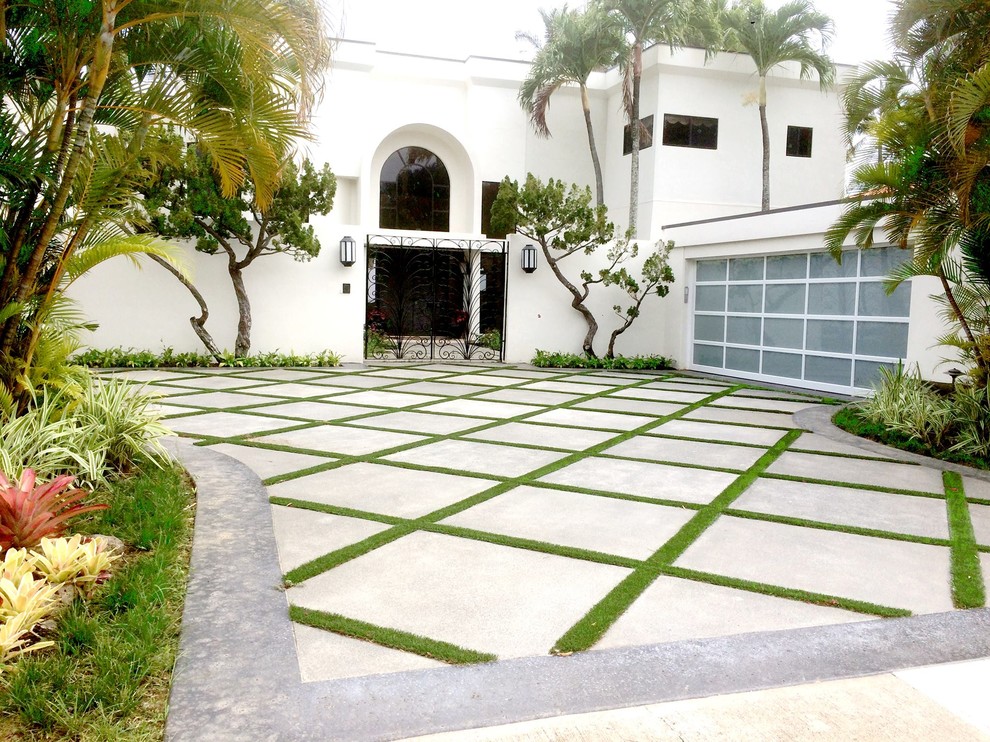 To achieve the best results, it's important to follow proper stenciling and striping techniques. This may include using a chalk line or measuring tape to mark your pattern, applying a base coat of paint before stenciling, and carefully removing the stencil after painting to avoid smudging. If you're not confident in your ability to stencil and stripe your driveway correctly, consider hiring a professional to do the job for you.
Additions
If you're looking to give your driveway a more unique and personalized look, consider adding some additions. From a new landscaping feature to an eye-catching fountain or statue, a well-designed addition can make a big difference in how your home looks from the street. Driveway additions can include planting flowers, trees, or shrubs along the driveway's edges to give it a pop of color and visual interest. You can also install a driveway gate, lighting fixtures, or even a fence to add an extra layer of security and privacy. These additions to your driveway or yard can be a great way to express your personal style and creativity.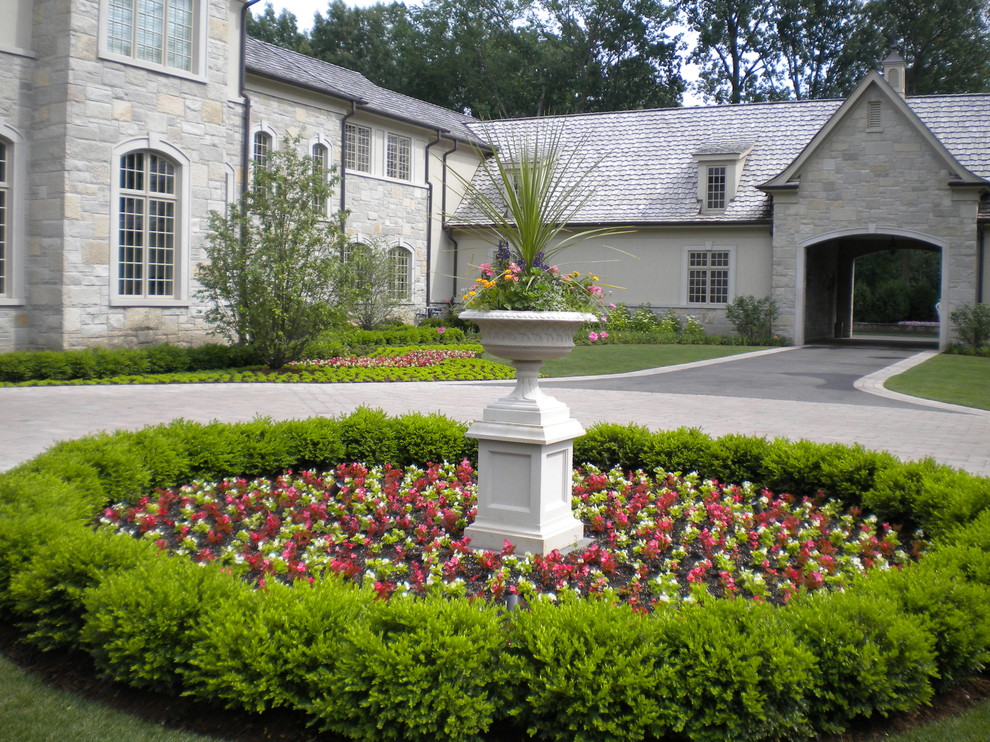 Photo by Bertog Landscape Company
Adding a Decorative Border
Adding a decorative border to your driveway is another excellent way to give it a fresh and modern look. One of the main benefits of a border is the aesthetic appeal they provide. Borders can be made from a variety of materials, including brick, stone, concrete, or even plants and flowers. The addition of borders can add a touch of elegance and sophistication to your home's exterior, creating a more cohesive and visually appealing look.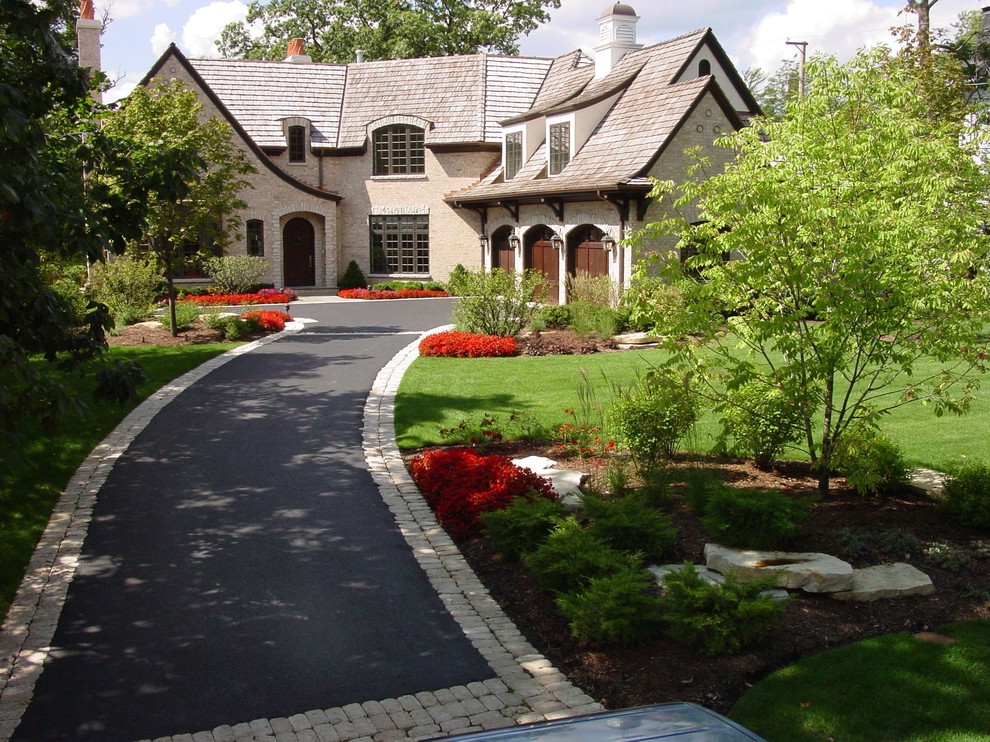 Photo by Earth Developments, Inc.
Borders can also serve a functional purpose beyond their aesthetic value. For example, a raised border can help prevent soil erosion and keep plants and flowers contained, while a lower border can provide a barrier between your driveway and lawn, preventing grass from encroaching onto your driveway. Additionally, borders can help define parking spaces, making it easier to park your car in the right spot.
In conclusion, there are several ways to give your asphalt driveway a much-needed facelift. From simply sealing and regularly cleaning it to adding decorative borders or stenciling and striping on the surface, you can transform your dull driveway into a modern and attractive home feature. When taking on any type of renovation project, always be sure to do research and understand all the steps required before jumping in. Consider hiring a professional for residential driveway paving if you don't feel confident in tackling the job yourself. With these tips, you can have a beautiful new driveway that will last for years to come!
Author Bio
Rachelle Wilber is a freelance writer living in the San Diego, California area. She graduated from San Diego State University with her Bachelor's Degree in Journalism and Media Studies. She tries to find an interest in all topics and themes, which prompts her writing. When she isn't on her porch writing in the sun, you can find her shopping, at the beach, or at the gym. Follow her on Twitter and Facebook: @RachelleWilber; https://www.facebook.com/people/Rachelle-Wilber/100009221637700/