Keeping your lawn attractive and nicely decorated extends your home's living space for recreation, relaxation, and entertainment. In addition to mowing the lawn and weeding the flower beds, a variety of decorations can add personality and appeal to your outdoor area. The following options offer helpful ideas for giving your yard a brand new look.
Lighting
Lawn lighting comes in several styles to fit your home design or your yard's theme. Ground-placed solar lights help to illuminate walkways around the house or a path to the garage or street. Light sconces on the home's exterior walls can match a rustic or contemporary design. Strings of tiny lights can be mounted around display areas, such as large trees, attractive hedges, and floral gardens. A lamp post in your favorite style adds a focal point for your front yard at night.
Photo by TouchStone Accent Lighting, Inc.
Fencing
With plenty of fencing types to choose from, you can add a decorative section accented with seasonal blooms or vines in the front lawn or side yard. You might prefer fencing one or several sides of your yard in a vinyl or wood style that matches your home design. You can mount bird houses or feeders on the fencing, along with climbing roses or other flowers that add color and aroma to your lawn. Fences can be constructed of natural wood or stone as well as materials like vinyl.
Photo by Woodburn & Company Landscape Architecture, LLC
Patio Enhancements
To extend the use of your outdoor patio or gazebo during the hot months when flying insects can be problematic, install lattice screening for a nice look and functional purpose. Screening enables you to enjoy your patio, porch, or deck more fully without worrying about flies, mosquitos, or bees. It's easy to care for and can last a long time when covered by canvas in the cold months. You can more easily enjoy viewing your lawn and spending time outdoors with this lovely protection.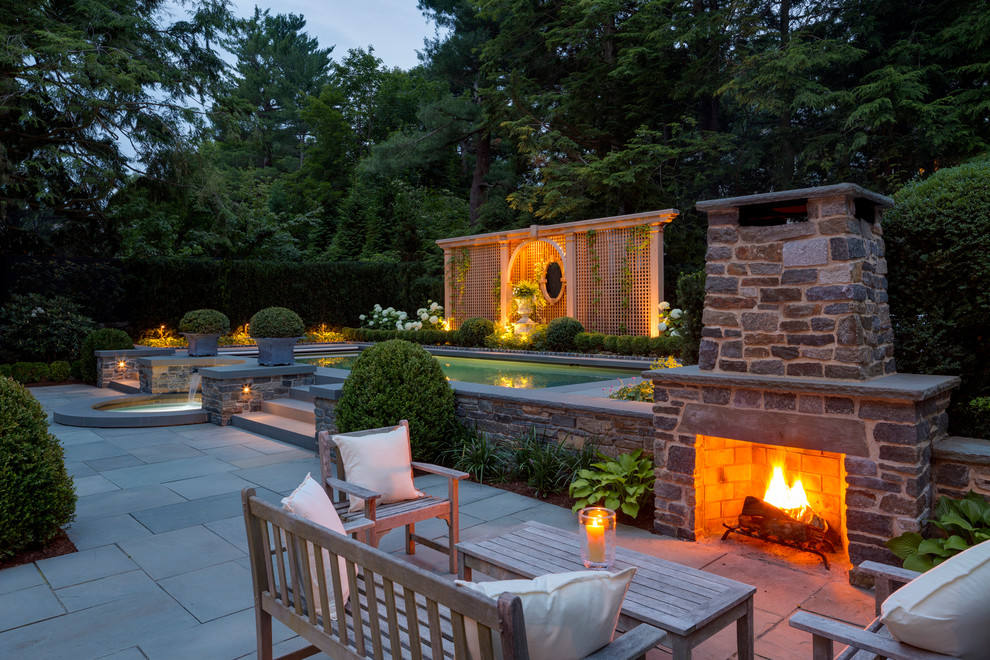 Photo by Dan Gordon Landscape Architects
Garden Décor
Shop for garden elements like figurines, themed flowerpots, and stone edging to accent your flower or vegetable garden. Sectional areas of flowers or decorative grasses can be more noticeable when you add a yard accent like a bird bath, an antique gardening tool like a wheelbarrow, or an arrangement of seasonal blooms in a barrel, pot, or cluster.
Make the most of your lawn by emphasizing its best qualities and developing its aesthetic and comfort potential for your family and guests. Yard décor brings out the best in your outdoor areas to encourage fun activities and socializing opportunities.