French style kitchen is notable for its beautiful, comfortable and warm appeal and style.   It is becoming a trend and global phenomenon for reasons like simplicity, elegance and a cozy vibe. And if you're a fan of French country style design and you want it, you must take a look at the following kitchen remodeling tips to design your French style kitchen.
Classic Old Style Kitchen Cabinetry
Bring in the French style kitchen to your home with classic and traditional kitchen cabinetry that is a mark of French kitchens. One of the best ways to do that is to set up a laid back and cozy feel cabinetry that will take everyone back to the time of coming home for dinners. Use a modest design that has simple and straightforward accents and decorations. Avoid overwhelming it with ornamentation and details.
The French style cabinets have minimal and simple lines with basic framing and trims.  In addition, you might want the elegance of white color combined with a color coordinating backsplash and kitchen island.
Also, you might want light taupe cabinets with an antique finish to set a cozy and elegant country kitchen. You can also think of about the furniture-inspired cabinetry for a vintage appeal or the old appearance of brass and Bakelite cabinet to pull a country style kitchen. Finally, you might also want to consider a contrasting color scheme to avoid single-colored kitchens.
Keep It Functional
The French style kitchen is where you spend a day cooking and preparing food and cleaning. It pays off to have not only one with all the appliances needed but also all things organized and functional. You should keep storage within reach to ensure you don't have to scourge the kitchen finding what you need.
Photo by Giffin & Crane General Contractors, Inc.
For example, keep things within reach. Put utensils for cooking and cleaning in an accessible place. The same applies for the condiments and spices. Also, keep those stuffs you often use in cooking close to the preparation area. Maintain an organized workflow, such as separating the areas for washing, cooking and prepping.   It just means that the kitchen has three main zones for a good flow that can let you work smoothly without disrupting any part of the process or causing traffic.
Another notable aspect of a French style kitchen is its clutter-free look in addition to an immaculate design and modern appliances. Sinks and countertops are clean from any unnecessary items that make a hassle-filled experience and a messy kitchen.
Photo by Divine Design+Build
A functional French kitchen is also with a great, adequate lighting to ensure that space is well illuminated with bright lights in the stove and sink areas.   As a tip, you might want to invest in under-cabinet lighting for a well-lit and simple ambience. Nevertheless, aim at a functional kitchen to make your life easier, regardless you want a French style kitchen or not.  At the end of the day, it will make you feel good working in your space.
Incorporate Natural Material in the Design
To achieve a French kitchen, you might also want to consider incorporating natural elements and materials in the decoration and design.  Add countrified natural scapes for natural elements. A few examples include wood surfaces, bricks and stones common in country kitchens.
Hang Cookware
Part of having a functional kitchen is hanging cookware on the wall especially if you have a limited space. You can make use of wall space instead of a bulky rack. You can use open shelving units, racks and hooks in storing the essentials. For example, use a hanging pot rack for an easy access of the utensils. To add visual elements, use an open shelving unit that can also reduce space usage.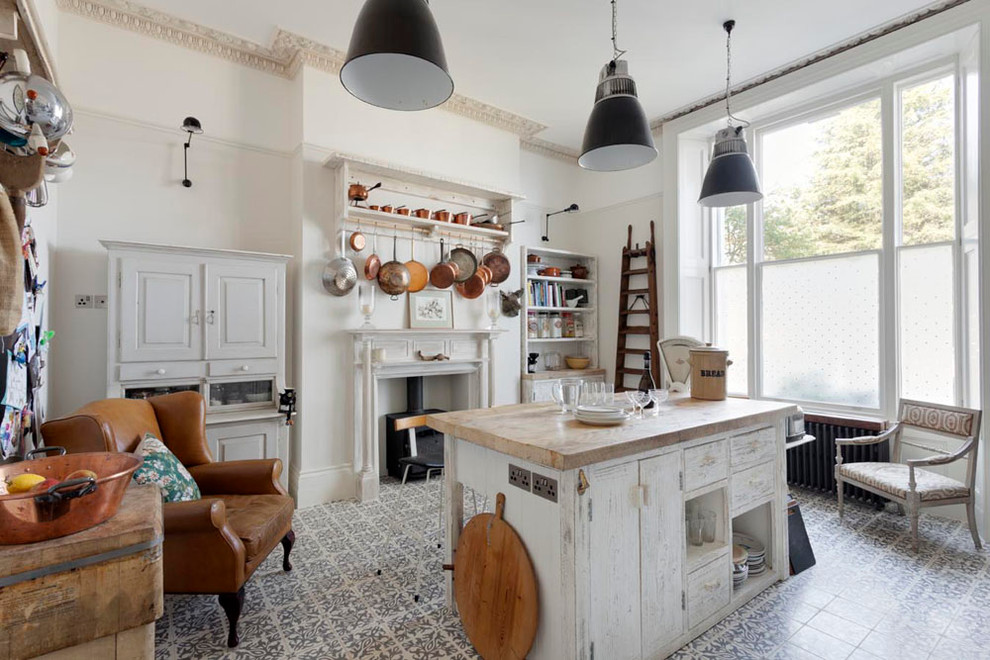 And instead of keeping pans in the cupboards, hang them on the walls for a decorative touch and a diverse decorating style. Especially if the pans are different colors or have a shiny copper or rustic look, they can add visual appeal to your French style kitchen.
There you have the best kitchen remodeling tips to achieve an effortlessly chic and stylish French kitchen that is ultimately livable and organized for that person who spends the entire day cleaning and preparing food for her family – you!
Follow these tips and get that cozy, warm French style kitchen today!