Hardwood floors add a touch of classic elegance to any home. However, hardwood flooring is not always appropriate for the bathroom and kitchen, where excess moisture can be an issue. Also, hardwood floors in the kitchen can be damaged by grease and heavy dropped pots. Fortunately, there are sturdy, moisture-resistant alternatives that have a hardwood look. By using these, you can maintain a continuous flooring look throughout your home.
Luxury Vinyl Planks
Luxury vinyl is a popular, water-proof hardwood alternative. It's printed and textured to look like real hardwood and topped with a clear, protective coating. Luxury vinyl is both affordable and durable and comes in a number of hardwood grains and colors. Wood-look luxury vinyl planks are an excellent choice for a bathroom or kitchen. However, the upper layers can wear off in high-traffic areas.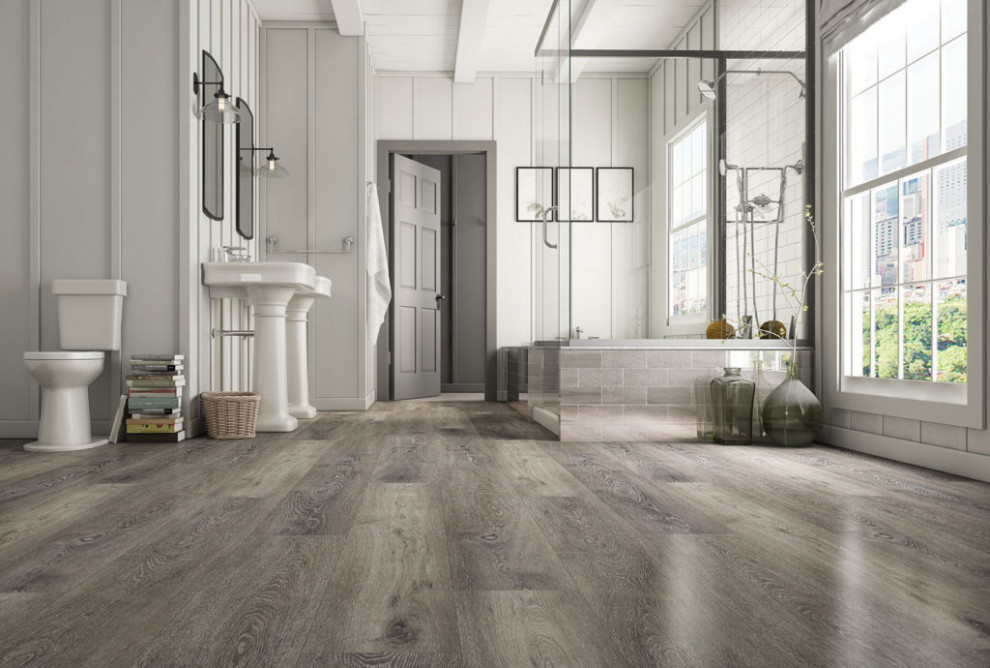 Photo by Avalon Flooring
Wood-Look Ceramic Tiles
Now, you can find ceramic tile that imitates the look of hardwood flooring. It's not only water-proof, but it's also heat-resistant and stain-resistant, making it perfect for the kitchen. It's also affordable and comes in dozens of wood grains and colors. Finally, wood-look ceramic tile is nearly indestructible in high-traffic areas. Water-proof, heat-resistant, and stain-resistant ceramic tile is perhaps the best choice for both bathrooms and kitchens.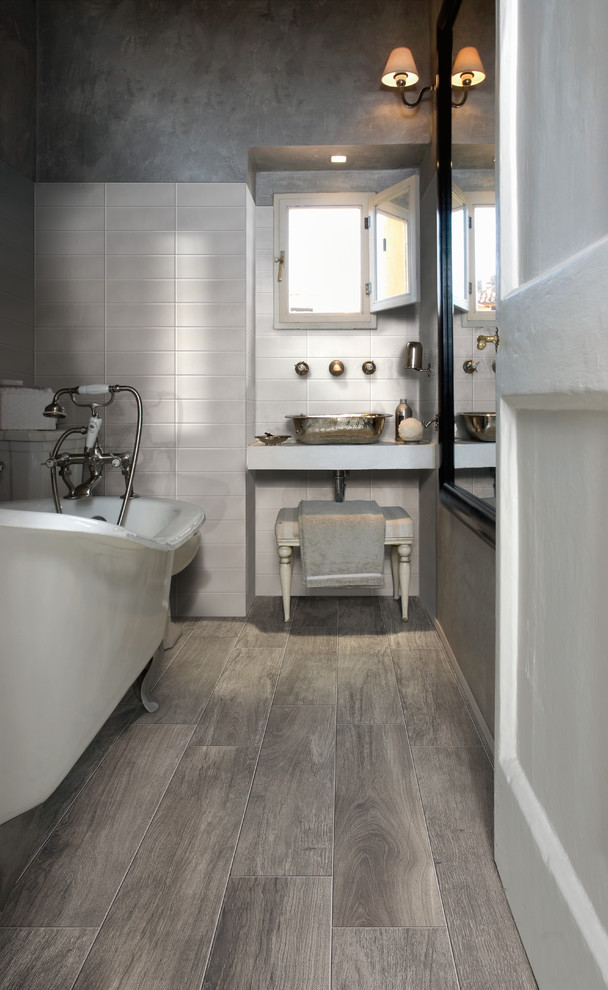 Photo by Architectural Ceramics Inc
Engineered Oak Flooring
Engineered hardwood flooring is much more moisture-resistant and durable compared to hardwood floors. The top layer is real hardwood, while the bottom layers are made of thin, bonded plywood. The bonded lower layers prevent the flooring from expanding with moisture. Engineered hardwood flooring is also a great choice for high-traffic areas, like the kitchen.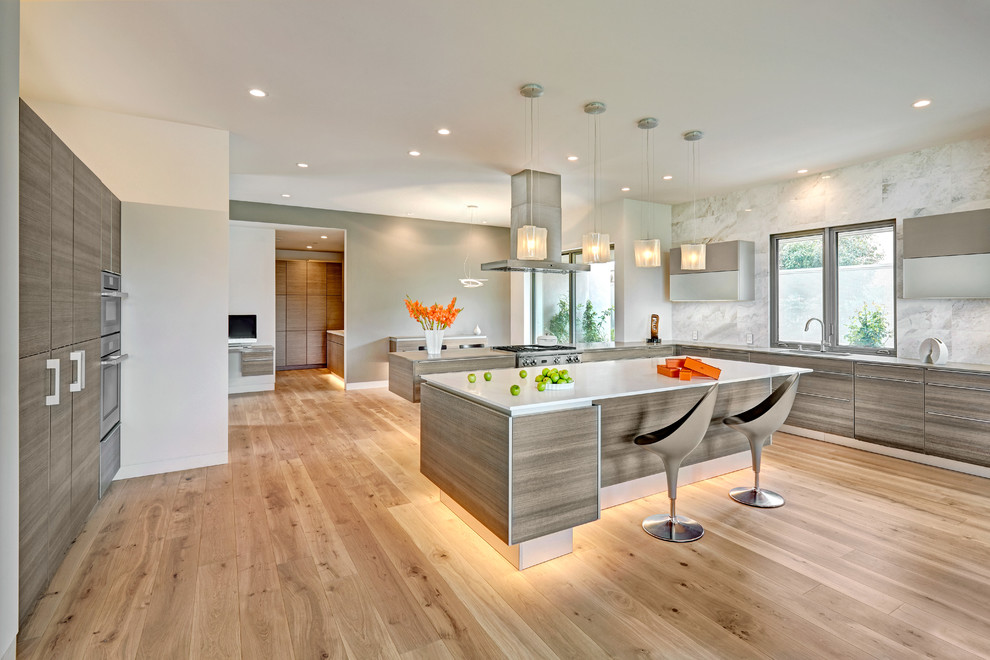 Engineered oak flooring gives you a natural, realistic look in a variety of grains and colors. Your kitchen and bathroom will have the moisture-resistant quality it needs with engineered oak flooring. It also has a thick veneer of real hardwood, for a perfect match to your hardwood floors.
Laminate Flooring
Like luxury vinyl flooring, laminate has a top layer that's printed to look like wood and topped with a protective clear coating. However, the base layers are made of sturdy fiberboard and melamine layers. The flooring is also designed as tongue-and-groove planks that snap together. However, if it's not installed right, the tongue-and-groove planks can buckle. Also like luxury vinyl, the top layers can wear down in high-traffic areas.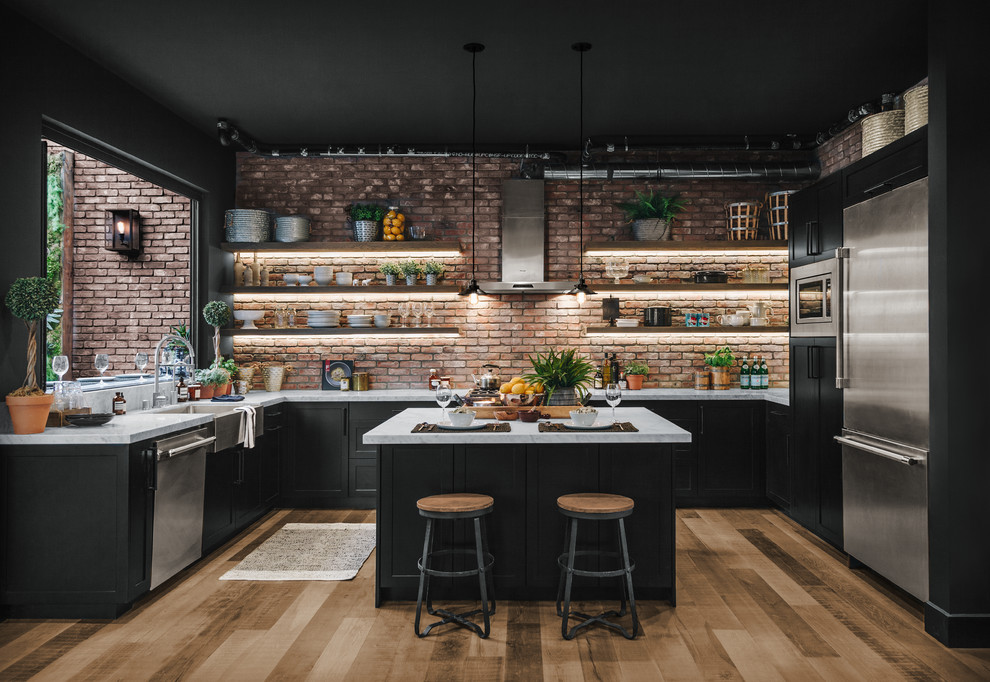 Hardwood flooring is highly desirable, but it's not always the best choice for a kitchen or a bathroom. Fortunately, you can keep the look, while flooring your kitchen and bathroom in something more appropriate.