Whether you're renovating your home's exterior or just want a welcoming entryway, a new front door can add the finishing touch. But what are some ways to make your front door more eye-catching and dramatic? From your decorative house numbers to the paint you choose, here are some of the top front door trends in 2021.
Front Door Hardware Trends
Today, the trend in front door hardware leans toward a more contemporary style. This means exterior door hardware sets with a clean-lined silhouette with squared and angled shapes. Of course, if you're not ready for a dedicated modern vibe yet, there are more transitional hardware styles as well, with softer lines that appeal to period-style homes. The same trend rings true for house numbers. Today, house numbers lean more toward a clean sans-serif font with a cursive-free look.
Aside from the overall shape of front door hardware, particular finishes are trending, too.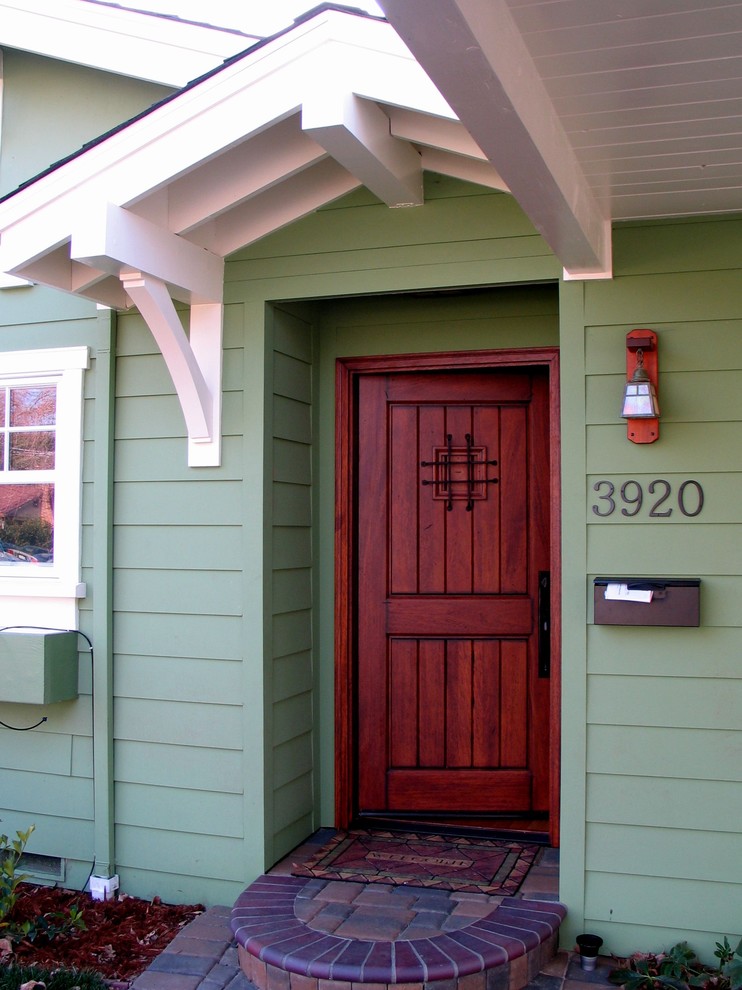 For instance, some of the more sought-after finishes are matte blacks, satin nickels and bronze. Matte blacks offer a striking visual against natural woods (think modern farmhouse), while satin nickels and bronze provide a subtle sparkle and glimmer to painted doors.
Front Door Style Trends
Front door styles vary greatly, depending on your home's locale. What's in style for a New England colonial cottage is vastly different than what's trending for a California villa. However, here are some of the directions front door styles are headed and what is trending on a universal level.
The Wide Front Door
If you haven't noticed already, front doors are getting larger and grander. A wide front door gives homes a certain depth and dimension that invites guests and loved ones, but it's also efficient for making space to carry in furniture or large objects. A spacious and oversized front door can also act as a central element and accent to your home's facade.
Wide front doors are typically found on bigger homes and residences. However, they can also be found on sprawling ranches, where the entryway can often get lost. Wide front doors also lend themselves to country farmhouses, giving it a barn door-inspired charm.
The Minimalist Front Door
Another front door trend in 2021 is the minimalist front door, one of clean lines and sleek modern materials. Minimalist front doors tend to offer a less fussy appearance and only a few lines to create visual interest. For example, it may have streamlined stripes for understated elegance and decoration or a glass panel design.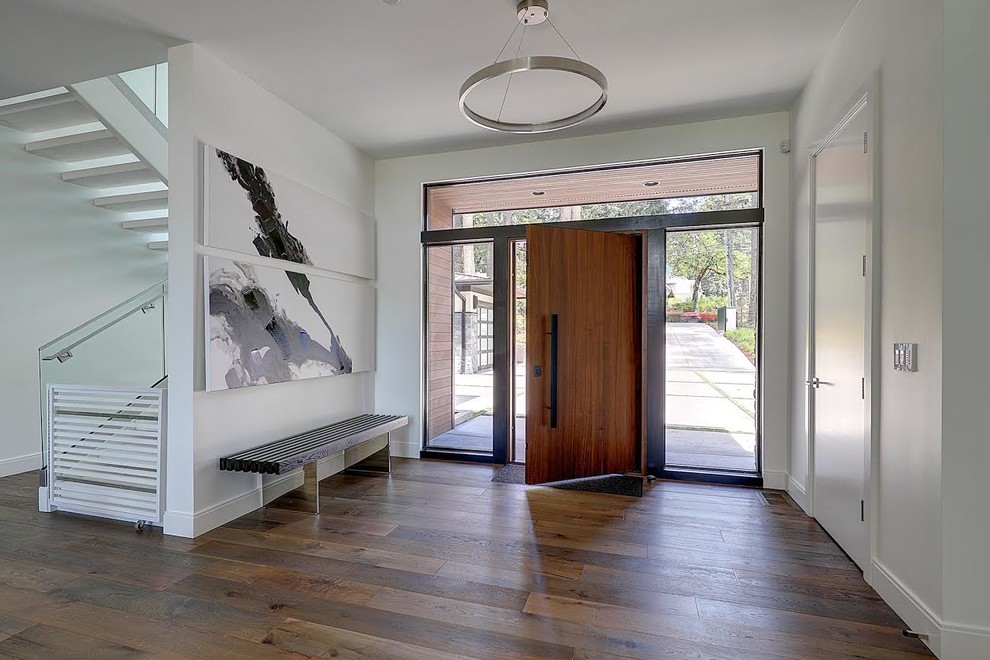 A flush front door with horizontal wood paneling offers a contemporary yet minimal aesthetic to a home entrance. Plus, it can have sleek hardware that blends seamlessly into the style. If your home's material consists of steel and concrete, a minimalist front door is the perfect option!
The Glass Front Door
One of the all-time top front door trends in 2021 is a glass front door. Glass offers ample natural lighting into the entryway foyer or wherever the entrance leads, making the space more inviting for family and guests. However, a glass front door can also offer privacy, especially when adding a textured sheet of glass. Plus, whether it's glazed, rippled, beveled or frosted, textured glass panels on your front door not only offer privacy but a unique visual. Just make sure to choose a glass texture that complements your home's facade and exterior material's textures.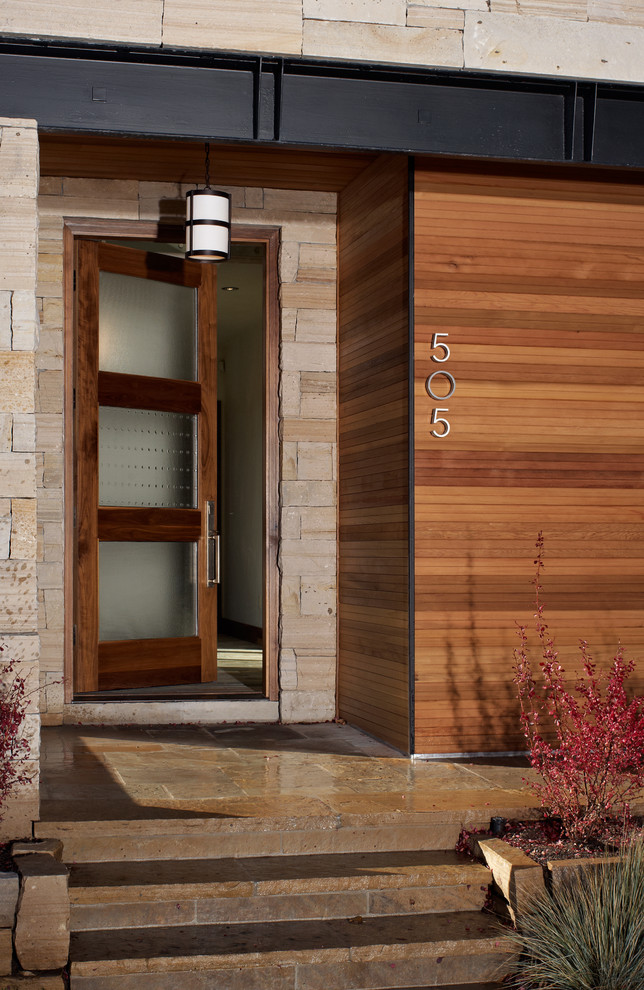 Photo by Menendez Architects PC
The best part of glass front doors is you can find them in various styles and shapes, with multiple opening options. A pivot-style front door with sidelights offers some natural lighting while also saving interior space. And a French-inspired style front door with a windowpane design can also give a timeless aesthetic to your home's entrance.
The Steel Front Door
One of the more notable front door trends in 2021 is to have steel elements. A natural material with a modern flair, steel offers a bold look to your home's presence. And the steel front door will add a heavy weight and grandness that's sure to be noticed. Even adding a touch of steel on the hardware and other components like the house numbers can give a dramatic touch.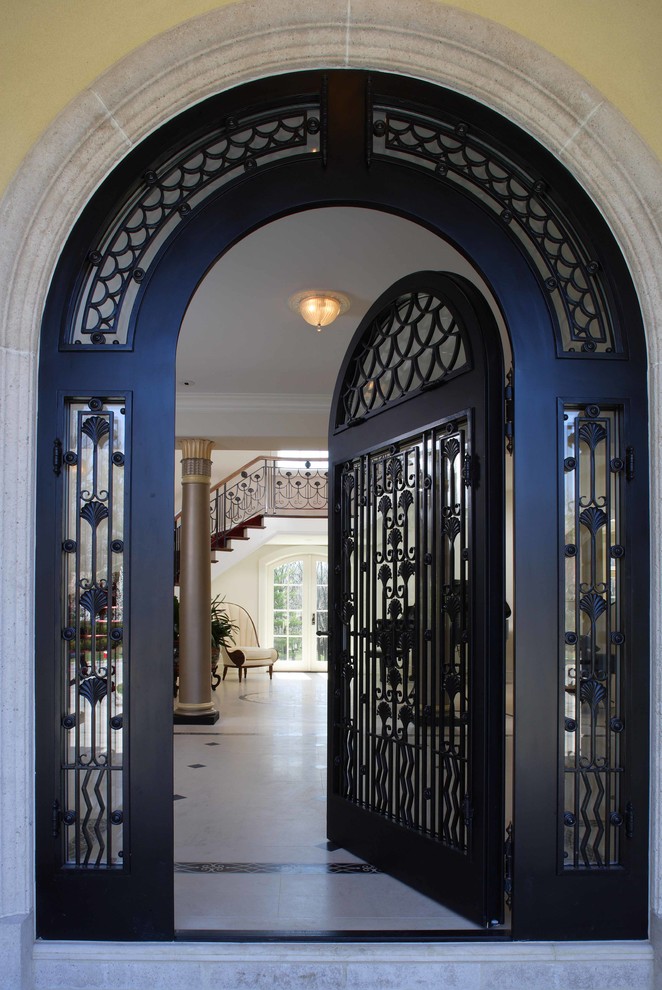 Front Door Color Trends
Aside from the overall style and materials used, colors also play a significant role in the front door design. However, this trend can also vary based on your home's location or even the overall style of the home. For example, you can choose a modern black front door on a contemporary style home or a creamy ivory tone front door on a Victorian period-style residence. In the end, the paint choice you decide for your front door is a bit subjective, but here are a few to keep in mind.
Pastel Shades
Front doors painted in a soft pastel hue offer a more practical style. Versatile and able to complement various color palettes, pastel front doors provide a more classical, timeless aesthetic that allows other items of the home's exterior – like the surrounding landscape, hardware and overall style – to take center stage. Overall, the pastel front door trend gives the house a light and breezy look and restful feeling.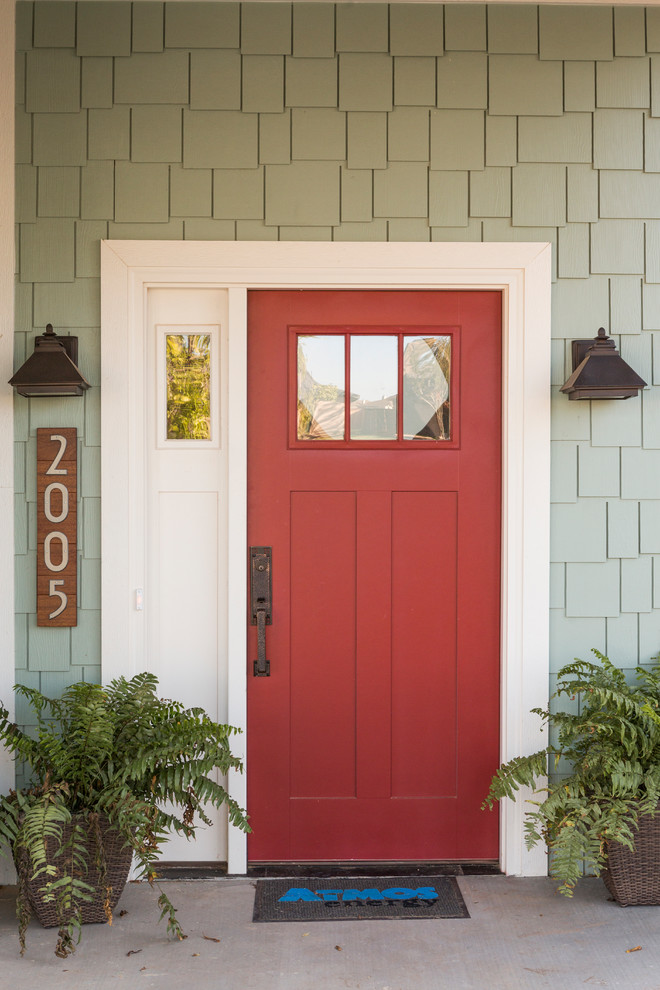 Photo by Ironwood Master Crafters
Dark Shades
Opposite of pastels are darker shades. Darker shades offer your front door a rich palette and bold statement piece, creating character and visual interest. Subconsciously, a dark shade can also beckon you inside, making your home appear warm and inviting. Think of dark emerald greens and burgundy reds. Black doors are trending as well, especially when paired with other elements, such as iron hardware or smooth glass panes.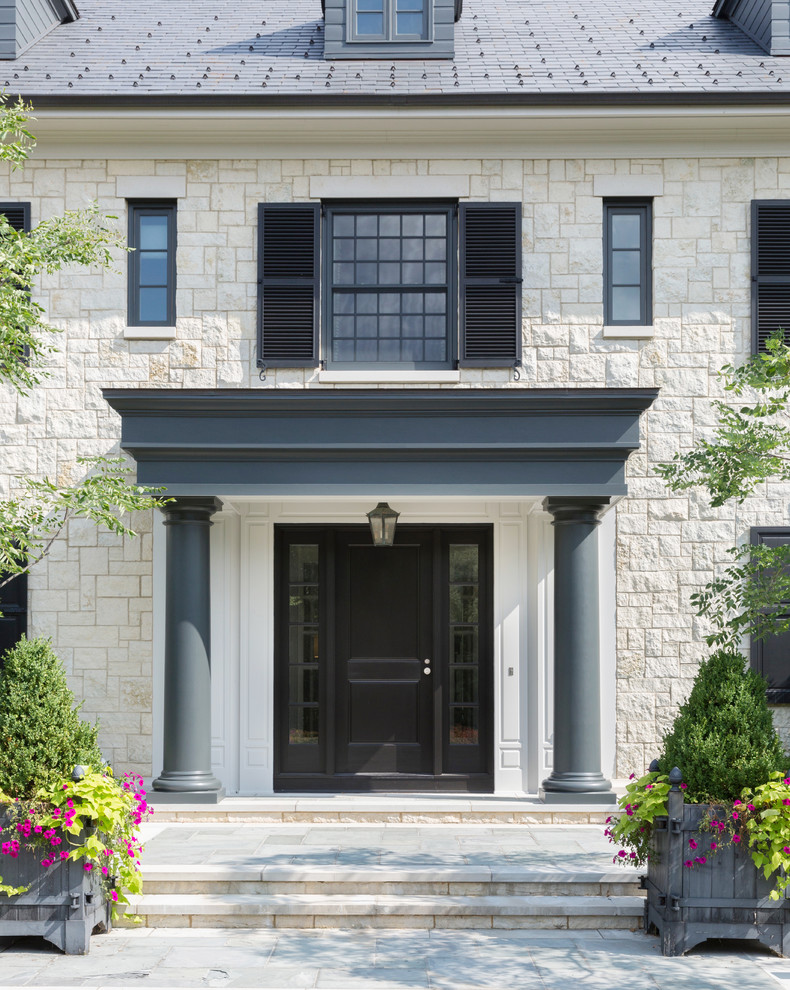 Bright Colors
Another front door color trend is the use of brighter colors. As mentioned, pastel tones like a robin's egg blue or bright yellow can offer a classic style and a cheerful look to your home's exterior. But on the other hand, you can go with a brighter pop of a saturated hue, such as a bold red or orange to catch the eye from the street. And, of course, the dark shade of a deep navy blue will always be in style.