Curious about the average cost of homes around the world? Then look no further than this latest study NetCredit. 
From the most expensive capital cities to the most affordable places to buy a home, it provides an insightful and eye-opening look at the current state of housing prices across the globe.
Whether you're a prospective buyer, aspiring investor, or simply interested in real estate trends, you'll find plenty of interesting facts and stats.
The world's costliest capital cities
Monaco is a small European sovereign city-state with a 0% tax rate, making it a popular destination for the super-rich.
And all that capital flowing into the city has put a major pump into the local property market. The average cost of a home in Monaco is a staggering $4,475 million; that's three times higher than anywhere else in the world.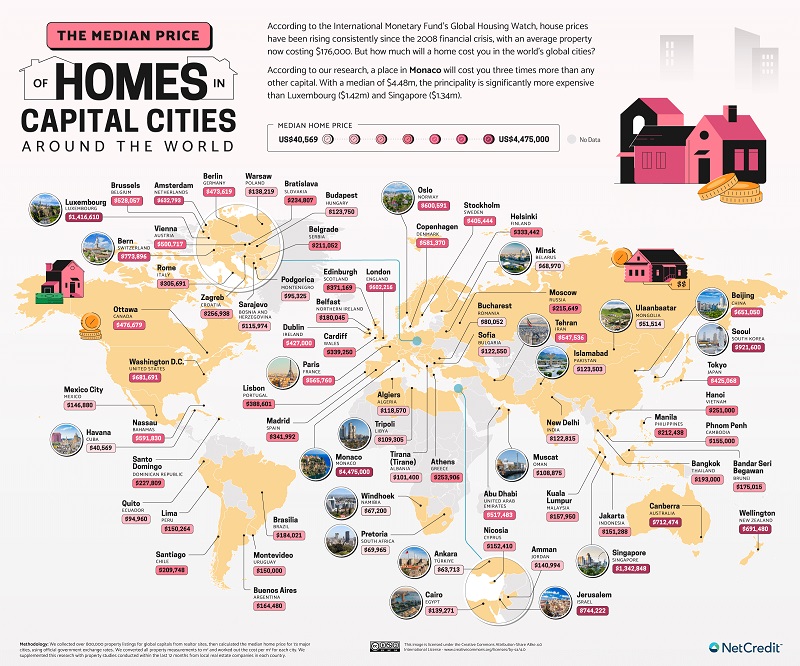 Higher-end properties in Monaco's most sought-after locations can exchange hands for mind-boggling amounts. The Tour Odéon penthouse in La Rousse, Monaco, is valued at $335million. The 8-bedroom apartment comes with its own mini nightclub and private waterpark. Nice.
The cities where you get the most and least amount of space for your money
A square meter is a relatively small amount of space. Still, it can be enough for a human to stand comfortably and have some personal space.
But if you want a square meter all to yourself in Monaco, you'll need to spend more than $50,000!
Singapore is the world's second most expensive city per square meter; one will still set you back over $15,000. To put that into context, the average salary for an unskilled worker in Singapore is less than $3,000.
The Cuban capital, Havana, is the cheapest city in the world to purchase a square meter. The average price is $234. But that's still beyond the price range for many Cubans, who earn around $150 per month.
The most and least affordable capital cities
Tehran, the capital city of Iran, is the most expensive capital city to live in when comparing property prices to the average salary. The cost of a family home in Tehran is over 158X higher than the average national wage.
Pretoria, South Africa, becomes the most affordable capital city based on this metric. Locals need to save up 4.7X their yearly income to be able to buy their homes outright.
Muscat and Bucharest are two more capital cities where owning your home is not beyond the reach of working people. In these locations, the average property price is less than 8x the average salary.
The cost per square meter in Europe's capital cities
London is a notoriously expensive place to purchase a property. A small one-bedroom apartment can cost more than half a million dollars.
But on a square meter basis, London doesn't even make it into the top 5 most expensive European capitals.
Those spots belong to Monaco, Luxembourg, Paris, Oslo, and Bern.
Europe's most affordable capital city
Belfast is Europe's most affordable city. The average home costs around 6.9 times the average salary for city workers.
The most affordable areas are Shankill Road, Woodvale, and Ballygomartin, as well as up-and-coming hipster magnets like Sandy Row.