Beaches are one of the most rejuvenating places; they are ideal for solo and group gatherings. Unlike cities, where areas become cramped and stressful, beaches are the opposite. From the sun's warmth touching your face to the wide-open spaces, beaches have this soothing effect that keeps you calm and worry-free.
While it may be fun to go back and forth to beaches via vacation road trips, has it ever occurred to you that investing in a beach house would be more practical? It may be expensive, but the benefits outweigh the money you have to shell out.
If you are the type to make frequent beach visits for leisurely purposes, it makes sense to own a beach house instead of repeatedly booking hotel room reservations for only a few days. Acquiring your own beach house gives you a sense of feeling at home while you are on vacation, plus you get to stay longer and for free.
A beach house's value will never decline, making it a worthy investment. It can also function as a source of extra income or a primary getaway for you, your loved ones, and your friends for years to come.
Ideal Countries for Beach Houses
Whether planning for the summer with family members, wedding anniversaries, or sporting events, beaches are beautiful locations for holding these gatherings. What is even nicer is finding beaches that offer beach houses to buy and own or, at the least, rent.
Here are four ideal countries to find or rent beach houses:
1. Brazil
With a population of 209.5 million people, Brazil is the largest country in South America. Brazil is also known for having the best beaches worldwide, the most famous being Copacabana in Rio de Janeiro.
Copacabana is the place to be if you are searching for a highly energetic and engaging beach, as it is ideal for people-watching, water sports, and entertainment. However, if you are seeking a quiet and serene beach, Taipus de Fora is perfect for finding a beach house because it is famous for its stunning corals, camping, and snorkeling.
2. Philippines
Officially known as the Republic of the Philippines, the Philippines is one of many tropical countries in Southeast Asia. Recognized for having an astounding 7,640 islands, the Philippines is home to numerous beaches that locals and tourists visit often.
Boracay is the go-to beach to find a beach house if you are after the best of the best. Not only is it home to white sand beaches that are soft as powder and clear waters, but it is also deemed the best beach in the world by several global travel publications.
If you are pursuing a hidden gem, Nacpan Beach in El Nido, Palawan, can satisfy your need for a quiet, spacious area to find a beach house. From sunbathing to swimming, to even hiking, these activities make Nacpan Beach a heavenly site.
3. Maldives
A collection of 1,200 islands, Maldives is a Southeast Asian country in the Indian Ocean famous for its pristine beaches, abundant greenery, and landmarks.
If isolation from others is part of your checklist, White Sandy Beach on Fulhadhoo Island is the right place to find beach houses to rent. Being away from big crowds, White Sandy Beach offers sunbeds under bamboo canopies where you can bask under the sun and get a terrific beachfront view in peace.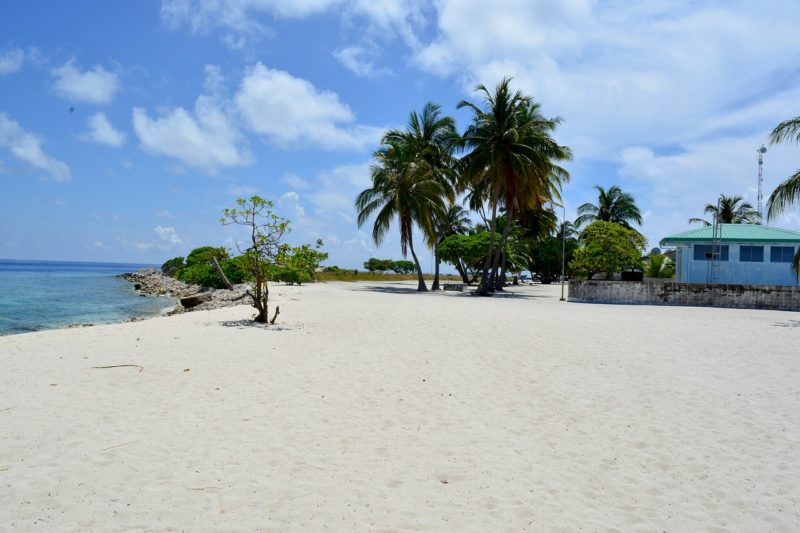 If you are a nature lover, Long Beach on Dhigurah Island is fitting for snorkeling and exploring the beach's sea turtles and whale sharks. There are picnic tables you can also occupy and do absolutely nothing but decompress and unwind.
4. Puerto Rico
Puerto Rico, also known as the Commonwealth of Puerto Rico, is an unincorporated US territory. Apart from being a famous rum producer, tourists also recognize Puerto Rico for having beautiful beaches, almost 300 along its coastline.
If you desire a beach that is all about swimming, unwinding, and simply savoring the place, Flamenco Beach in Culebra is more than fitting to search for a beach house. With clear skies, white sand, and a picture-perfect aesthetic, this beach is nothing short of relaxation, which is why many tourists flock to it.
If you are looking for a beach that caters to the safety of your family members, especially kids, Montones beach in Isabela is a great choice. The beach's shallow waters and serene environment make it an inviting and secure place to bring your family.
4 Ways to Design the Perfect Beach House
Beauty is in the eye of the beholder, and there are several approaches to take when it comes to home design. Here are three tips for building the perfect beach house:
1. Add an outdoor canopy
Beaches are one of the most popular travel destinations and hottest places, especially during the summer. With this in mind, get a secure a beach umbrella or outdoor canopy. Having this outdoors by your beach house provides shade and protection from the sun's heat.
2. Creating a house that can withstand salt and water
Many beaches have tiled flooring because it makes it easy to clean sand, salty sea mist, water, sodas, juices, and ice cream. Like concrete walls, concrete floors are resilient to almost everything and have the added benefit that chips and cracks are simple to repair without needing to find and replace a tile.
However, due to their weight, these floors will be problematic if you have a beach house on stilts made of wood. Timber flooring can be exceedingly durable and water-resistant, provided you seal them annually with the proper sealants.
3. Equip your beach house with the appropriate design elements
Furnish your home by incorporating functional furniture and openings in key areas for ample lighting. These components do not just add extra space; they also make your beach house more welcoming.
Consider mixing and matching the colors of your beach house's walls for aesthetical enhancements by painting them with your favorite colors.
4. Plan out how your beach house will look with an interior designer
An interior designer's expertise can guide your beach house's overall interior appearance. Hiring one also saves you money and helps you capture the desired look.
A Well-Built Beach House for Optimal Beach Living
Beaches are terrific places for absolute relaxation. They become more enjoyable if you have your own property to stay in. Adding the necessary elements to your home design creates extended and comfortable stays but, most importantly, memorable experiences.