With the hustle and bustle of everyday life, it can be difficult to find time for yourself. But taking time out for relaxation is essential for your mental and physical wellbeing. To help you take some time out, why not make your shower a haven? Here are some simple ways to create your own home spa experience in the shower.
Get the Right Gear
To get the most out of your home spa experience, you will need to invest in some quality items that will help relax and rejuvenate you. Invest in a luxurious bath towel that is soft on your skin and large enough to wrap around you after you step out of the shower. You should also buy an exfoliating body scrub to help get rid of any dry skin cells, which can leave your skin feeling smooth and looking radiant. Finally, don't forget to pick up some relaxing essential oils or scented shower steamers that will add an extra layer of relaxation while you're in the shower.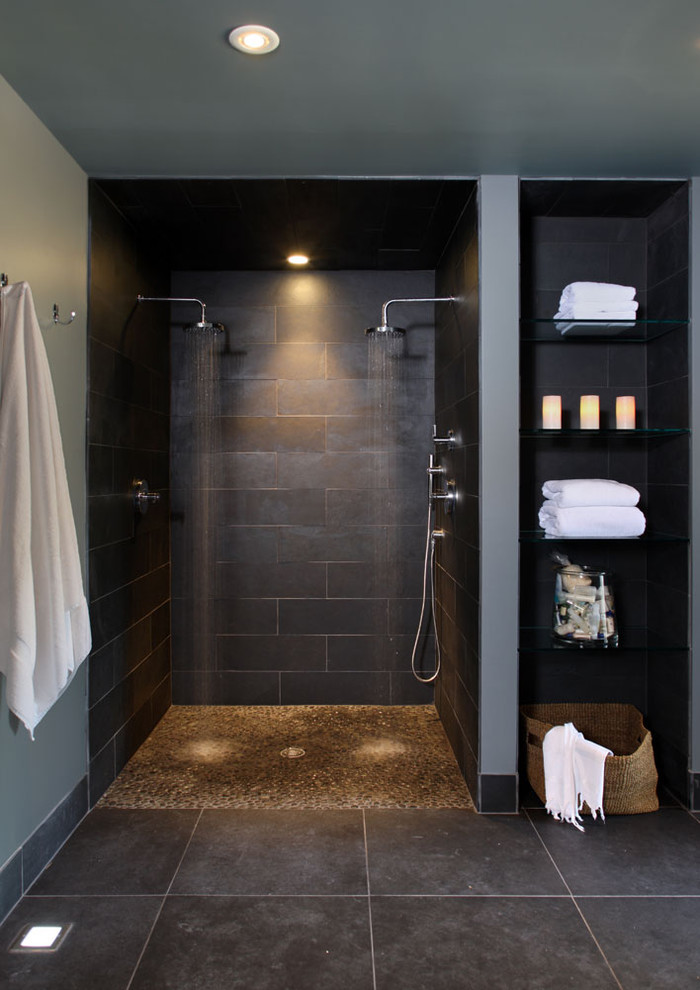 Set the Mood & Get Comfortable
Your shower should be a place that allows you to relax, so set the mood before hopping in. Put on some calming music or light a few scented candles before turning on the water. Once everything is set up, adjust the temperature so it's comfortable enough for you when stepping into the shower.
Good shower hygiene is vital for a refreshing experience. Avoid taking too hot of a shower, as this can lead to dryness and irritation on the skin. Try setting the temperature just warm enough so you don't end up feeling uncomfortable or dehydrated. Secondly, always make sure to use a body scrub or exfoliant to help keep your skin soft and smooth.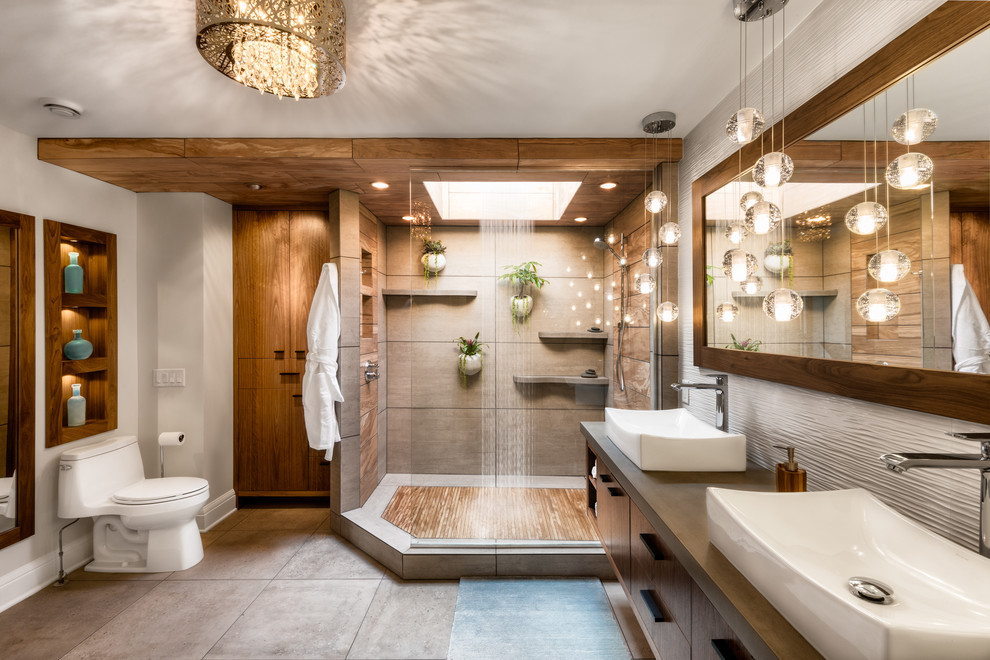 Photo by Mantis Design + Build, LLC
Lastly, take the time to relax in the shower and focus on your breathing or practice mindfulness meditation. Try not to rush through your shower routine; instead take your time and focus on each movement as if it were part of a meditative practice. This is an effective way of reducing stress levels and will make you feel refreshed when you step out.
Take Advantage of Aromatherapy
Aromatherapy has long been used as a tool for relaxation and stress relief. Incorporating aromatherapy into your daily routine can have many positive benefits including improved sleep quality and increased energy levels throughout the day.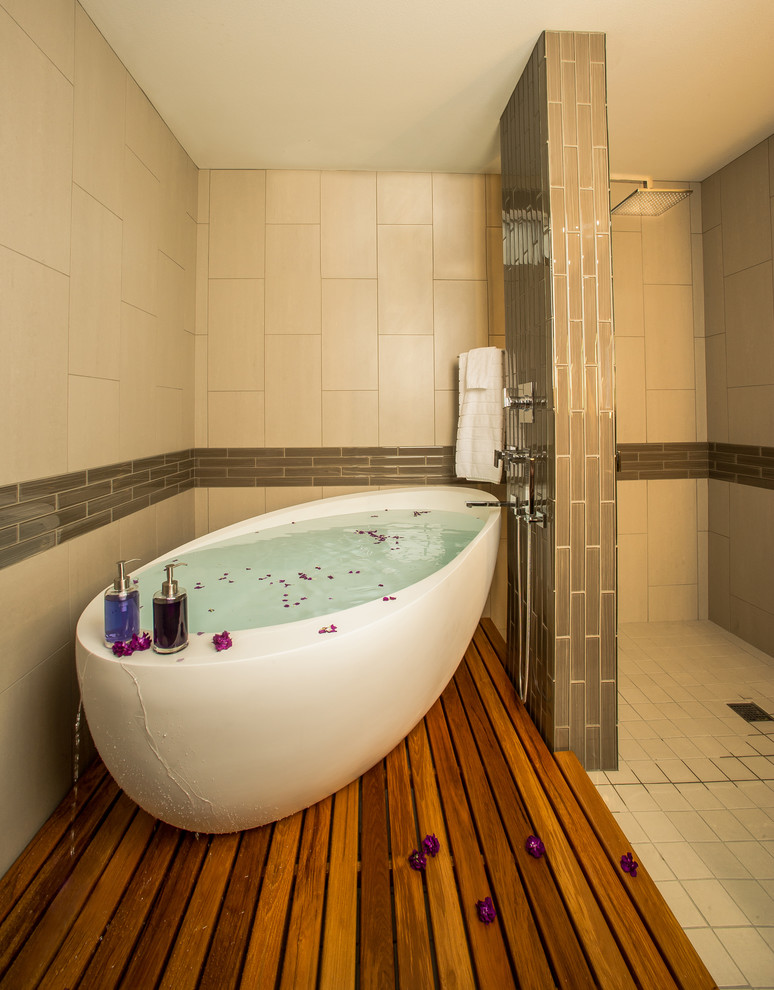 Photo by Bristol Design and Construction LLC
Essential oils are great for this purpose because they are easy to use and provide powerful therapeutic effects when inhaled or applied topically. Try adding lavender oil or eucalyptus oil into your bathwater or use them as part of an invigorating body scrub treatment while in the shower. Both scents will help relax both mind and body while providing an overall sense of well-being.
Add Extra Luxury to Your Bathroom
You don't have to break the bank to give your bathroom an upgraded look and feel. Adding luxurious elements such as plush towels, trendy décor pieces, or scented soaps will instantly give your bathroom more personality and character without breaking the bank.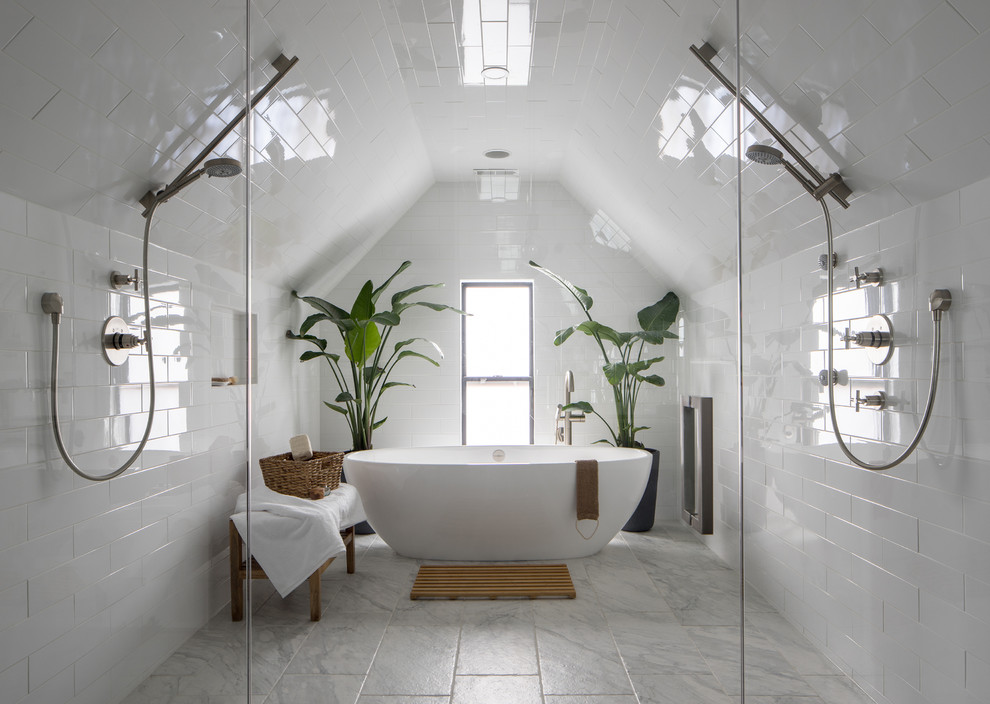 If you want to take it up another notch, consider investing in an upgraded bathroom courtesy of a reputable bathroom remodeler, like Midwest Bath Company. Update your surfaces and fixtures, perhaps including an adjustable handheld shower head that offers different water pressures for a full-body massage with every wash. And don't forget about adding some plants; greenery can visually brighten up any space while also purifying the air we breathe.
Make Time for It
It is important to take some time out of your day for self-care. Whether it is through taking a warm shower, treating yourself to a spa day, or even just reading a book in peace, taking time out from your daily life will help you relax and recharge. Always remember that you deserve to give yourself the care and love needed to stay healthy and happy. Taking time out to do something for yourself will help you better manage stress and get the most out of life! So make sure to find some space in your day for a little "me-time"!
Taking time out for yourself is essential for keeping both mind and body healthy—creating a haven within your own bathroom is easy with these simple steps! Investing in quality items such as luxurious towels, upgrading your bathroom, using exfoliating scrubs, scented candles, and aromatherapy oils will help make sure that each time you step into the shower it feels like a mini-vacation from day-to-day life. So grab those items today and start creating that perfect haven!