Your air-conditioning system is a vital part of your home. Yet, depending on the type of AC unit in your house, it may be a distracting part of your decor and can prove to be a difficult piece to design around.
For those with a large window AC unit or a wall mounted, monoblock air conditioning system, concealing the unit while still relying on it for necessary cooling is tricky. If you're trying to find a way to incorporate your AC unit with the rest of your decor, you've come to the right place. Here are some ideas:
Design your space
Is the AC unit currently mounted on the wall or are you adding it in? While there are pros and cons to either, the latter definitely will require more planning and thought. If you're adding in a window or wall unit, you may need to cut through the wall to the exterior. Determine how the airflow from the unit will affect you or your guests, and how efficient it will be in your desired location.
Photo by Narofsky Architecture + ways2design
If the unit is already in place, you'll want to design your room around it, without making it the focal point. Don't put seating directly under the unit, but don't cover it up with plants or decor either.
Once you've figured out the design and features of the space, now you can work on blending the unit into your decor!
Curtains
One of the simplest ways to disguise your AC unit are curtains that match your decor. If you're hiding a window unit, simply add in curtain pulls to pull the curtain away from the machine while it is running.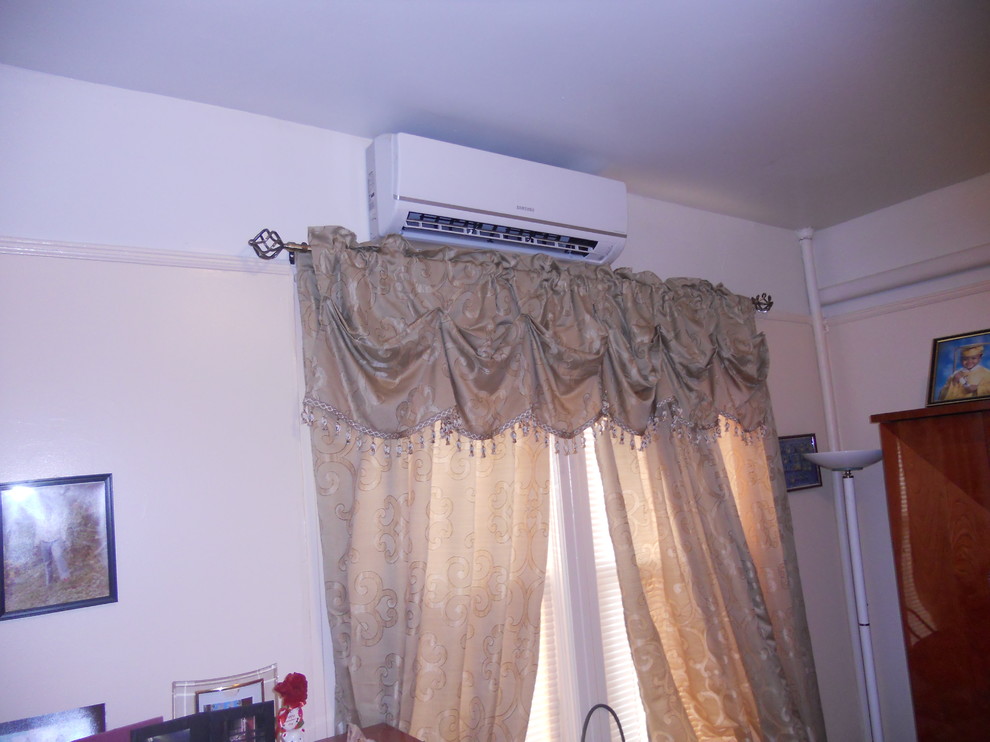 If you're looking to hide a monoblock system, disguising it with a cornice board works perfectly, especially as it can compliment your curtains. Since monoblock systems push the air downwards, disguising the exterior will in no way affect the flow of air, and it can remain covered and work efficiently.
Bookshelf
Consider creating a bespoke bookshelf for the area where your AC unit is located. Adding in double doors for the shelf where the unit is placed gives you the option of hiding the unit when not in use. Bookshelves are also easy to decorate and fit well in nearly every room, making this a unique, but attractive way to subtly disguise your unit.
Cabinet
Adding a cabinet around your unit is another stealthy way to disguise your AC, especially if you're looking to hide a ductless AC or a through the wall unit. Easy open, double doors allow air to move through when in use and can be shut at other times.
Match it to your window
Have a through the wall unit? Match the space around it with trim, just like your windows. It will fit the rest of the decor and you haven't lost valuable window space. It's a simple way to improve the look of your unit, especially if you're in a rental where you can't make permanent changes to the building.
Photo by HOME DECO by JUDITH FARRAN
Your AC unit is a vital part of your home, and while it may not look idyllic or match whatever your decor style is, it is a necessary part of your house. Keep in mind that whatever changes you make, you need to keep the airflow unobstructed when running. Whether it's behind a door or a curtain, your AC unit must be able to work efficiently, which will keep you cool and also save you money.