Creating the Ideal pool landscape requires an equal combination of aesthetics, effectiveness, and practicality. Whether repairing an existing pool or creating a new one, these nine expert recommendations will help you create an outdoor oasis that will increase your property's value, aesthetic appeal, and enjoyment.
1. Enhance landscapes with lighting
Adding lights to your landscape may drastically change the appearance and feel of your outdoor area. The following are some examples of how lighting may enhance the landscape:
Highlight features: The lighting system can highlight significant landscape features such as waterfalls, trees, or garden sculptures.
Create ambiance: You can create a mood and ambiance that meets your preferences by strategically positioning lights, such as a peaceful zone or an entertaining area.
Improve safety: Adequate lighting can make stairwells and pedestrian routes safer, thus lowering the likelihood of accidents.
Extend living space: Proper lighting allows you to use your outside space after daytime hours, transforming it into an extension of your home.
Enhance curb appeal: Your property's curb appeal can be increased and appear more appealing to guests if the landscaping is well-lit.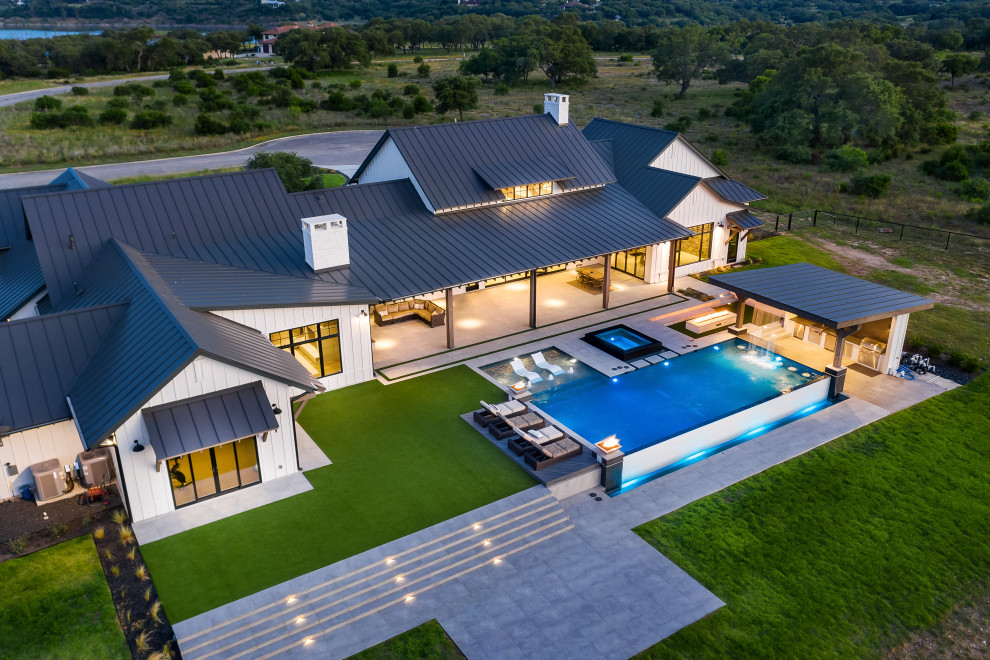 2. Add uniqueness with planters
Adding planters before or after pool installation can be a great way to create a one-of-a-kind and attractive outdoor setting. Here are some ideas for using planters to enhance your pool area:
Visual interest: Planters can provide a splash of colour or texture to the pool area, complementing the overall decor.
Privacy: Tall planters can give privacy and create a natural barrier around the pool area.
Safety: Planters can assist in directing swimmers away from possibly dangerous areas or obstacles.
Versatility: Planters can cultivate various plants, such as tropicals, succulents, and herbs or vegetables, bringing beauty and functionality to the pool area.
Flexibility: Planters can be easily moved and rearranged to fit changing seasons, personal preferences, or events, making them a versatile and adaptable addition to your pool landscape.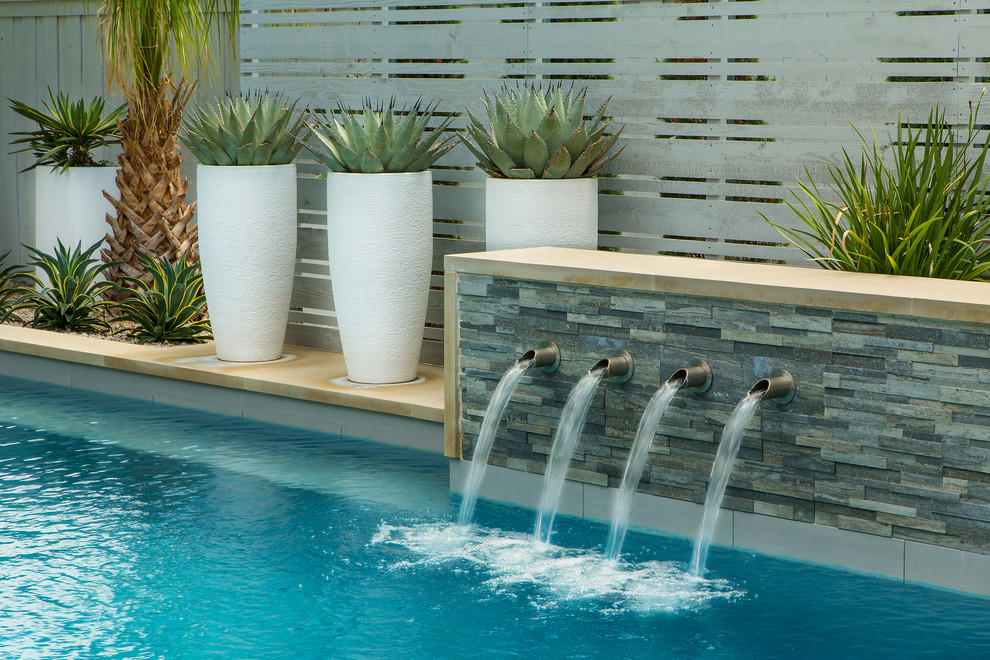 3. Highlight with flower beds and borders
Flower beds and borders can improve the beauty and elegance of pool landscaping. Here are some ideas for using flowers beds and borders to enhance your pool area:
Colour: Flowers may give brilliant flashes of colour to the pool area, transforming it into a visually attractive environment.
Softness: Flowers can soften the hard lines of the pool and surrounding hardscaping, making the space more inviting and pleasant.
Visual interest: Flower beds and borders can create an eye-catching, dynamic pool area that captures attention and takes centre stage.
Seasonal interest: Flower beds can be created to display different flowers and other plants throughout the year, ensuring year-round interest and beauty.
Ambience: Flowers may enhance the overall ambience of the pool area, producing a tranquil and relaxing atmosphere.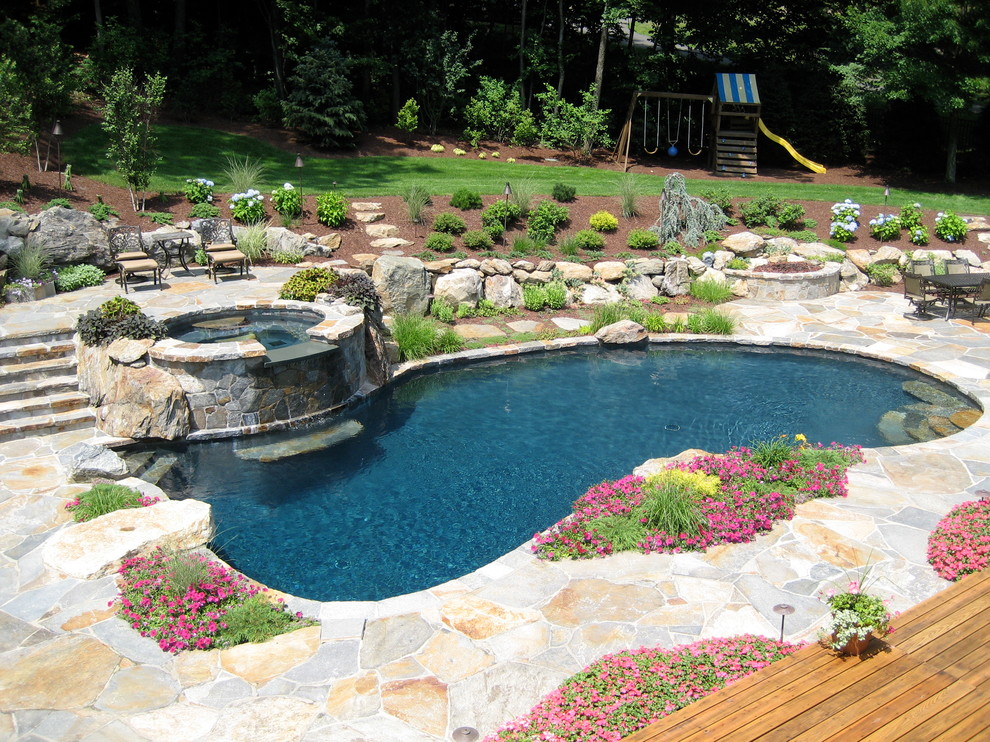 Photo by Total Pool + Patio, LLC
4. Create privacy with landscaping
Suitable landscaping designs can quickly achieve privacy, which is a common concern in pool landscaping. Here are some guidelines for keeping your landscaping safe and clean:
Trees: Trees can act as natural barriers surrounding the pool area, providing peace and shade.
Shrubs: The pool area can be surrounded by heavy, thick hedges of shrubs, creating a peaceful, private setting.
Fences: Fencing can form a physical boundary around the pool area, providing privacy and safety.
Trellises: Trellises can create a natural and aesthetically beautiful barrier, offering privacy and beauty through vines or other climbing plants.
Retaining walls: Retaining walls can be utilized to build a raised pool area platform, providing privacy and dimension to the environment.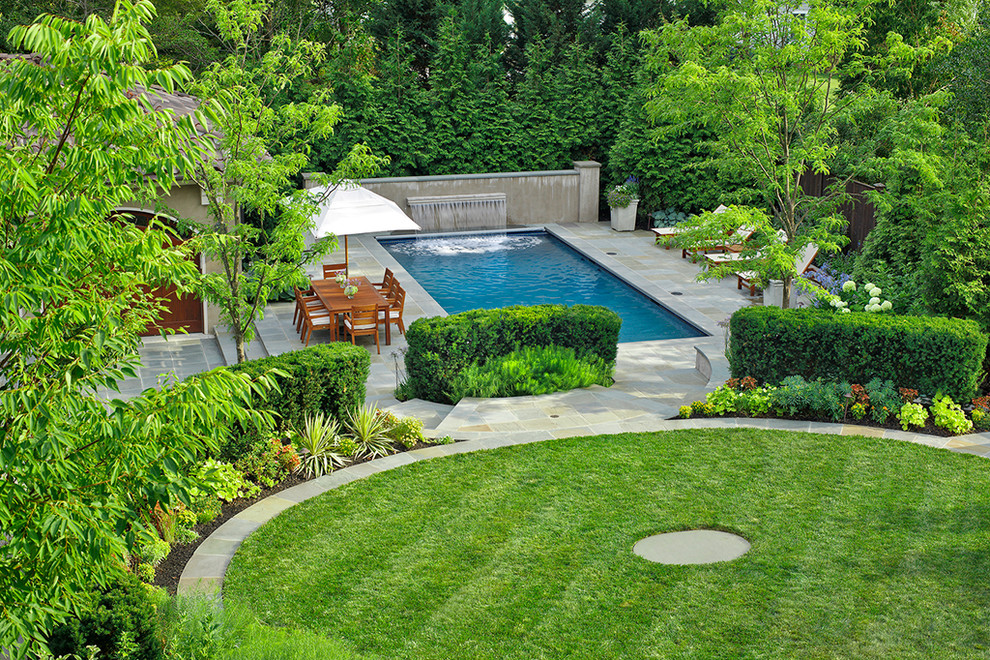 5. Install a non-slip surface
Installing a non-slip surface in pool landscaping is essential for ensuring swimmer safety, especially when the area is wet. In addition, a non-slip surface is essential for the following reasons:
Safety: In the pool area, a non-slip floor lowers the chance of accidents by reducing slips and falls.
Comfort: A non-slip surface gives swimmers a more comfortable and stable surface to walk on, letting them have fun in the pool area without fear.
Aesthetics: A non-slip surface can be developed to complement the pool area's general appearance, increasing its visual attractiveness.
Functionality: A non-slip surface can improve pool area functioning by providing designated seating or a sunbathing space.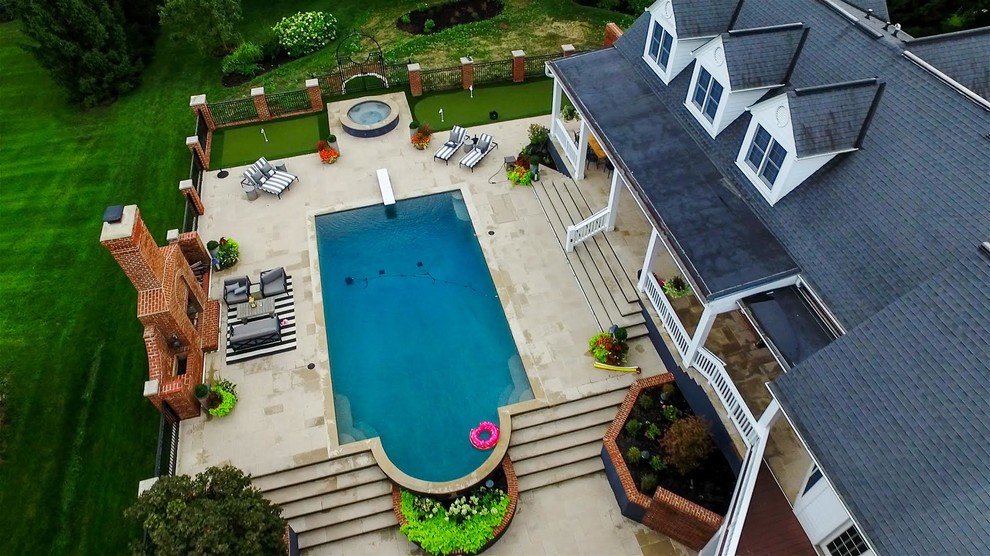 6. Set up a seating area around the pool
An excellent way to provide a peaceful and appealing area for socializing is to set up seats around the pool. Some of the explanations for why a seating area is so essential in pool landscaping include the following:
Comfort: The sitting area is a relaxing and unwinding spot after a swim.
Socialization: A seating space promotes conversation and engagement among visitors, improving the pool area's fun and inviting atmosphere.
Aesthetics: The pool area's general beauty can be complemented by a seating space, enhancing the overall appeal.
Functionality: A seating area can enhance the pool's utility by offering a place for outdoor dining or relaxing.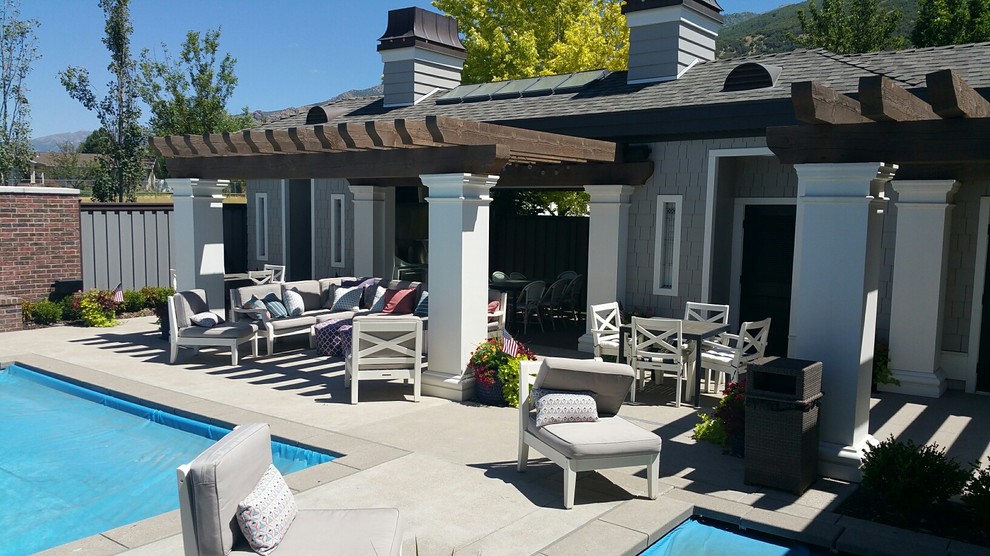 7. Add grass around the pool
Grass landscaping can give your pool area a natural and energizing appearance. You can create a beautiful fusion of natural beauty and functional space for your outdoor hideaway by incorporating grass into your pool landscaping. Consider using grass in pool landscaping for the following reasons:
Softness and comfort: Grass provides a smooth and cushioned surface for bare feet, making poolside resting and walking more comfortable.
Visual appeal: The pleasing appearance of the pool area can be enhanced by a lush green lawn, which also creates an inviting and relaxing atmosphere.
Temperature control: Grass helps to moderate the temperatures surrounding the pool, keeping it cooler than hard surfaces such as concrete or pavers.
Erosion control: Grass helps to minimize soil erosion around the pool, preserving the landscape's stability.
Play area: Grass adds more space for recreational activities like playing games or sunbathing.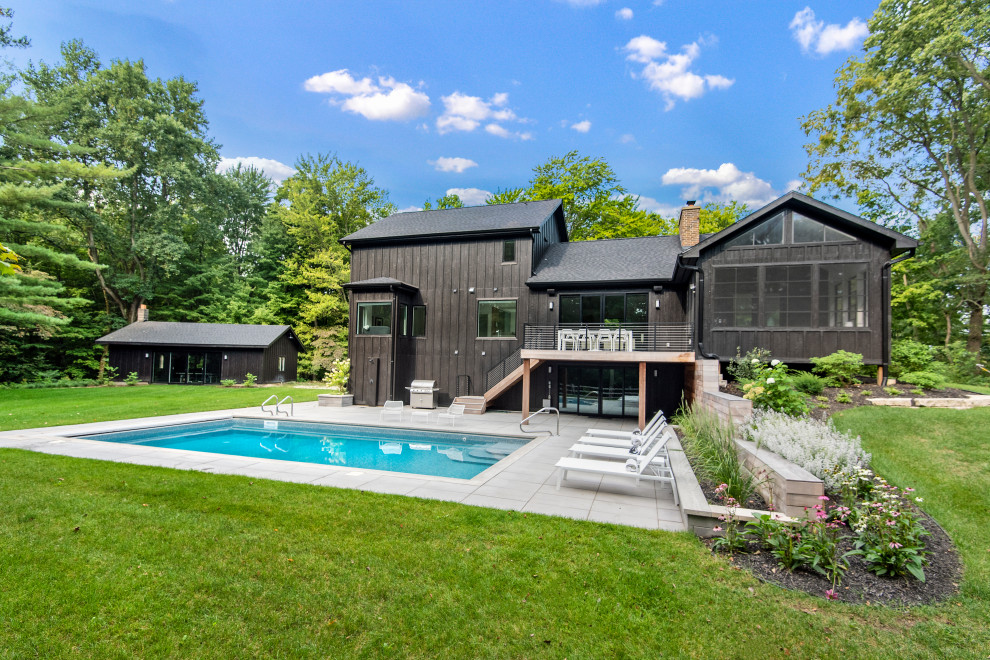 8. Use concrete instead of stone slabs
In pool landscaping, concrete is an excellent and cost-effective option for stone slabs. Using concrete in your pool landscaping can create a beautiful and functional environment for years. In addition, the use of concrete has the following benefits:
Durability: Concrete is weather-resistant and long-lasting, perfect for outdoor use.
Cost-effective: Concrete is less expensive than stone slabs, allowing you to construct a lovely pool area without breaking the bank.
Customization: Concrete is available in various textures, hues, and patterns so that you can customize it to meet your specific design objectives.
Low maintenance: Concrete has little upkeep, requiring only occasional scrubbing and sealing.
Safety: Textured concrete has a non-slip surface, which reduces the risk of slips and falls surrounding the pool.\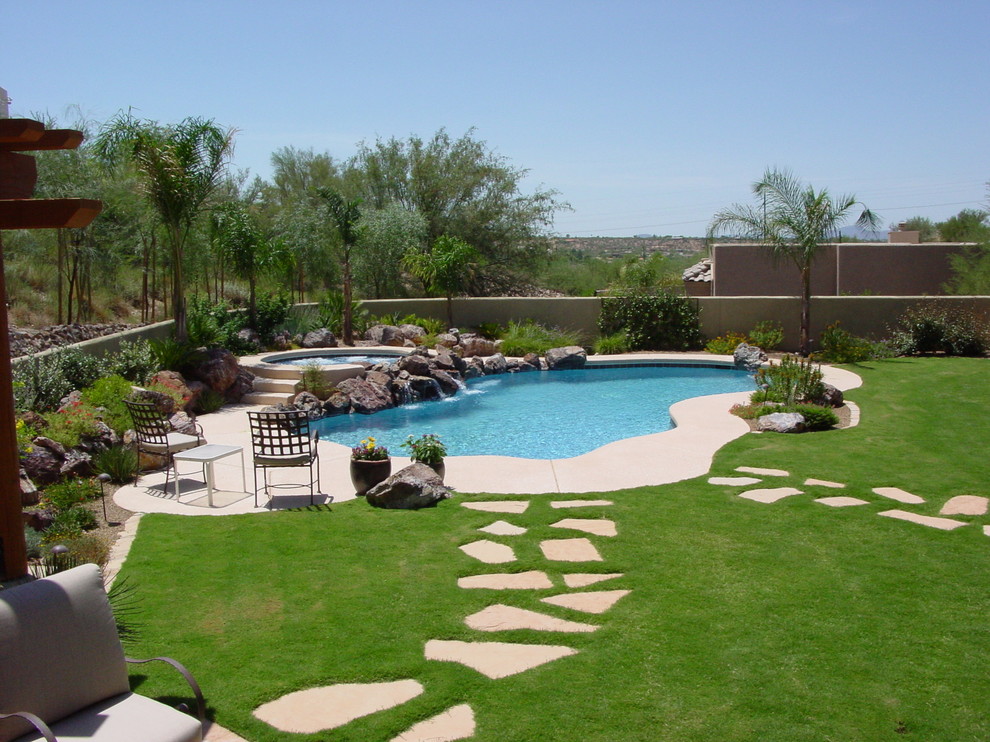 9. Decide on the ideal pool deck landscaping
Making the most of your pool's outdoor space requires choosing the appropriate landscaping for the pool deck. Proper planning lets you turn your pool deck into a lovely and valuable outdoor space for you and your visitors. Consider the following while designing the landscaping for your pool deck:
Select materials that are slip-resistant, long-lasting, and low-maintenance.
Think of the overall appearance of your outdoor space and select materials that match the style of your home and pool.
Combining natural and artificial elements like plants, stones, and concrete creates an organized design.
Ensure that proper landscaping includes seating, dining, and recreation areas.
Consider swimmers' safety and select non-slip materials that provide proper drainage.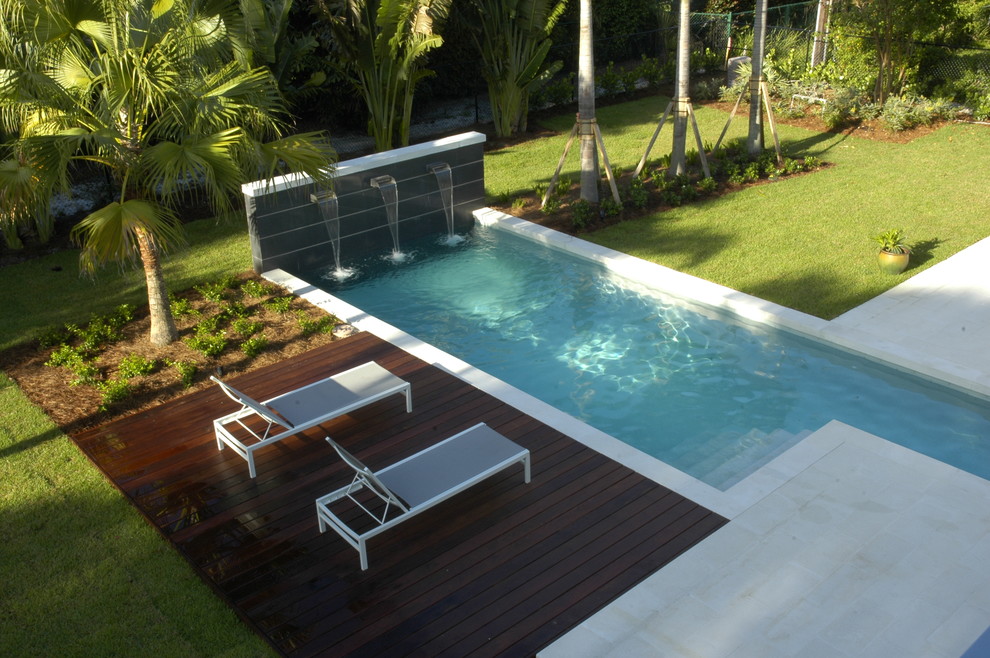 Photo by Rob Bramhall Architects
Dive Into Paradise With Your Dream Pool Landscape
In conclusion, these nine pro ideas for building the perfect pool landscaping can assist you in creating an outdoor space that is functional, safe, and aesthetically beautiful. You can design a pool area that is visually appealing and pleasant for you and your visitors by incorporating lighting, planters, flowerbeds, seating places, and non-slip surfaces.