Your air conditioner works hard, keeps you cool and you love it. Except for the way it looks in your backyard. There's really nothing pretty about an air conditioner. Here are 8 ways to hide the unit and turn the area into a pretty part of your backyard.
Fence It In
A simple fence is an easy way to hide the A/C, but does it really add to your outdoor décor? Make it special. Hide the air conditioner but extend the fence in a curve or even at a 90- degree angle and make a little spot for a table and two chairs or a bench. Your seating area will draw the eye away from the air conditioner and make the enclosure an integral part of your yard.
Contemporary Deck by Brooklyn Landscape Architects & Landscape Designers New Eco Landscapes
Box It Up
This one is especially good if you live in an area where air conditioning units are stolen for their copper wire. Simply have someone construct a metal box – attractive wrought iron is one really good looking choice. You can lock up a boxed A/C to keep your air conditioner in one piece and where it belongs.
Contemporary Landscape by Newport Beach Landscape Architects & Landscape Designers Studio H Landscape Architecture
A Trellis
If you love a green backyard, this is an easy answer. Simply encase the A/C with a trellis and plant a vine. But, beware! If you choose this good looking option, the trellis needs to be far enough from the A/C so your vine can't grow into the unit. You'll need to monitor the growth carefully and keep it on the outside of the trellis. A plant like a Morning Glory that may grow a tendril and start invading the A/C is not a good choice and could cost big you in the long run if it damages the air conditioner.
Modern Patio by San Diego Landscape Contractors Eco Minded Solutions
Flower Boxes
If you don't want to keep trimming that vine but you want some real, live, growing plants, consider an enclosure designed for hanging flower boxes. You can make the enclosure out of old wood pallets or any other material. Hang some brightly painted flower boxes and plant your favorite blooms.
Beach Style Landscape by Bainbridge Island Landscape Architects & Landscape Designers Bliss Garden Design
Get Crafty
A sheet of plywood and broken pottery and tile can be turned into an eye-catching mosaic. For a country garden look, use broken pieces from old dishware. Floral designs are especially nice. Or, you can use brightly colored tile for a mosaic with zing. Have fun as you create your pattern and get ready to hide the A/C. Use the mosaic as the focal piece of a fence surrounding the A/C or make four different ones and use them to enclose the unit.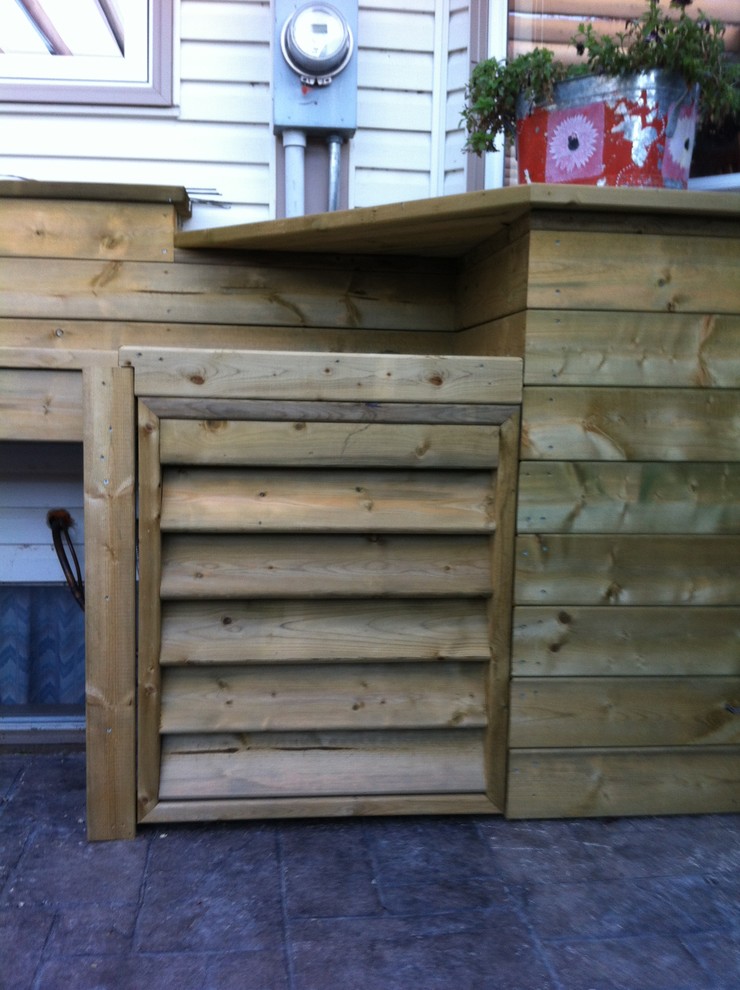 Asian Spaces by Melfort Carpenters Bruce's Interiors and Construction (BIC)
Storage Area
If your air conditioner is located in a place like a side yard, don't try to hide it. Instead, fence off the whole area and turn it into a storage and work area separate from your yard. You can add a small storage shed for garden tools and a potting table. Your air conditioner is no longer part of the landscaped yard and you've created a work area for yourself.
Traditional Garage by Royal Oak Architects & Building Designers Art | Harrison Interiors & Collection
Grass
No, not the kind you walk on. Beautiful, tall ornamental grass planted in large, vertical pots is an excellent way to screen your air conditioner from view. Just set out the plants and enjoy the beauty of the grass waving in a light wind and the convenience of being able to move it out of the way when you need to access the unit.
Southwestern Patio by Scottsdale Architects & Building Designers Carson Poetzl, Inc.
Go Shopping
If you don't want to have to plant or build, visit your big box store. You'll find attractive vinyl fencing and screens that are made for the outdoors. Hiding the outdoor air conditioner becomes as simple as unfolding the screen or putting up the fence. Choose a style that complements the style of your home or your existing backyard fencing.
Asian Landscape by Los Angeles Landscape Architects & Landscape Designers Alan Dunn Landscape Design
No matter how you chose to screen your air conditioner from view, remember that you don't want to limit air flow to the unit – that's what makes it work to keep you cool. If your air conditioner is in full sun, you might also want to plan something that not only hides it, but gives it shade. Most of all, you want to make sure that there is easy access to the unit for service and repairs. To keep your utility bills low, you want to make sure that your air conditioner is running as efficiently as possible. You should have a complete air conditioning service and maintenance from a registered air conditioner contractor at least once a year. They may catch a problem before it becomes a big, expensive problem and save you money. Your Air Conditioning Service Phoenix will make sure that your air conditioning unit is ready to keep you cool and work efficiently. Have that service before the heat comes. Then, get out in your yard and decide how to turn your air conditioner from an eyesore into part of your overall landscaping plan.
Author Bio:
A graduate in Marketing and Sociology, Chad is a writer at heart. Writing allows him to utilize his skills honed by years of experience. His areas of expertise vary from: Mattresses, Medical Weight Loss and Home Services including Air Condition and Garage Door Repair. When not writing Chad likes to play soccer and explore the great outdoors. Not one to stay indoor Chad feels more at home on the ocean than on land. Read more of what he writes to find out what he thinks about this beautiful world we are in.