The kitchen is the most used area in the house. There should be more than two to three useful appliances for cooking inside your kitchen. These appliances are essential tools for cooking and making your work easier and faster.
These tools are invaluable items that a kitchen can't perform without. You may want to work manually when you do your cooking, but if you're managing your time, these tools would exponentially make it easier and faster for you to do your tasks. Here are some necessary appliances that you must have in your kitchen.
Coffee Brewer
A coffee brewer or a coffee maker, is a tool for brewing coffee. You can put a particular amount of coffee inside it and enclosed with an internal filter for excellent brewing results. This type of brewing machine allows people to have their own choice of size and brew strength. With a touch of a button, the coffee maker delivers coffee faster than anyone else.
Blender
One of the necessary appliances inside the kitchen is the blender. This machine can be as important as your knife as it can help you transform whole ingredients to sauces, soups, and ground ingredients. There are three basic types of blenders and that are the food processors, immersion blenders, and the typical blender.
If you want to make sauces, smoothies, and cocktails, you should have a countertop blender, which everyone uses typically. If you're fun of making pureed soups and other liquid foods, then you should have an immersion blender, which is suitable for blending hot liquid.
On the other hand, if you need a blender that specializes in vegetable preparation, grinding toppings, and cutting ingredients, then the most suitable machine for you is the food processor.
Kitchen Mixers
If you're a person who loves baking, then having a mixer would be a great help to you. There are two types of kitchen mixers, the hand mixer, and the stand mixer. They have similar uses in the kitchen, but the only thing differentiating them is their portability.
Photo by Dura Supreme Cabinetry
Hand mixers mainly have different limited attachments, which are the removable all-purpose metal beaters and electric hand mixers which are essential for faster and quality efficient cooking. Hand mixers are for small amounts of ingredients only as it can be hard to maintain the quality if there are too many ingredients.
On the other hand, stand mixers take mixing food to a whole new level. Stand mixers are more reliable than hand mixers as it allows you to blend for a more extended period, making the food match the consistency of your preference. It can also handle a large number of ingredients, which is good for baking cakes and preparing large amounts of dishes.
Microwave Oven
Everyone loves microwave ovens as there are certain things that only a microwave oven can do. This small appliance can heat your food in less than a minute, you can toast a slice of bread in it, you can bake in it, and you can even cook food in it. Microwaves are highly durable and easy to operate.
Fryer
Fryer is also an essential tool for cooking in your kitchen. Fried foods such as fried chicken, hush puppies, chicken fingers, french fries. You can name all the fried food, and this appliance will surely deliver.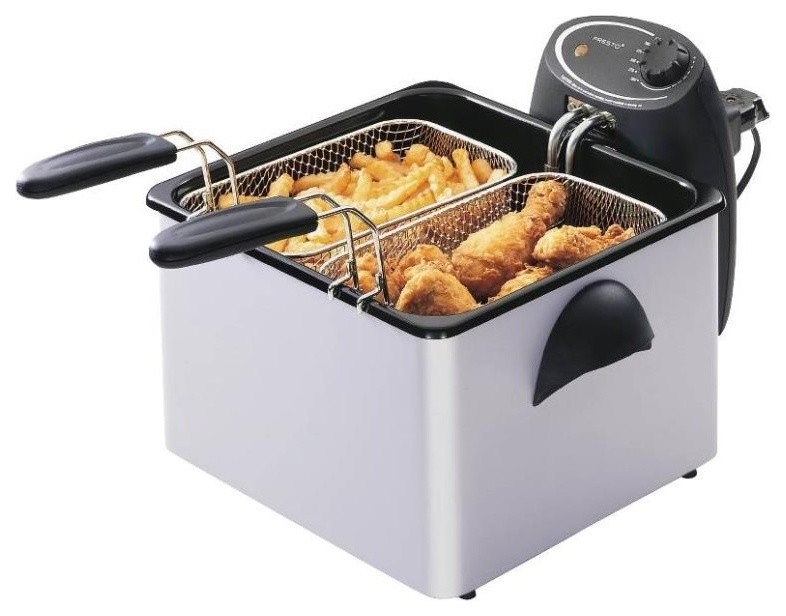 Browse more deep fryers on Houzz
Fryers also have a distinct advantage over skillets when it comes to deep frying. Not only is it much safer to use, fryers cook your food properly in oil as the whole ingredient is submerged evenly, cooking on all sides.
Takeaway
Appliances make lives easier. To accomplish every task in the kitchen, you need the help of various tools that could make your cooking more efficient than anyone else. You have to make sure you get the most durable appliances you can get. If you need repairs, Mike's Appliance Repair would be happy to help and assist you on your needs.
Remember, every task needs a proper tool. Every succulent dish needs to have the proper ingredients handled to perfection. With the help of certain appliances such as food processors and deep fryers, you're well on your way on cooking the best dish possible.