Pampering yourself is a necessity. It helps to improve your physical and mental well-being, and can also just give you a better outlook on life and the stresses that often occur. If you've ever looked at the price of a trip to the spa, you probably marked it as a luxury that you can only afford on occasion. The good news… you can actually create a spa like feel throughout your home so you can pamper yourself whenever you'd like. Below are a few design elements to consider:
Lighting
Dim, soft lighting is ideal for a spa environment in the home. When the lights are low, you feel more relaxed and at ease. Depending on where you frequently relax after a long day, you could consider adding light dimmers in the room. This way you can set the tone of the environment and kick back. Light dimmers are reasonably affordable and easy to install on your own.
Traditional Living Room by Skyland Interior Designers & Decorators Stratton Design Group
Aroma
If you've ever walked into a spa, one of the first things you'll pick up on are the soothing aromas they have in the establishment. Aromas can also help relax the mind and put you in a place of peace. There are several ways you can add soothing aromas to your home. For a budget-friendly option, you might invest in candles with scents of vanilla, lavender, or chamomile. Other options include scent diffusers. They diffuse scented oils into the air throughout the day, which will leave your home smelling great.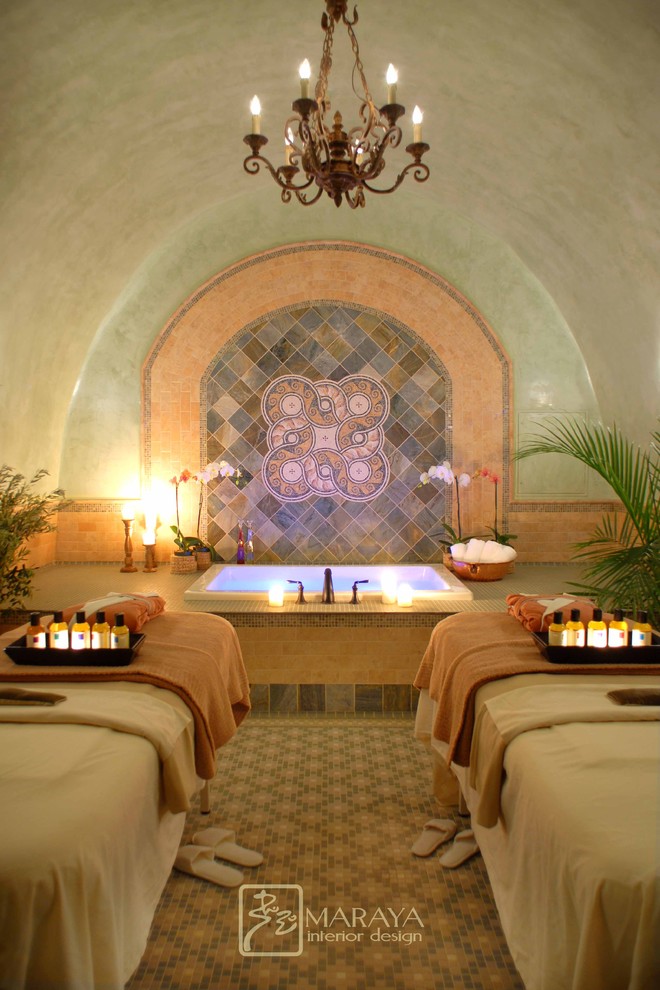 Traditional Bathroom by Ojai Interior Designers & Decorators Maraya Interior Design
Massage Tables or Chairs
What's a spa treatment without a great massage? Massage therapy is great for relieving stress, pain, improving blood circulation, and much more. There are plenty of massage devices that you can invest in to reap the benefits. One option would be to invest in a massage table. If there is someone else in the home that can give you a great rub down, a table would be the best investment to make. If you're looking for something with a dual function, you could consider a spa pedicure chair instead. This way you can sit and get a massage as you soak your feet.
Traditional Home Gym by Leesburg General Contractors Gruver Cooley
Waterworks
Though some might say the sound of water makes you run to the bathroom, others find it to be very relaxing. Waterworks are often a huge part of spas. Whether it's a rock wall with water trickling down or a few fountains, spa customers love to hear the sound of trickling water as they get pampered. Consider investing in a few for your home. If you have the money to splurge, adding a water feature wall to your master bedroom or bathroom would be a great choice. If not, you could also invest in small table-top water fountains and place them throughout the home for a tranquil feeling throughout.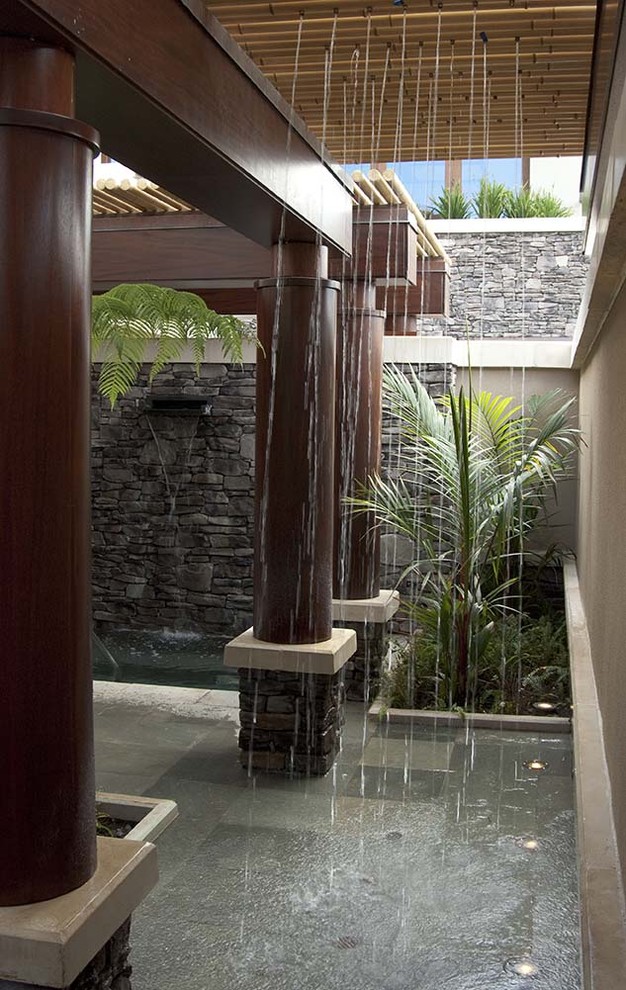 Tropical Bathroom by Honolulu Interior Designers & Decorators Philpotts Interiors
Multi-Speed Shower Heads
Bathroom appliances such as shower heads are improving quite a bit. If you've ever spent a moment in a shower at the spa, you know that the feeling of water beating on your body can really put the icing on the cake. You can purchase shower heads that run at multiple speeds and even shoot from different directions of your shower. Get a full body cleansing experience with shower heads positioned all over.
Whirlpool Tub
Is your tub a bit dated? A popular trend for bathroom designs and a great investment would be to consider a whirlpool tub. If you've ever had the pleasure of soaking in a jacuzzi, you know full well how relaxing this experience can be. A whirlpool tub will give the same effect right in your own home!
Treating yourself does not have to come with a hefty price tag. Though the initial installation and investment of each of these design ideas will cost more than a trip to the spa, they ultimately they pay for themselves. Having the ability to relax, get a massage, or take a nice bath/shower can really work wonders in the home. Believe it or not, they can also help to boost the resale value should you choose to sell in the future. So have fun creating a living space that makes you feel at peace after dealing with the stresses of a day.