Bathrooms are one of the most personal rooms in any house. It's a private area of the home to take care of everything that is self-care. From head to toe, a bathroom is an intimate place many prefer to be comfortable and set the mind at ease. Because of all the tasks that are completed in the bathroom, this is why it is important to enjoy spending time in the bathroom. When it is time for a bathroom make-over or renovation, there are specific steps that can be taken to reduce costs and provide big results. In this article, we will go over some of the most cost-effective ways to upgrade a bathroom without a complete renovation. Sometimes just certain items can be renovated, while the rest receives a bit of an upgrade without renovations.
Lighting Is Key
To enhance the lighting of a bathroom, new fixtures can be added and will provide the type of bathroom glow desired. Sometimes lighting fixtures cannot be removed and upgraded. In these cases, maybe try having a dimmer light installed. Light Bulbs also make a big difference in how the light will be received throughout the bathroom. Replace old vivid light bulbs with new LED lights. Install LED lighting with a lower wattage and full-spectrum daylight bulb. This style of light is not too bright and they don't cast shadows like other brighter bulbs. Installing these kinds of lights is less intrusive than tearing out old fixtures and replacing them.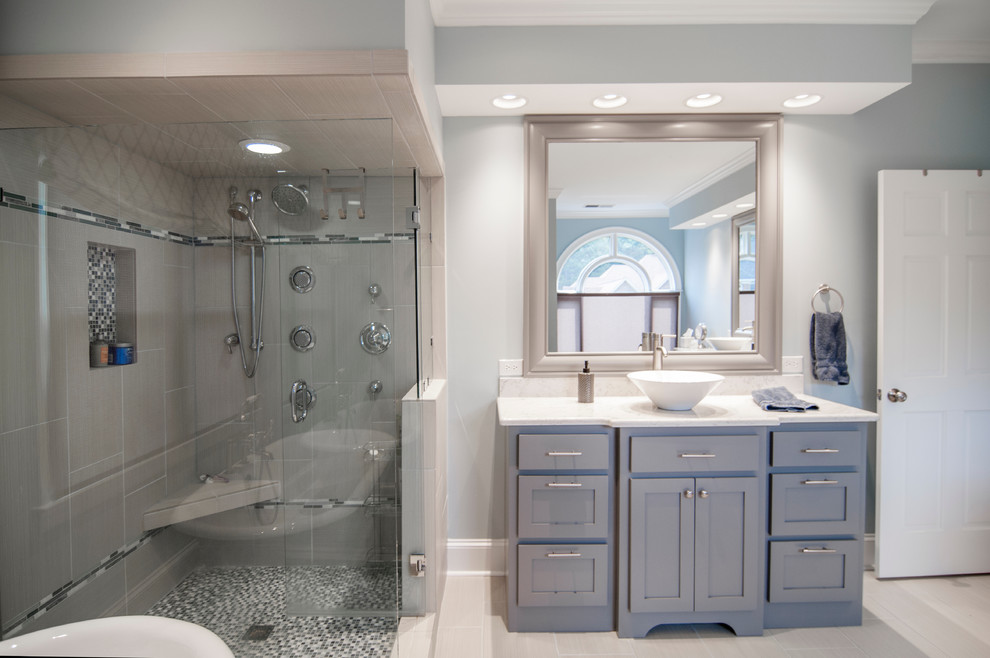 Photo by Jaclyn Ehrlich Interiors, Inc.
New Tiling
Tiles come in endless styles and replacing the current tile in a bathroom will make the room feel fresh and new. Tiling can be done by non-construction types, but tiling is a difficult task to undertake. Many times it is better to hire a professional tiling contractor to help install new tiling and tear out the old. When choosing to install oneself, prices can be very low, around two dollars per square foot.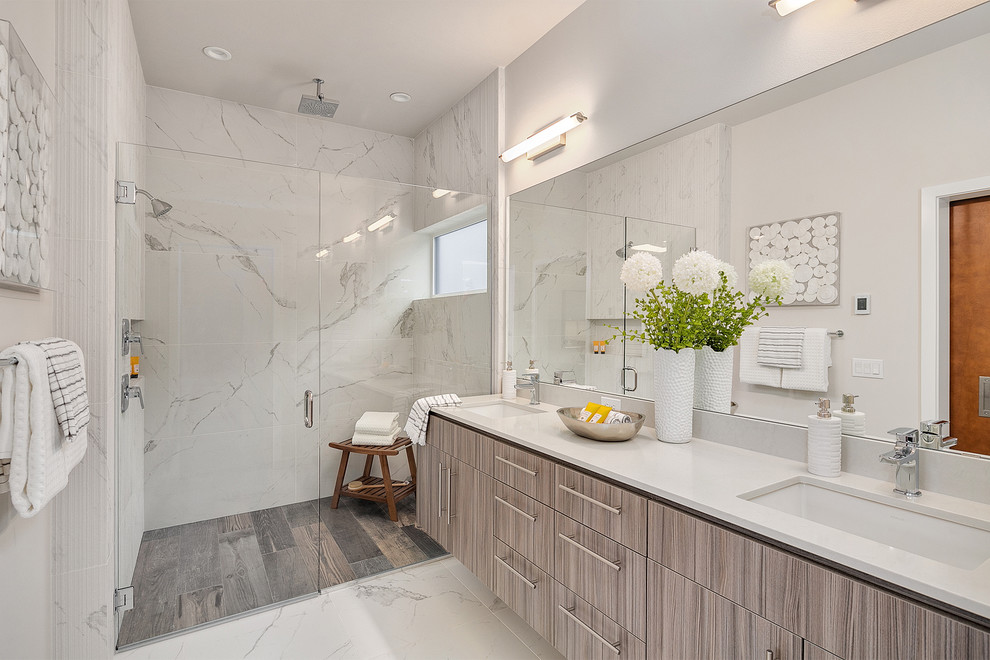 Wallpaper Changes Everything
Wallpaper can easily transform a bathroom, turning the walls into something brand new. Mix wallpaper with new lighting and big results will pull through. One of the least intrusive methods to upgrade a bathroom, wallpaper is a simple and quick way to get the results desired. With thousands of patterns and designs available, almost any bathroom can upgrade with the proper wallpaper.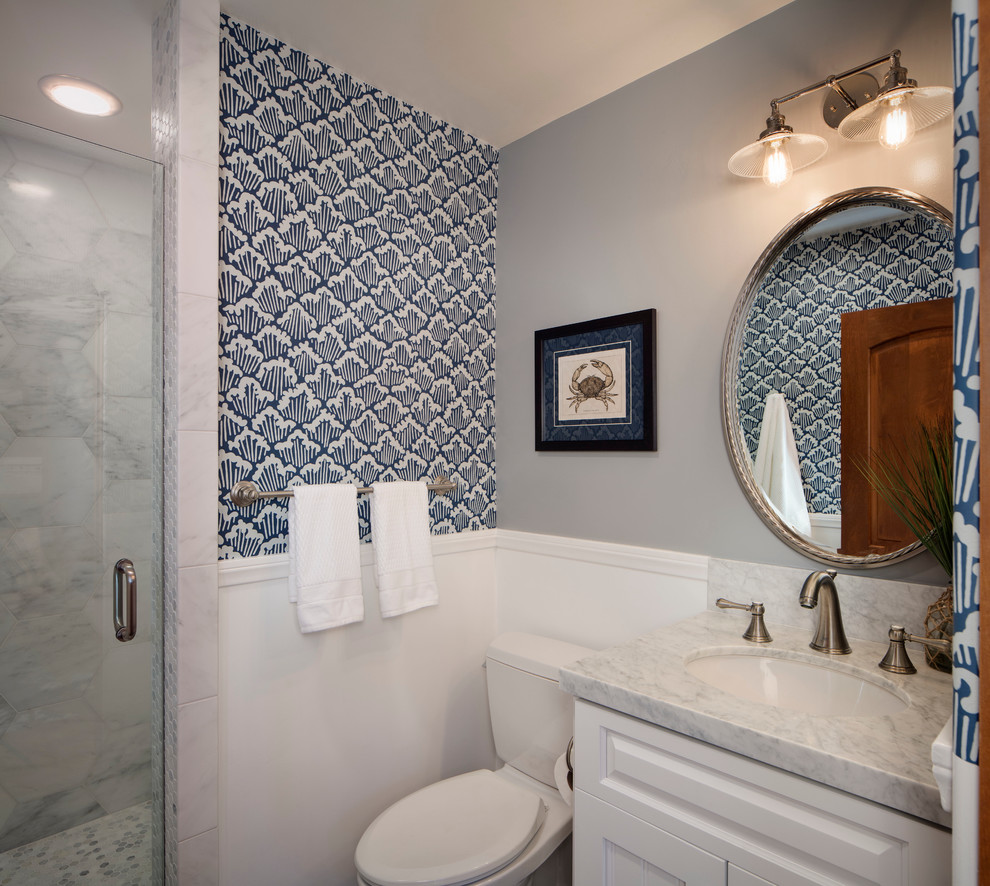 Color, Color, Color
Painting the cabinet under the sink or the vanity above the sink can make a big difference in a bathroom and set a new color for the bathroom. Follow the new color on the cabinets by adding bathroom towels, shower curtains, floor mats, toothbrush holders, and anything that will take the color of the room to the next level. By adding new color into the space, the room will take on a new meaning.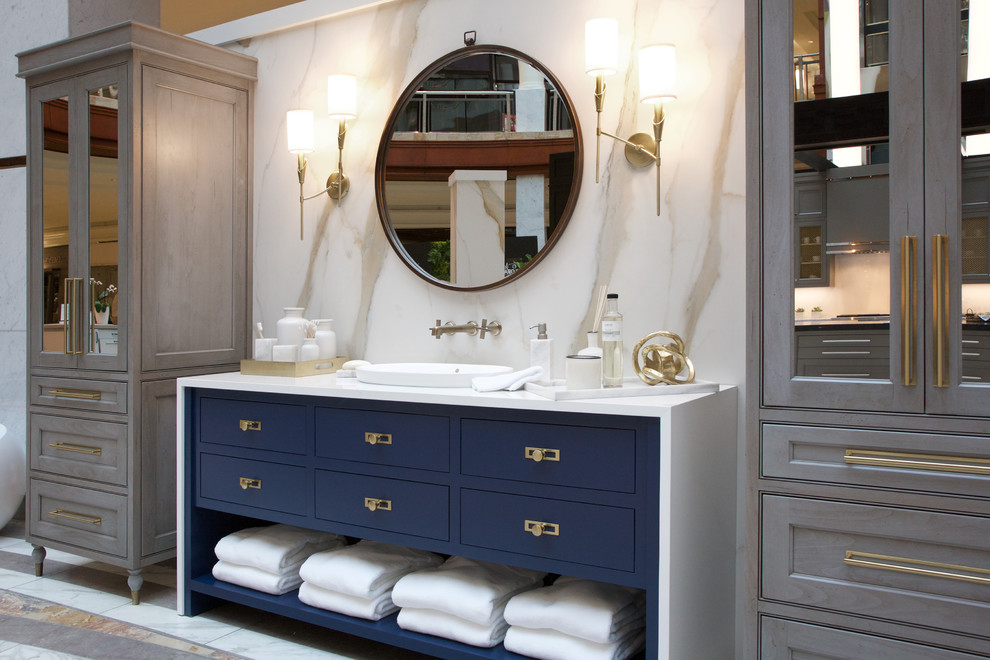 Photo by Barbara Brown Photography
New Fixtures
New plumbing fixtures can make a big difference. If you have the means, you can add an entirely new bathtub to your bathroom for taking relaxing baths at night. Contact a plumber for these types of upgrades.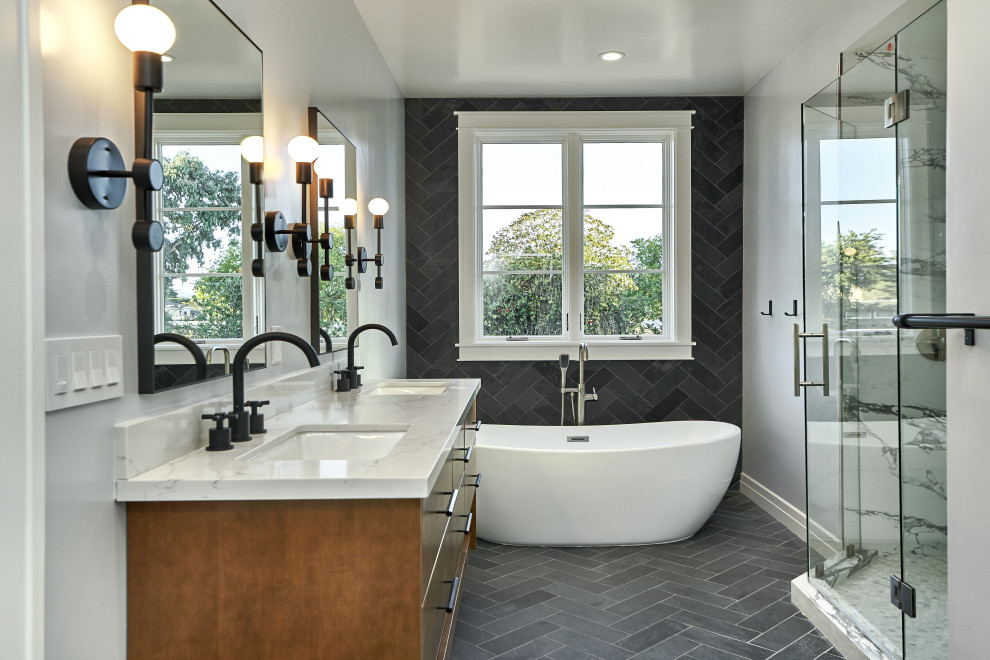 Photo by Silicon Valley Builder
With a few upgrades, you can make your bathroom look completely different. Invest some time and money to make one of some of the above upgrades to make your space feel more luxurious.