Getting married is considered one of the most important events to happen during your life and proposing to your future husband or wife is a very big deal! Now that travel restrictions are looking to become less restrictive in the coming months, if you've been planning on proposing whilst on holiday, then now is the perfect time to finalise those plans and get your ideas in motion.
Proposing whilst on holiday is becoming more popular than ever and it is easy to see why. Being away on holiday, whether you're on a European city break or luxury 2-week vacation in a tropical location, tends to make you feel more relaxed and with the nice weather and general feelings of happiness and excitement, it can make popping the question that little bit easier, and more enjoyable. However, proposing whilst on holiday can bring with it a few extra complications, so with that in mind, here are 5 top tips for proposing whilst on holiday.
Choose Your Destination
When you think of a holiday proposal, people tend to imagine a beautiful beach, lined with palm trees and, whilst that sounds lovely, it may not be the location your partner dreams of. Maybe they love skiing holidays, or exploring new cities? If your partner hates the thought of lounging on a beach or hiking up a picturesque mountain, then it's probably best to avoid those! Once you've chosen your proposal location or destination, why not look for a nice park or restaurant where you can propose once there, to make the day really special and make it somewhere you can revisit for anniversaries or future special occasions?
Travelling With The Ring
Everyone who is planning on proposing whilst on holiday usually imagines some nightmare scenario of getting the engagement ring through customs, but there are some recommended ways to travel with an engagement ring. Avoid packing the ring as part of your hold luggage, as the bag could go missing. Instead, take a carry-on bag with you and keep it secure in there.
Another scenario that people conjure up when doing this is the security team pulling out the ring whilst going through security, ruining the surprise, but as long as you don't pack and liquids or toiletries, then there is a very slim chance that a security guard will pull you up on it. However, keep the ring in its box and pack this within another item, but avoid wrapping it up. This way, if you are asked to empty your bag, it won't catch the attention of your partner. You could also include a little note to say something like "Engagement ring inside. Please be discreet".
Ask For A Little Help
One of the best things about planning a proposal on holiday is the hospitality which is included with your stay. If you're staying in a hotel or rented accommodation, then you can always ask the host to provide some finishing touches for the day of your proposal. Don't be afraid to ask them to pop a bottle of champagne in the room or prepare a table for dinner away from the crowd. Hotel staff tend to love doing anything involved with engagements and are often very creative. They're also often in close contact with local vendors, such as florists, photographers and musicians, so if you have any specific ideas or requests, just let them know.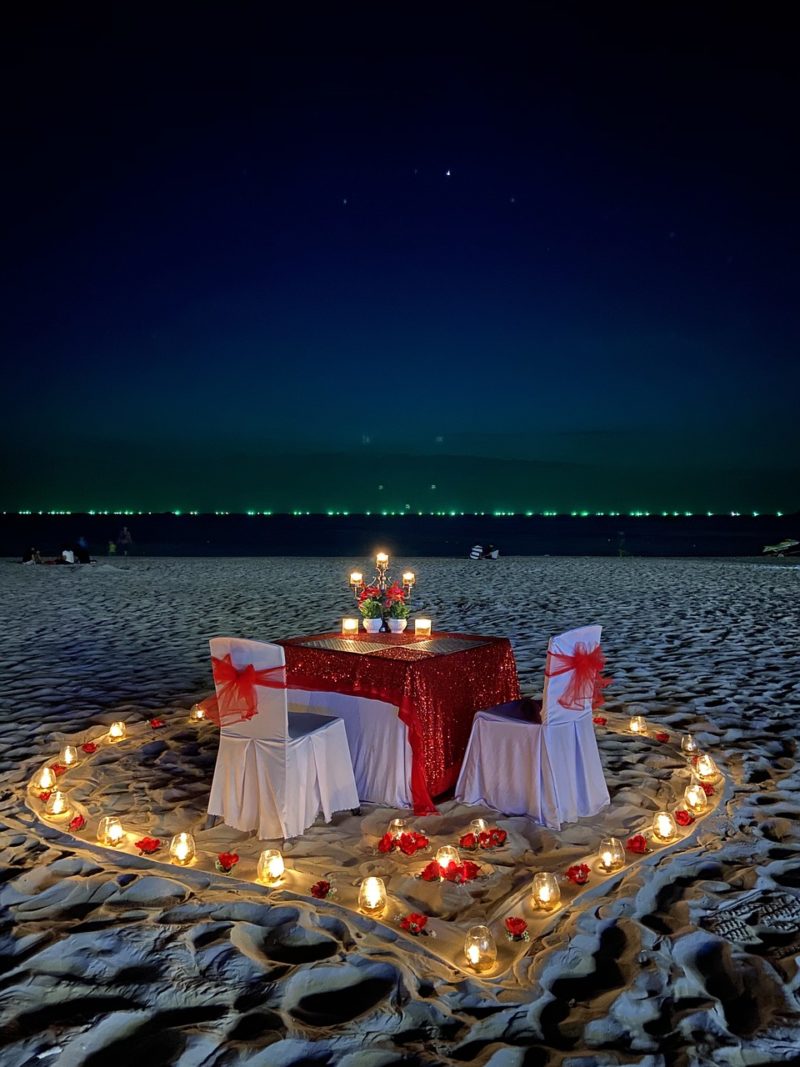 Capture The Memory
Proposing on holiday means that you and your partner get to spend time alone to celebrate your engagement, but you may want to share a photo of the special moment with family and friends once you are ready to share the news. It might be hard trying to hide a camera from your partner as you lead up to asking the question, so depending on where it is you are planning to propose, you can either ask for help from the staff at your hotel or the waiter at a restaurant – people will likely be more than happy to help!
Get Ring Insurance
When planning to travel with an engagement ring, it is important to ensure that it is fully insured, either contained within your travel insurance or as its own entity. If you buy your ring from established jewellers, then they will be able to help recommend the best insurance or even provide it as part of your purchase, which gives you one less thing to worry about on the special day.
If the engagement ring you chose was particularly expensive or was a special vintage engagement ring, then insurance is even more important. If the ring isn't the right size, then as hard as it might be, try not to let your partner wear the ring until you get home and get it resized – you wouldn't want to lose it or cause damage with it being too small!